[ HOME ]


(Note: javascript must be enabled to view and enable email links.)
---
CD REVIEWS 2014
[ CD Reviews Index ]
---
~ The Ripple Effect ~ Quatro
Review by Sarah Calderwood
Quatro(a Portugese word meaning four) is a four-piece classical group which comprises of Amity Brand (violin), Claudia Vogel (violin), Vanessa Smith (viola) and Radha Shukla (cello), whose ages range from between 17 and 18 years old.
Quatro's second album 'The Ripple Effect' is a collection of covered songs that at first glance of the track listing seemed, well, odd. On their Facebookpage, Quatro's musical interests are listed as 'Any kind of music', and their song choice certainly reflects this. Every genre is covered, with a smattering of traditional songs and tunes included. I couldn't really see a cohesion to this album, although the song choice would have made for a fun recording session!
Firstly, their musicianship is second to none. All songs and tunes are beautifully arranged on the strings. And every one of them has a voice that could have been stolen from the Seraphim themselves. Individually, they are very good singers, and together, their harmonies are excellent.
This album was recorded by Fiddler's Feast performer Marcus Holden. He very wisely kept the production to a minimum to showcase the band's talents. Standout tracks for me are the stunning versions of Blackbirdand Some Nights, which particularly highlight their string and vocal abilities. I would love to see Quatro try their hand at writing original songs in the future.
More at: quatrolive.com.au
[top]
---
~ Still In The Mountains Show ~ The Hillbilly Goats
Review by Howard Elmes
A quick scan of the play list of their album Still In The Mountains Show reveals titles many of us are familiar with, although followers of Bluegrass or Appalachian Mountain music would only know some. The unique treatment given to all of the tracks on this C.D. mean that unless you listen carefully to underlying melody and key lyrics, you may be some distance in before you twig to the songs origins. Having said that, not on the C.D., but in live performances the Group is ably represented by "Goat Girl" (Mahney) doing the intro's, giving an interesting and often amusing background to the origins of the upcoming number. Arrangements are by key group member Bryce in various collaborations with other band members. Rhythm or beat is often executed interestingly using anything from Washboard, Beat Box, Drum and Cymbal, Bones, Clogging and even Double Bass.
Variety is as they say, "the spice of life" and with the inclusion of more than twenty different types of instrument, this album avoids too much repetition of style, which I believe is the most common failing of most albums. Although this CD uses some traditional Bluegrass tunes, chief arranger Bryce, seems to favour the frailing or claw hammer style of Banjo playing over the Scruggs picking technique. Instruments ranging from Jaw Harp to Trumpet are used sparingly adding even more variety.
Production quality is good and I believe the CD has great commercial appeal.
So in the immortal words of a well known Australian -- "Do yourself a favour".
I found the CD original, entertaining and enjoyable. Hope you do too!
More at: Hillbilly Goats website
[top]
---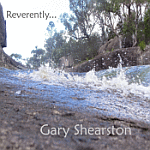 A voice crying in the wilderness
~ Reverently… ~ Gary Shearston
Review by Roger Ilott - www.restlessmusic.com.au
Penny Davies and I first met and started working with Gary in 2005. From then, till his passing on July 1, 2013, we recorded 100 songs together. We put out four of his albums - The Best Of All Trades, Renegade, and The Great Australian Groove (these three released on Rouseabout Records), and Reverently… (just released by Restless Music) - and became close mates. These eight years proved to be most fruitful and prolific songwriting period of his life.
Gary loved (as he called it) our 'funky little studio'. Before, after, or during a session we'd sit on our verandah taking in the trees, the birds and the sky, and yarn over endless cups of Billy Tea, accompanied by scones, sandwiches, or cake - and sometimes his favourite Bungawarra Reserve Chardonnay. We learnt about his life and experiences through these chats and his songs.
To Gary's great joy, his son, Luke, played on two of the albums we recorded. Our son, Jordy, and our long-time friend, Lee Williams, made numerous significant musical contributions to his albums and, as well, became his close mates.
I'd first heard Gary's music when I was a teenager in the 1960's, but I was quite taken by his non-folky worldwide hit of 1974, I Get A Kick Out Of You – particularly the pedal steel part, the unrestrained violin solo, the pounding drum fills at the end of the song, and Gary's casual vocal. In latter days, Gary dismissed the song as a throwaway, and had no intention of ever singing it again. However, in January this year, he performed it spontaneously, along with some of his other songs, with our band, The Ring-Ins (which includes Lee & Jordy) at a function at our place, Folkstone. This rendition included a violin solo comparable to the original by the Barleyshakes' Kristin Kelly.
Though Penny and I had performed in the Sydney folk music scene from the early 1970's until our departure to Queensland in 1987, we never connected with Gary as that period coincided with his prolonged absence from Australia. Nevertheless, we were kept aware of his music over the years by way of the ABC's Australia All Over radio programme – he also became aware of our music through that show. We finally met in 2005 when he was doing a stint for a few months as an Anglican Priest in Stanthorpe.
He was due to come over to listen to the final mix of the new album, Reverently…, record yet another song (two albums of Gary's songs, plus a live album, will also be released sometime in the near future) and sit and enjoy tea and scones on July 2. He passed away the night before.
Gary believed in love, social justice, and peace. He believed the power of song could make the world a better place.
I'll miss him, his cheery, but sometimes world-weary, 'Hello mate' - we'll all miss him - but feel privileged to have been able to help him get so many of his musical thoughts, hopes and dreams out into the world.
[top]
---
~ Diamonds and Rain ~ Roey Fitzpatrick
Review by Jim Fitzpatrick
Diamonds and Rain is an album of original songs by Roey Fitzpatrick that has been far too long in coming. Roey (nee Allen) began attending the old Folk Centre on Ann Street in 1975, aged 15. Eight years later she bought a Maton guitar, started singing in restaurants to earn money to travel abroad, and wrote original material to help fill out four hours a night, four nights a week. This was followed by decades of traveling, writing and singing in Ireland, England, South Africa and America, from folk clubs to a major choir.
But it has been worth the wait, for in enlisting Michael Fix to record, produce and play backing on the tracks, the perfect combination came together. Michael quickly realised that the traditional studio approach of laying down music tracks, then adding vocals, missed the essence of a Roey performance. He double-miked her intimately intertwined guitar picking, lyrics, and golden voice, and then added highly selective and effective backings.
To hear her sing is to hear a heart unselfconsciously hung on a sleeve, whether it is the bossa nova tinged Joke Over, the haunting waltz-based Remittance Man (which is a potential Australian Heritage classic), or the travel-inspired Felt Like Coming Home.
If you were not fortunate enough to hear her in the mid-70s at a Schonell Theatre, Adelaide National Folk Festival, or local folk club performance, you can now do so, including her newly written Tree Change and haunting Hills of Kilcoy (the local town anthem).
Roey has also published a companion book with her lyrics, poetry, illustrations and stories. You may sample the CD and book at
starhillstudio.com.au
[top]
---
~ A Taste of Moonlight ~ Daylight Moon
Review by John Fegan
Look, I'm going to come clean here; when Ross Clark asked me if I would review Daylight Moon's A Taste of Moonlight and I played the first track I thought I was reviewing a ukulele album, and I was scared. The ukulele is not my favourite instrument, but my fear was short lived, and as I ventured on, Helena's beautiful voice and Rosco's razor sharp writing got hold of me; everything else is incidental. Have no illusions -- this is pure unadulterated hippy, dippy, lefty folk in its most classic form delivered with heart and verve; there'll be no copies of this in Liberal Party HQ. I like its sparseness and unpretentiousness, its finger-clicking and random notes, grungy violin and yes even the ukulele in patches.
For me the words resonated immediately in track 2; Song of the Scabbard is beautifully written and powerfully sung; you can feel the raw emotion and the heart on the sleeve ache in Jay Turner's Naked -- it wouldn't have been the same with instrumentation. Moonover (conceived on a sandwich wrapper!) is again beautifully written. I am unashamedly a word man and all the over-produced music in the world cannot hide crap lyrics. This is poignant and heartfelt. And then comes the magical Poisoning Pigeons in the Park, a Tom Lehrer classic, reimagined -- this is pure Vaudeville, you could write a Gilbert and Sullivan epic around it, its rhyming is masterful. Clare is a beautiful story as is Closer; they have again chosen "covers" whose words have power, and Helena's voice does them justice, I love the sentiment. Love Beyond our Means sings the song of a generation, perhaps we've all been there before. And then comes My Brother All in White,: I thought I'd heard this before, in a Viking village in Denmark, but it's Rosco's; dripping with that fantastic, sparse, dark hopelessness that comes with this theme. I can hear Steeleye Span singing this. All finished off with a little hidden instrumental gem at the end.
My favourites: Scabbard, Naked, Closer, Pigeons and My Brother All in White, evocative, beautifully written, beautifully delivered. All you lovers of folk before Bob Dylan get hold of it, you'll find joy amongst these gems.
More at: www.daylightmoon.info
[top]
---
~ i've got a heart ~ the songs of Mark Cryle
Review by Mary Brettell
This album is a combination of the song-writing brilliance of Mark Cryle and a cavalcade of stars who recorded them... and they can be described as no less than stars with talent such as Michael Fix, Nadia Sunde, Helen McGreevy, The Company, Nick Weinert and the Gentlemen, The Poachers, Dan Grant and Cathy Bell, Súnas, Richard Evans, Rebecca Wright and Donald McKay... all who have played with Mark in various incarnations and who he is lucky enough to count amongst his friends... and of course, Mark himself sings the last track Tune on an Old Violin (just to prove he is still alive).
The CD has 6 tracks not previously recorded and 8 whose titles appear on various Mark Cryle CDs. Of the latter you may think you have already heard them, and they are certainly worth listening to over and over, but let me say that you have not heard these songs performed as they are on this CD. The musicians invited to participate in this project have taken already great songs and made them their own. The blending of the voices of Wright, Sunde and Mcgreevy on the first track I've Got a Heart are an absolute delight to the ear... and Súnas have given Drunk on the Moon a slight celtic air as only they could.
The melodic sound of Mick Patrick together with the precise and fluent instrumentation of The Company add a tinge of bluegrass .The huskiness of Nadia's voice and the musicianship of Michael Fix on The Longing is enchanting. The Poachers gentle harmonies and simple guitar on Sing me Home make this track so easy to listen to as is If You Should Ever with Dan Grant and Cathy Bell. Richard Evans' lovely guitar work and vocals on New Star in the Sky fits perfectly into the feel of this album. And Mark waited for just the right person to come along to record Wild Dogs and Cold Winds and you will surely agree the wait was worth it when you hear Donald McKay's interpretation.
This really is a 'feel good' album and every track is a winner. I could single out each and every track but the editor would not have space to print all I have to say about this great album. Grab a copy from Mark himself as he plays around town with the "Civil Union" or
Visit the website www.markcryle.com
[top]
---
~ TREE CHANGE ~ The Wishful Thinkers
Review by Denis Roche
Tree Change comes from a folk trio Roey Fitzpatrick, Robert Storrie and Glyn Cocking who have made the move from the big smoke to the rural hinterland of SEQ. The CD they have presented is a celebration of their folk roots and a summation of their first year together as a group.
The CD was produced by Alex Long and if you like your records where the voices are crystal clear and you can understand every word, then this is the one for you. Instruments here support the voices. They are the bodhran, harmonica, guitar , banjo, mandolin and recorder. There is a different selection of instruments and their arrangement and emphasis for each song. This is a talented folk group. Everyone takes a turn at leading and the voices are a blend of fine Australian folk voices which work together and harmonize in a most satisfying manner.
The songs range from the traditional and folkie favourites such as The Fields of Athenry, Carrickfergus, The Wild Mountain Thyme to modern composed Leaving the Land and Belfast Mill. In addition there are originals composed by Roey, Tree Change which is a lively number sung with great enthusiasm which celebrate the move out of the city to the near country and The Hills of Kilcoy which is a more wistful song celebrating the lives of the locals and their contribution to the community. Glyn's c ontribution is Geriatric Blues. How you take this one might depend on your age.
This is a fine album from a group of folk musicians which celebrates their first year together and whose enthusiasm and dedication shine through in every song. They can thank their producer Alex Long for a clean unmuddied recording which allows the listener to enter into the spirit of what they were trying to achieve and to hear every word of their lyrics.
Ph 07-5498-1364 or visit Wishful Thinkers
[top]
---
~ Mosaïk ~ Vishtèn
Review by Paul Brandon
Well this was quite a surprise!
Vishtèn are a French-Canadian Arcadian band from around Prince Edward Island in Quebec. Twin sisters Pastelle and Emmanuelle LeBlanc and fiddler Pascal Miousse make for a formidable, multi-instrument three-piece. Mosaïk is their fourth album, and it's a splendid mix of tunes and songs. There seems to have been a few of these bands around lately; Le Vent du Nord, Ceila, Genticorum, Mélisande... but that's a good thing!
There's just something wonderfully infectious about this kind of music. I'm not sure if it's the foot stomping, the crooked, angular fiddles, the wonderful French singing that conjures images from both Newfoundland and its sister style, the Cajun music of Louisiana.
So, we have fiddles, guitars bouzoukis, vocals, bodhrán, jaw harp, lots of stamping rhythm (possibly dancing), and even some electric stuff. All up it's a really lovely album -fantastic music to cook by! The presentation is great too. The liner notes are in French and English, with plenty of information for the anoraks amongst us. Very much recommended.
More at: www.vishtenmusic.com or myspace.com/vishten
[top]
---
~ Home ~ Amon & Audra
Review by Dave Burton
Recently at The Bug, we had the pleasure of being entertained by Amon & Audra. I have been regularly playing to their EP, Home, in my car. It deserves a listen for several reasons. The musicianship is solid. Amon's guitar playing is delicate, rhythmic and very listenable. Audra plays piano which enhances the guitar and adds guts to the arrangements. The vocals are clean, pure and honest, yet gutsy when required.
Their song-writing is also very solid and trips in and out of gospel and blues. Lyrically, the songs are positive and uplifting and more than hint of a gospel background, with Biblical imagery used effectively. At no time did I feel I was being proselytised, but it is evident that they are people of faith. The arrangements are interesting and give away an apprenticeship in progressive rock in the way the instruments are used to build and colour the sound.
There are five tracks on the EP.
No Greater Love - This overtly Christian track sets the tone for the rest of the album. Nice build-up and drop-off with vocals and instrumentation.
Bonnie and Clyde - This great finger-picking ballad gets into the heads of the two anti-heroes and makes some sense of their actions. Very human.
Plains of Mercy, My favourite track, a searching-for-answers song with superb guitar work.
The River - Hard-hitting bluesy gospel piece seems to allude to baptism and self-loathing. Put on your Janis Joplin ears for this one.
Take Me Home - Plaintive song about the abandonment of a son by his mother which slides into Amazing Grace at the end.
More at: www.amonandaudra.com
[top]
---
~ Out of the Mountains Show ~ The Hillbilly Goats
Review by Alison MacKenzie
I've been very tardy completing this review - sorry Folk Rag readers! I'm sorry because it means it has been far too long that you may not have heard of The Hillbilly Goats or been encouraged to listen to their music. You can rectify that now!
On this album, The Goats are: Bryce Wearne (vocals, guitar, harmonica, jaws harp, kazoo); Mahney Wearne (vocals, double bass, bones); Lauren Butler (vocals, guitar); and, special guests Jen Fengler, Lachi Smith, Nick Young, Dave Keough and Bill Chambers all featuring on various other instruments.
Out of the Mountain is one of the better Appalachian, alt-bluegrass albums you will hear and I can promise you that if you like the genre, as I do, you will have this CD on high rotation! The album opens with high energy versions of traditional tune Blackberry Blossom along with the song Raise a Ruckus great numbers and beautifully arranged by Bryce & Mahney. Blackberry Blossom is a tune I have been learning this century and I can only dream of being able to play it so fast & well and yet so melodically.
The tunes then blend seamlessly into a bunch of great songs, many dating back to the late 1800s and some even earlier than that. The first, Black Eyed Susie circa late 1500s is a good example of the great harmonies you will hear throughout the album and of course, the terrific musicianship! Stephen Foster's Oh Susannah is included and boy, what a terrific version. At one point the lead female vocalist (sorry, can't tell from the liner notes who it is) substitutes the towns "Kuranda" and "Cooktown" into the lyrics and it is done with such obvious respect and humour that I gave her a little cheer. This album doesn't limit itself just to the bluegrass/Appalachian style, there's also a bit of Ragtime blues in Fishing Blues and some 1930s Swing in Minnie the Moocher to mention a couple of different styles. And, in Minnie the Moocher, the band sure swings!
I loved this album, produced in Cairns by Nigel Pegrum of Pegasus Studios. The production is great, the songs well selected and the musicians are well rehearsed and hillbilly slick. You can look up the band and their touring schedule at
www.facebook.com/hillbillygoats and www.hillbillygoats.com.au
[top]
---
SOMEWHERE WHERE I'M NOT ~ Steve Case
Review by Steve Tyson
Steve Case wears his heart on his sleeve. Originally from Wagga Wagga, Steve released his first mini-album Leaving Home in 2011. That very fine record essentially told the story of his relocation from a country town to Brisbane, and was made up of heartfelt tales which beautifully set out the conflicting emotions that accompany such a life-changing move.
After a couple of years in the big smoke, Steve chucked in his day job, bought a van, and took off to travel around Australia for a year or so. Along the way, he played impromptu gigs, sat around campfires playing his songs to strangers, and collected a swag of stories and memories. These experiences of being on the road - literally, on the road—provided the inspiration for the songs on this new release Somewhere Where I'm Not.
Along the way, Steve has said that many folks labelled him a "grey nomad in training", but he concurs that he was certainly "living the dream". Because of this, he was concerned that when he sat down to decide which new songs to record, some of the subject matter or sentiment might be regarded as too cheesy to put out into the public domain. However, as he says "all of the songs are honest and true to my experiences of travelling around this magnificent country". He need not have worried.
As with his first record, that honesty is very apparent. If Steve's first album had a tinge of sadness about it, a sense of being a bit lost, a cry for trying to find his place in this world, then Somewhere Where I'm Not is, in the main, a joyous record of self-discovery. The mini-album opens with the track Living The Dream, a rollicking country-folk tune that sets the agenda for what follows - a realisation that home isn't four walls and a picket fence, but is anywhere where you are in the company of friends and feel happiest.
Campfire Song is what the title suggests, a rousing sing-a-long inspired by a gig Steve picked up on the road, playing to guests sitting around a campfire at an outback resort in north Queensland. The closing title track is an amusing take on the whole experience of just doing what you set your heart on.
In between, there is a glorious folk song Distant Shores, which tells the story of Cathal and Catherine Spence, a couple separated by Cathal's transportation to Australia as punishment for a crime committed in Ireland. Catherine, unable to live without him, made her own way to Australia, only for tragedy to strike when they were about to be re-united. Steve still manages to find joy in such a sad story, with a promise that soul-mates will eventually find each other again. This is a fine tune, with a great chorus.
Older Wiser is a beautiful country waltz, inspired by a lady Steve saw dancing at a folk festival, who reminded him of a lost love. Again, whilst there is a sadness in Steve's voice at the loss of what could have been, his pure joy in watching this graceful older lady reigns supreme.
The album's only moment of real darkness comes in the song The Tree. Underpinned by a strong Steeleye Span - inspired guitar and vocal riff, the song deals with the tragic subject of rural suicides. Steve met a number of couples during his travels, who related the heartbreaking tales of their sons who had taken their own lives due to the pressure of trying to make a living off the land.
To record the EP, Steve chose to go full circle and return home to Wagga Wagga, specifically Grant Luhrs' Flying Fox Studios. He was ably assisted by a strong local rhythm section, plus Brisbane-based guitarist James Speet, who contributes very tasty lines, and the multi-talented Sarah Collyer who contributed backing vocals. Other friends were brought in to complete the Campfire Choir, and it is this approach - the big, powerful unison-type choruses - that really create the essence of the record. You really can imagine Steve singing these tunes around a campfire, encouraging the audience to join in on the memorable choruses.
As with Steve's first record, I have only one criticism – Somewhere Where I'm Not is just too damn short at six songs! But, don't you just love a mini-album, an EP (call it what you will) that leaves you hanging, wishing for more. As you read this, Steve has set off yet again, heading back to the campfires up north to perform these songs to enthusiastic audiences. I'm sure he will come back with another bunch of fine tunes.
You can keep him in petrol and beer money by buying this record on line at
[top]
---
ALTAN 25th Anniversary Celebration
with the RTÉ Concert Orchestra
Review by Maree Robertson
I confess, I only knew Altan's music from a compilation double CD I own called Her Infinite Variety: Celtic Women in Music and Song, on which Altan has 3 tracks I love. I know so little about instrumental music that I had to ask John Logan to tell me WHY I loved some of the tunes on this album so much, he's kind to me that way! He told me once a long time ago, after accommodating many of my regular & vague tune requests, that I like things that have odd time signatures & unusual ornamentations and styles, & if you know me, that figures, ha! Helen Rowe has been teaching me too, in my attempts to be less of a philistine……
Which is a round-a-bout way of saying, I think this album is FANTASTIC, & that was after hearing one track! It's made by a legendary folk band, from my ancestral home and favourite part of the world (Ireland, & specifically, Donegal) & is based around them doing absolutely gorgeous ORCHESTRAL arrangements of some of their most loved tunes and songs, and that's all all you need to know really, it seems to me.
But for the detail inclined: Two fiddles, accordion, whistles, bouzouki, guitar, & celestial vocals from Mairéad Ní Mhaonaigh. The songs are gorgeous, my favourites are Dónal agus Mórag and Mo Ghaoil, I bet you deep folk will know them all. As a song-fan, I'm often surprised when tunes take my fancy, & there's bunch of them on here that are simply JOYFUL. John tells me that this is because: they have two cracking fiddle players, & there's the classic interplay between open tuned guitar and Irish bouzouki, & the solid but gentle playing of the bodhran (the 'heart-beat' sound). & my favourite tune-set of all here is a slip jig (which apparently, 'has an extra bit at the end') that shifts into a reel, & that change in timing, surprises people & lifts the energy…. so no wonder I love it! He also tells me that the two founding members were childhood sweethearts, & the band has survived the tragic death of Frankie Kennedy, so there's a sad but redemptive story too, how perfect!
For more info check out: www.altan.ie
The only frustrating aspect of this process for me was how hard it was to find out what RTÉ stands for!
It's Raidió Teilifís Éireann Radio [and] Television of Ireland. (ed: use www.wikipedia.org )
So yup, I reckon you need to own this one…& as it happens, there will be a convenient way to do that, because, did I mention? They're coming to BRISBANE, to play at the Irish Club, on Friday February 28th (2014), so get your tickets now while you think of it, via: www.queenslandirish.com or phone 07-3221-5699.
Don't you love how we get to see such amazing stuff, so far from home…… we're blessed, we folkies, we are indeed.
---