[ HOME ]


(Note: javascript must be enabled to view and enable email links.)
[ CD Reviews Index ]
---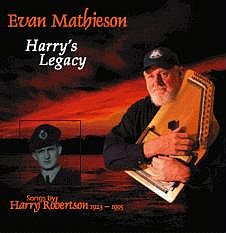 HARRY'S LEGACY

the songs of the late Harry Robertson

performed by Evan Mathieson.

Harry Robertson - Song Engineer. A review of the CD HARRY'S LEGACY by Chris Clarke, poet, song-writer and singer, a founding father of The Shiny Bum Singers, and sometime archaeologist with the DVA, Canberra.

This CD was an achievement by three sets of people, and I will take them in turn, and then talk about the songs.




Writing The Songs - Harry Robertson.

First of course it is the songs of Harry Robertson. Harry was one of the key identities of the folk revival in Australia, coming to prominence in the 1960s in Brisbane. He was a ship's engineer from Scotland, who migrated to Australia with a young family in 1951, and wrote his best known songs about his experiences on the whaling fleets, merchant fleets, and in the dockyards. Some of his whaling songs, self-sung, were recorded on his 1971 award- winning LP WHALE CHASING MEN - Songs of Whaling In Ice And Sun. In 2001 the Mathiesons organised a re-issue of this LP in CD format with greatly improved cover notes, through ScreenSound Australia - the National Film and Sound Archive in Canberra. HARRY'S LEGACY is of Harry's other songs, performed by Evan Mathieson who learned them in the true oral tradition from Harry himself.

I did not know Harry Robertson, but have been a lot around many people who did. Harry seems to have been one of those rare people who are more easily loved than liked. He was raised in a hard school, wartime Scotland, whaling fleets, post-war migration, dockyards and Party membership in the cold war era not being any of them a doddle. (Archival Note: Harry joined the CPA in the 1960s. He said that after much personal investigation, he felt that it was the only political party in Australia that showed any social conscience.)

His committed political views made him a target in the protest era. People who refuse to duck behind the parapet tend to be strong-willed, opinionated and combative, and, like saints or heroes, often not easy to live with. Harry's uncompromisingly honest and hard-edged view of life, and of himself, however, also led him to write very powerful songs, which are his legacy.

At times over the years, Harry's life had become unmanageable through drink, but he left us a searingly self-critical but detached song even of that state too - Reflections, which in my mind for its psychological depth and matched musical form, belongs not so much on a Folk album as among the great classically composed Lied of the last two centuries. (Archival Note: Reflections was written by Harry in 1967 during a self-imposed period of sobriety whilst he was working with other folk to help lay the foundations of the Australian Folk Festival movement.)

Harry was not just a ship's engineer, but a very good one, and his songs have always struck me as of a kind with those skills. An engineer's principal sense is his hearing, which is coupled with a sense of how things fit together - patience and precision. There is not a line of his music or writing which does not work, and articulate perfectly, with what precedes and what follows it.

Harry was as jealous of his songs as he was of his engines, and tales are legend of his interjections from his seat in the audience if some hapless performer had crashed the gears. I have heard a tape he made for one such performer, explaining what a chorus is, and how it fits into a song, exactly as though he was patiently explaining to an apprentice how the engine links to the transmission. For this reason, although on that tape he conceded (with audible reluctance) that people are free to do as they like with a song, for Harry's songs it does matter.




Preparing The Songs

- Rita Robertson and Lyn Mathieson. This brings me to the second set of people who carried the legacy through - Rita Robertson and Lyn Mathieson. It should come as no surprise that this stage of the story belongs to two women. Women hold the folk movement together because they instinctively recognise the life-truth at the heart of the tradition, and they are largely responsible for deciding what gets transmitted. Who first taught you to sing? What proportion of the great folk bands had and still have a female lead singer?

Lyn will hunt me down and kill me for blowing her cover, having carefully played down her role, but these songs were far from ready-made to record. They existed in many forms and many variants because Harry's perfectionism often took them through many drafts, and much fine-tuning.

Harry probably didn't marry Rita for her memory, but he should have. Back through some fairly forgettable times, she could recall from a bit of paper in a box, a sung phrase, or a fragment of tune, the exact circumstances in which a song was written, what he said about it at the time, and what he changed later.

Lyn Mathieson is a meticulous, persistent and patient researcher, and she had known the Robertsons well from when she and Evan were a young couple (delightful photo in booklet). Over many visits, (which I am told always included very enjoyable shared meals that were followed by Evan's spontaneous anecdotal musical input), already well underway when I first met the Mathiesons in 1998, she and Rita pieced together the sequence of the song versions, found other material, poems, tunes to what had been thought to be just poems, casual recordings, photos and other records, and carefully reconstructed Harry's legacy like a patchwork quilt, each small revelation stitched into place.




Performing The Songs - Evan Mathieson

. Which brings us to the third party in this achievement, Evan Mathieson. Evan, with Lyn, had known Harry very well for a long time, and having one of the most amiable natures around, he had weathered even the darker tests of Harry's friendship, and knew the song-writer in all his moods.

Evan is a natural and effortless singer and performer. And he is also one of the good old kind from the mixed-genre days, who can sing and play anything, and therefore handle the immense variety of Harry's output. Evan is a versatile guitarist, but principally known as a fine maker and player of autoharps on which he focuses for this album. His skill on the instrument gives him a great range of colour and mood. He also has a fine sense of timing for bringing in the instrumental accompaniment subtly when it is played on these songs.

Evan also sings many of the songs unaccompanied, and in an apparently natural recording mode, which suggests that he did not labour over 57 takes or obsessively fiddle the result as is now common, but allowed a more believable and real rendition to carry the song to us.

Harry was of course a Scot, and his songs rejoice in those characteristics of language and accent that the rest of the world loves but cannot do justice to (which is one reason why the Scottish contribution to folk music is generally under-represented). If we affect the accent it sounds false, and if we ignore it, it sounds wrong. Evan seems to have truly found the north-west passage here.

This is a solo album, which enabled Evan to work with Lyn on interpreting the songs very much as they believe Harry would have wished, based on Lyn and Rita's background work. This happens to be Evan's first CD, but the presentation and promotion of it are entirely focused on Harry.

While Lyn and Evan have a strong commitment to honouring, promoting, and archiving the life-work in Folk of other key people, particularly Harry Robertson, I hope they will not deprive us for much longer of a CD of Evan, in as unplanned and spontaneous a setting as possible, with some of his old friends, letting his own musical hair down joyously as he does when he is most himself, off duty behind the scenes at festivals.

While this is a very male album in many respects, my enduring image of it is the two women at a table working through boxes of Harry's material, in the kitchen which would have been the engine room of Harry and Rita's home.

The songs start with the only link to the WHALE CHASING MEN album, Harry's best known song Wee Pot Stove, sung unaccompanied. This anchors the new album in the known Harry, and in Evan's own assured approach to the material.

Following this, to signal that it is not just a reworking of the whaling songs, is Homeless Man, Harry's stark contribution to the hobo song genre, which makes Rambling Boy sound like a nursery rhyme. This is the dark Harry, the backstreets B&W photographer Harry, who does not trade in happy endings. Evan originally had some difficulty with this song, because being a nice friendly bloke he had trouble coming across as a hardened drifter who might bottle you without a second thought. (Archival Note: Evan was also haunted by echoes of the rich mahogany voice of Harry's great friend the late Declan Affley, the Welshman whose rendition of this song set an emotive benchmark to which few could aspire.) Evan introduces the autoharp in this song, coaxing out of it a darkness and depth that will surprise those who have assumed it to be a more limited instrument.

Then we are back into a variety of sea songs, though not of the whaling. T2 T2, Tanker Man starts with the poem T2 T2 which links to Homeless Man in Harry's uncompromising observation of real character. It is also, like Wee Pot Stove, a song from Harry's working life as an ship's engineer. The quiet fade-in towards the end of the linking accompaniment to the Tanker Man song is beautifully judged.

The following song Deep Sea Tug is for me the jewel of a fine album, riveting as only eye-witness songs truly can be, tempered by the understatement that characterises the profession, as close as we could get to actually standing on that deck at that appalling moment. Evan's rendition catches the cool understatement, while he allows the autoharp, surging in unpredictable pulses like that sea, to carry the passion and the shifting of life beneath our feet, as great flamenco guitarists accompany cante jondo. (ed: deep song. pron: j =an 'H in the back of the throat')

We then move back to a couple of historical songs, sung unaccompanied, that link early whaling ships with their dual use to transport convicts in the ironically titled Assisted Passage, and Heave Away with its classic chorus.

The next two songs are about the shore-based ship repairing industry on the Brisbane River. Evan accompanies Ship Repairing Men on guitar. The Casuals, sung unaccompanied, takes us down to work with the men in the dry dock.

Harry had a lighter side to his nature too, and some relief from the serious songs is now provided. Fred The Fitter links to the ship-repairing theme, being about a Mr Bean among engineers. An appropriately fuller, upbeat autoharp sound features in these songs. Mrs O'Randy, without giving away the plot, is also work-related being about a plumber. The mood of exuberant bawdiness continues in the Service Song, which, being multi-layered like many of Harry's songs, is political satire and has not dated.

Next we are back at sea in the W. D. Atlas for another tragedy, not eye-witnessed this time as none survived. Harry's professional interest in the state of the ship is his distinctive angle on this song, which is a plea for safety standards. Harry got much of his inspiration for tunes from the world music resource of his professional companions. This is a fine and unusual one, in which we pretty much go down with the ship.

Mrs McGoo is a return to bawdy humour, perhaps this one is a little dated. (Archival Note: Harry wrote this song in 1971 as a comment on the Roman Catholic church's opposition to the use of the oral contraceptive Pill for family planning. Harry had been brought up in a very strict RC family in Scotland, but as a young adult he chose not to follow the teachings of that doctrine. The style of this song follows that of the poems of Harry's beloved Robbie Burns.)

Another political song follows in Freedom Free For All where Harry's forthright response to right-wing repression in the Queensland anti-Vietnam War era, removes its gloves in a withering denunciation. This is in John Dengate mode, but with a brick rather than a guitar in hand. Evan sings it as though he was there - maybe he was.

A Bird is the most enigmatic of the songs on this album. This delightful tune has the sweetness with the underlying hint of sorrow of the great German folk melodies, and Harry matches it with sensitive but rather dark allegorical lyrics. The booklet presentation hints that it is perhaps a love song for Rita, and it is lovely to have her picture there, though the song carries an underburden too sombre for such a purpose. It is very like the Irish genre of allegorical love songs which express disguised political aspirations, some with bird references. There is no suggestion that Harry had such a purpose of course, but such songs remain in the general repertoire just as a love song type.
Reflections is a song in a class of its own as the pearl that grew slowly around the grain of sand of Harry's alcohol problem. As mentioned previously, this song to me is Lied (ed: Song; Lieder – Songs) in the classical tradition, and deserves to be sung in concert halls alongside the acknowledged greats, combining as it does a perfect match of psychological depth and musical form.
We end the album with Harry the land-lubber and two fine railway songs with catchy Scandinavian tunes (Norski tunes as Harry described them, having learned them from the playing of his fellow crewmen with the Norwegian Whaling Fleet). Hard Timber is about the end of the era of the sleeper-cutters, brought about by the over-exploitation of the timber catchment for sleepers. Fettling On The Line is a wonderful upbeat finish, a rollicking infectious tribute to the railway line track workers, filled out to fade with a little additional free reed assistance.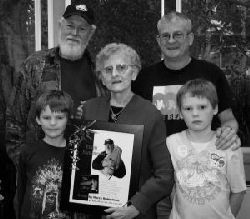 The Booklet.

The 24 page full-colour booklet deserves the last mention, representing much work in discovery and selection, elegant layout matched on the CD label, and readable print (within the size limitations) against muted photographic backgrounds. It is a benchmark for CD presentations. I would only have suggested a larger print list of the songs on the back cover for easier glance reference, and a larger photo of the young Evan and Lyn!




Copyright 2007 Chris Clarke, Canberra, and the Mathieson Australian Music Archive.


Photo L to R: Evan Mathieson with Mrs Rita Robertson, her son Calum and her grandsons Angus and Declan Robertson at Redlands Folk Club 2 September 2007.

Photo by kind courtesy Mary Brettell.