[ HOME ]


Profile
(Note: javascript must be enabled to view and enable email links.)
---
ANDREW HEATH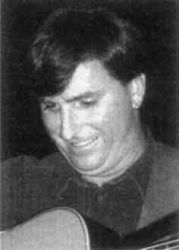 I cannot remember a time when I didn't love music. I can recall myself as a child sitting by a small box, that I think was known as a radiogram, listening to my family's somewhat limited selection of LPs. My favourite at the time being Harry Belafonte. My family showed no great musical connection to playing music although I am told my father played the piano when he was at school but I saw no evidence of it and Grandmother played the piano.
My first musical influence was a family friend who not only gave me some lessons on the guitar but introduced me to Steeleye Span, Peter, Paul and Mary and if I'm not mistaken, Hot August Night. Oh well 2 out of 3 ain't bad. So I guess we're talking about 1972 at this stage and I must have been 9 or 10 years old. The first piece I learned on the guitar was a song called A Soalin'.
I continued to play the guitar, mostly teaching myself music that interested me. As I entered high school I was pretty much a bedroom player who had the perversity to still like traditional folk music. As luck would have it, by the time I was in high school I had become re-acquainted with Ceri McCoy. We had been friends in primary school together and were both nuts about music, particularly by this time Jethro Tull. We set about learning and teaching each other music on various instruments including guitar, mandolin, whistle and flute.
In the late 1970's and early 1980's, bush bands were the thing and the Story Bridge Hotel was the place to be on a Sunday afternoon. It was a time when the lagerphone was considered to be a musical instrument. It was my introduction to Celtic dance music and the excitement it can generate. Given my own heritage being a bastard mix of English, Scottish, German and Danish it continues to be an inexplicable pleasure. I first got involved in playing gigs with a group called Bushfire, that featured Rose Broe, Dave Russell, Ceri McCoy, Dave Stewart, Kevin Kelly (known professionally as Kevin McConachie for DSS purposes). Then came the Downunder Band with at various times Cathy Bell, Bronny Myers, Tom Kadar and Lex Weddell. We took over the weekly Thursday night Blind Hall bush dance and ran that for a number of years. At this stage music for me was a bit of an obsession, one that didn't pay very well but took up a lot of time and energy.
By the end of the 1980s I began to realise that I had to get a job. I left Brisbane to study in Sydney. Wisely, I realised I had to move away from the wicked musical influences in Brisbane. I didn't even take an instrument with me. Mind you after I had run out of money and gotten a wretched student loan, the first thing I did was to spend the lot on a guitar. I remained working in Sydney and keeping in touch with musical friends in Brisbane and also began attending the Woodford Folk Festival.
Personal circumstances drew me back to Brisbane in early 1997 and I again started falling in with the 'wrong' crowd. I will be forever grateful to Ceri McCoy who encouraged me back into playing music. I played a number of gigs with Ceri's band, Jack the Lad including Woodford and BEMAC events performing his creative and challenging Celtic funk arrangements. Without that push I would still be a happy audience member.
The other person who got me going again in music was the fabulous Cathy Bell. With Penny Boys we formed the Poachers. This band has had a number of highlights including releasing a well received CD that got regular airplay on ABC radio around Australian, supports for Capercaillie, Altan, The Fureys, Tony McManus and Finbar Furey and performances at The National, Maldon, Tablelands, Illawarra, Port Fairy, Brunswick, Wellington, Wintermoon and Woodford Festivals. It has been a great opportunity to make contact with people who have a love of traditional and folk music around Australia. These days the Poachers still to the occasional gig and festival with local legend Suzie Fish singing with us. There is still the threat of a new CD to be made. (ed, mfb: 2012 update, recently the Poachers have reformed with the return Penny Boys' return from the USA - read her profile of August 2012.)
Since around 2001, my other musical outlet has been Tulca mor along with Fred Graham, Steve Cook, Claire Fitzpatrick and Jenny Fitzgibbon. Tulca mor focus on the traditional side of Irish dance music and song. These guys are the real deal, great players and good people to be around. The current line-up released its first CD at the end of 2003 and we hope to do the same in 2005. We have been invited to a number of festivals around Australia including the National Celtic, Maldon, Illawarra and Woodford Festivals and are looking to forward to playing at the Port Fairy Festival in 2005. No question one of the highlights for Tulca mor was playing at the 2003/4 Woodford fire event in front of many thousands of people.
Various musical projects have given me the opportunity to play with some great musicians in and around Brisbane including Adrian Jefferies, Sebastian Flynn, Gary Ward, Liam Fitzpatrick, Kevin Higgins and Martin Reese. Having had the opportunity to play with such a talented bunch reminds me of the joke about the definition of a drummer being someone who hangs around with musicians. That's how I feel at times. For me, the people I have come into contact with in the traditional music scene have exhibited the best characteristics of playing for love of music alone. Shared experiences in sessions where participation is important and no particular judgements made, just whether the music in itself has been a rewarding and a fulfilling experience.
Andrew Heath
Update, 2012: