[ HOME ]


Profile
(Note: javascript must be enabled to view and enable email links.)
---
ANGELA KITZELMAN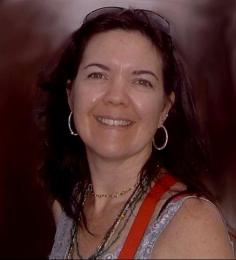 80s Trash Music Sing-along? Abba Extravaganza? What am I doing on the front cover of the Folk Rag? But, I do what I'm told (stop laughing), so here it is.
My musical involvement could be classed into three qualities – bossiness, sense of fun, and sense of fair play. Growing up in Brisbane, it was probably the sense of fun that gave me a love of so many different types of music. My family didn't play instruments, but the radio was always on, the record collection was huge, and Mum, Dad, my sister and I would sing along to everything. Loudly. In the shower, the car, the living room. As a child I'd perform concerts with my friends, forcing our parents to sit and watch us sing along. Mum still swears, If I hear Dancing Queen one more time….…! I never missed an episode of Countdown, and my walls were covered with pop stars of the moment. I was an expert at taping songs from the radio, and have a huge collection of assorted' tapes - old and new pop, punk, rock, disco, trash, grunge and yes, folk.
Meeting Don is a whole other story. Enough to say we met in high school, started going out when we left school, and married in 1995. Nothing I've ever done or will do would be the same without his love and support. He makes me complete.
Starting teachers' college, I took the alternative music route, and my Dad would cringe every time I mentioned live music or the Valley. The black clothes soon disappeared, to be replaced by Saturday afternoon sessions at the RE Hotel, enjoying a three piece PopProperly and their wild collection of bush, Australiana and odd pop songs. I just wanted to be a part of it all. Music was so much fun to listen to, how much better would it be to actually play it? The whistle seemed easy enough, so I gave that a go, then went the big guns and bought a flute. After frustrating a flute teacher for three lessons (OK, so I'd read the first few notes, then wing it), he told me to get my boyfriend to just play any old thing and jam along.
We went to Townsville for Don's family reunion, and had such a good time we moved there in 1989. Somebody took us to the folk club at the Sovereign Hotel, and we started going every fortnight. We'd get up and perform, either by ourselves or sometimes with Martin Pearson and Marina Hurley.
Townsville was so much FUN! If there was a party, everybody would be there. If there was a festival, you'd just GO. Mena Creek, Kuranda, Paluma, Yungaburra. Sessions and parties were magic. It didn't matter how good or bad you were, everybody sang, everybody played. It didn't have to be 'folk', it just had to be fun. Nobody had a performance piece, nobody was a star. Sessioning in NQ was where I really learnt to play - not just flute but music.
Then it happened - Tommy Montgomery asked Don to join his new band. I watched them perform for the first time – Tommy, Don, Michele Govan and Jamie Corfield. That looks like fun, I thought, I'm going to be in that band. That looks like fun, I said to Don when they finished, I'm going to be in your band. Did somebody say bossy?
So the Rogues were born. Ryk Rostron joined us, and we played for many years. Festivals, pubs, parks, folk clubs, parties. I loved every second of it. Even now, we can pick up our instruments and play perfectly together, no practice needed. Don, Michele, Ryk, Tom and Jamie are my true music family.
In the middle of it all, Don and I made the big trek overseas. Sure, we played music (great Irish festivals), but we went to see the world - we camped our way around Russia, Greece, Turkey, Italy and more. We also discovered my favourite folk – folk rock. Men They Couldn't Hang, Great Big Sea, Oysterband, Saw Doctors.
When we returned I was asked to take over the Pangola Festival. I had no hesitation. Pangola, then Palm Creek, was my baby for six years, with the expert help of many people. I loved it. My priorities were always for people to have fun, and for musicians to have a fair go. NQ performers came first, with nobody treated any better than anybody else. Famous, shmamous! My organisational skills really emerged and I also somehow became the vice-president of the Townsville Folk Club, organising the regular fortnightly meeting as well as special concerts.
The Hydrangeas were born at Palm Creek – Michele, Chanel Lucas and myself. All I'll say is country, comedy, sexy, trashy. Exclusive performances only these days, but still hilarious fun.
In 1999 it was time to return to Brisbane. Ryk and Michele followed, and The Rogues began playing around Brisbane.
I was a bit lost without Palm Creek, so I offered my services to Woodford. Camp Princess, Rogues gigs, artists' solutions. People say Don has a short attention span, but I'm not much better.
The members of The Rogues soon began to branch out and play with others. What was I going to do? I had no musical ambition, it was all about having fun. So came the Abba and 80s Sing-alongs, thanks to Woodford's confidence! Only two criteria for these concerts - my friends are involved and everybody has FUN.
In 2004 Don and I took another trek overseas – Middle East, Europe, New York. Returning to Brisbane, I needed something new. I'd always thought there was a place in the south-east corner for a little festival, where everybody knew one another, and where musicians don't go through an insane application process. Keith Urquhart made the suggestion, and together we created the Neurum Creek Music Festival. Once again my guide is we all have fun and everybody gets a fair go.
After 2006's Neurum Creek, Keith and I went on to manage the Duck and Shovel venue at the Woodford Festival. Again, we wanted it to be inclusive. A friendly, welcoming, organised, comfortable and relaxed venue. Like Neurum Creek, we wanted a family.
I don't really consider myself a 'folkie'. Folk isn't necessarily my favourite type of music. But it does seem that my thing is to organise festivals and venues and hatch bands for musicians to play songs they'd never normally perform. I have other things I do, you just haven't seen them yet. It's an evil empire I'm building, and you're all coming along for the ride…. (cue wicked laugh)
Angela Kitzelman