[ HOME ]


Profile
(Note: javascript must be enabled to view and enable email links.)
---
ANN BERMINGHAM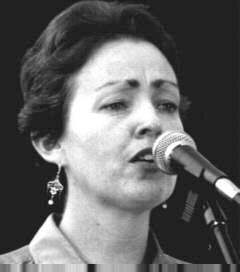 Ann grew up on a dairy farm on the Darling Downs in a household where music was a constant part of daily life. There was always some-one singing, whistling or at least listening to the radio. As well as sing-alongs with other musically inclined relatives, there was a family tradition of the children putting on a concert on Christmas night for their Irish grandfather who had a great love of poetry, especially the Australian bush poets, and of the Irish emigrant songs. Ann's first performance memory is of singing a duet of 'There's a hole in the bucket' at one such concert.
Throughout school and for some years afterward, Ann and her sisters sang at the local church and at weddings and community events. High school brought an expansion of horizons through meeting other students who played guitar and were confident harmony singers. Main musical sources until this time had been popular radio and - from primary school - the ABC songbooks with their inclusion of bush songs and songs in English from other cultures. Another important influence was meeting for the first time a cousin who taught her 'The Water is Wide' and a version of the riddle song.
First introduction to the folk scene was through the Quart Pot Folk Club in Toowoomba in the mid-70's where a performance by the Red Brick Bush Band was a memorable event.
After moving to Brisbane, she went occasionally to the Folk Centre. Her first performance has disappeared from history but was probably at the Tar Pot Folk Club in about 1979 or at the Queensland University Folk Club that Pamela Gallagher ran around that time. From this time Ann became a regular at the various venues and recalls it as a time of numerous post-folk club parties and singing sessions.
Favourite singers from that time were people like Jan Davis, Helen Rowe, Avril Lambert and Russell McKay, both as soloists and as members of the wonderful 'Beltane' with Tony Suttor and Alan Forshaw.
The significant influence of this time was probably the exposure to unaccompanied singing and British Isles traditional songs, and the delights of playing with harmonies in sessions with other enthusiasts.
Ann's first band membership came in 1982 - a bush band in Bowen in North Queensland which had a fluid membership and rehearsals akin to the Brisbane experience of sessions and parties. At this time festivals at Yungaburra, Mt. Isa, Mena Creek and El Arish were a lifeline because of the limited access to live music.
Back in Brisbane in 1986, she continued as a solo performer and also joined Brisbane Women's Workshop which was begun by women such as Joyce Elischer (now Simpson), Kate Bestevaar and Di Holland to encourage women's participation in performance. In the years that followed, Ann began to take up organizational as well as singing roles and was involved as a co-ordinator of BWW's Edward Street Folk Club, on the Q.F.F. Committee and as a Queensland representative on the then National Folk organization, the Australian Folk Trust.
Since 1991 Ann has been fortunate to work with some of her favourite local performers as a member of One Step Forward, Tangled Web and Bella Balkana. Both Tangled Web and One Step Forward performed at the National Folk Festival and recorded cassettes during their time together.
In 1998 she continues to perform solo, with Bella Balkana, and with Brisbane Playback Theatre Troupe as well as conducting Peace 'n' Choir. At this stage the future is more about continuing to explore new possibilities rather than having definite plans. What is definite is that future directions will be influenced not so much by musical styles as by the opportunities and experiences that have come her way so far, and a resulting desire to make music that celebrates our lives and stories and brings us together.