[ HOME ]


Profile
(Note: javascript must be enabled to view and enable email links.)
---
ANNE INFANTE
SONGSTRESS TURNS TO CRIME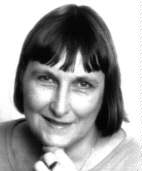 Anne Infante started singing at The Folk Centre back in the mid - sixties, performing three nights a week for a period of four years. After spending six months in New Zealand she returned and became founder of The Barley Mow Folk Club. The 'Barley Mow' was the first Brisbane Folk Club in a Pub and ran for four years on Thursday nights at the Cecil Hotel in George Street. At one point she said "Fiona Nichols also attended, as I recall, in a basket."
Anne has sung at many National Folk Festivals held in Brisbane, Adelaide & Melbourne and was a member of The Moreton Bay Folk Festival Committee which later became The Queensland Folk Federation. As she states, " I was on the QFF committee for years until the politicking got too boring."
Anne was a regular guest on the three series of the ABC TV show 'Around Folk'. ABC producer Hylton Tipson, Anne and other 'Barley Mow' people were involved in a folk collecting trip to Brisbane River Valley, which inspired the programme. The TV show aired nationally and was originally recorded live until they changed the the time slot. The show proved to be very popular, with Ray Meagher as presenter, before he was a star of Aussie Soap Serials.
Anne co-wrote and recorded a series of folk programmes for ABC National, one of which was on Bawdy Ballads. She says, "Don't ask me the dates - can't remember. Couldn't even remember dates in History at school either."
Singer and Songwriter, Anne has recorded several cassette albums, of her own material, as well as positive singing affirmations for adults and children. Kids songs are soon to be released on CD. Anne now sings quite regularly at The Kookaburra Cafe in Paddington on Wednesday nights performing traditional, contemporary, and original songs. Anne has a special knack of being able to write songs that you would sware have been in the oral tradition for many years.
In recent years Anne has become a crime novelist and has had five crime novels published. Currently she has an agent who is handling all her future books. Her latest a novel (published 1997) "Escape from the Past" is about a prisoner at St Helena, Moreton Bay in the 1800. (Well worth a read! Ed.)
Anne finished up saying , "If there's not enough here for you, let me know and I'll pen you a quick novelette which should cover the formative years and the other odd pathways in my life."