[ HOME ]


Profile
(Note: javascript must be enabled to view and enable email links.)
---
ANNIE PETERSON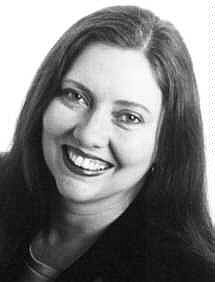 Born and bred in Brisbane, Annie grew up in a very musical family (non-professional). "My family always sang together particularly on long drives, whether it be church music, popular songs of the day or my Dad's favourite Frankie Laine. My big sister would usually take the lead. At the time I craved to take the lead as well. Making up lower harmonies seemed a little dull, but I'm now so very grateful for those experiences which helped develop my ear."
Although voice has always been Annie's passion, it was on her great grandmother's piano that she began to really hone her musical skills. After high school she studied to be a high school music teacher, majoring on piano, but the lure of performing took her away. After dozens of 'alternative' groups throughout the 80s, Annie finally joined close friends Michael Peterson (now her husband), Jevan Cole and Bill Rodgers (playing flute, whistles and singing) forming the folk group One Straw. (* see footnote) "I remember clearly my first folk festival at Cabarlah. This was my first introduction to the folk scene. I truly felt I had found another family." The band hurried back to West End and began running a folk club themselves at the Sitting Duck Café. "During this time we received a huge amount of support from many Brisbane folkies like Doug Eaton and Dale Jacobsen, Ann Bermingham, Helen Rowe, Lonnie Martin, and particularly the Toowoomba mob who would travel up like Gecko and Ronnie, and Kim Brown and Gail Dawson."
Soon after Annie met Bill Hauritz, who was then directing the Maleny Folk Festival, she was utterly inspired to join the Queensland Folk Federation team, first as a volunteer and later as a staff member, where she remains today as programme manager.
"Bill encouraged us as a group and me personally as an organiser. With his complete faith behind us I felt as if anything was possible. So when that crazy man said 'I reckon you could run a Brisbane Festival', I said, naively but passionately, 'Sure I can!' The Solstice Festivalw as an incredible opportunity which very much changed my life. I met so many great people. I went in knowing virtually nothing, and came out with what felt like the equivalent of a 'trial by fire' apprenticeship."
Annie also began and continues to nurture the growth of a musical show - the Women in Voice series. Women in Voice has been another wonderful journey, of learning the ropes from on stage and behind.
Sadly Annie hasn't time to dedicate to continue to make music professionally, but she is still always ready to share a yodel at a party. "I'm probably too willing to share a yodel at parties. Joy and Heather McKean have been a very positive musical inspiration for me. Great Australian music pioneers. I also have been inspired by dear friends Bill and Mavis Scott whom I try to visit as much as possible absorbing a fraction of the vast Australian folklore knowledge they possess."
"I don't miss performing that much, I really feel artistically stimulated by working on a great festival (Woodford) with a very creative team of staff, volunteers and performers each day."
As for the future, she asks for: "more of the same please........ After making the grade as The Folk Rag's Miss December, where else is there to go!!!!"
* Footnote:
Apologies to One Straw's first bass player Chris Burton and Steven Stanley, One Straw's second and longest serving bass player, whose accidental omission was an oversight.
One Straw continued to perform over the years with other bass players including Lance Bartholemeuz, Terence O'Donahue and cellist Trent Arkley-Smith, before settling on their final lineup with multi instrumentalist Seamus Kirkpatrick. Steven features on their first CD Spinner's Dance ; Lance and Trent featured with then bassist Seamus on their second CD Pseudognome.