[ HOME ]


Profile
(Note: javascript must be enabled to view and enable email links.)
---
BOB ELLISTON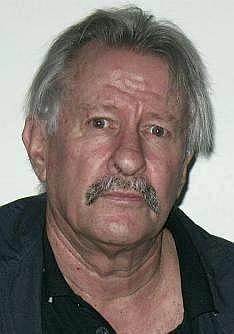 I was born & raised in Melbourne & first picked up a guitar around 1960, and spent much of my Sundays traveling to the Emerald Hill folk club in South Melbourne, listening to the early greats like Glenn Tomasetti, Brian Mooney, Paul Marks and many others including the late Don Aryton (later changed to Don Andrews) whom I got to know well.…
I started off playing in some of the sleazy little coffee/folk clubs, then formed a duo with a lady, doing the usual folkie English/Irish type stuff, and from there into a 4 piece band playing in Geelong doing much the same sort of thing.… the travel bug got to me in 1963 so with my mate Rick & in my trusty Vanguard, we lobbed at the Cross in Sydney, and I began playing at the Folk Attick. They were great times and many friendships were made with musos like Don Henderson, Declan Affley, Trevor Lucas, Paul Brand & others, and I learnt a lot from all of them. The Attick was owned by Michael Darby, and we formed a bit of a partnership with him to open up Folk Attick`s in Melbourne and the Gold Coast… I financed the one in Melbourne, and we put Jen Geddes-Hawkins in as manager and the place really took off, with many of the well known artists playing there. Later on we put Trevor Lucas in charge, until the police closed us down on "health grounds". It turned out that the police minister's daughter had gone missing and she was known to frequent the place. Everybody sat on cushions on the floor & our coffee was made in an old copper (we had no running water), but anyway they sent many carloads of cops to make sure we didn't harm the morals of the young, we thought it was hilarious, I mean what harm can you do lying on the floor in near darkness (blue ultra violet light was a Folk Attick specialty) listening to inoffensive folk music.
At this stage I was still living and playing in Sydney (making flying visits to Melbourne) and many musos were playing at both places. I also played at other venues in Sydney and the Hayshed in Tamworth (well before the now famous festival), we all played in the many folk festivals of the day, and I only very recently received a recording of me playing at a big festival compered by Dave Guard (ex Kingston Trio). I had no idea these tracks existed, and I'm told there are more.
By this time I had acquired my Gibson B25 six string & later the Maton FG 150 12 string, which I still have today. I played in Brisbane for a short time, then worked on the Leslie Dam near Warwick for a while, using a pneumatic jack hammer, which was a pretty rugged environment with some tough boys, but I had a car, guitar and rifles (prerequisites for respect) so many of us would go to some obscure dance in the middle of nowhere, where I'd sing a few songs, everybody would get pretty pissed & get into fights (not me, folkies are peaceful people) or try and pick up one of the very few country girls who were sitting at the back of the hall. I came back to the Gold Coast & played in our club there, along with Don Henderson, Margaret Kitamura, Dave De-Hugard (I still have some of the photos) & many others I remember all played at a big concert in Brisbane for the Mount Isa miners strike relief fund & the huge party afterwards at Geoff Wills' place in Lota, where copious quantities of his home brew were consumed, which later possibly had some effect on me ploughing my Vanguard into the old Beenleigh bridge.
We also played at a little club in Coolangatta, where I met the lovely Wendy who was to become my wife and mother of our 2 sons.
We moved back to Sydney, where I continued to play around the clubs & festivals, but a job become necessary so I worked for a company in Marrickville, before we returned to Melbourne in late 1965. I was still playing a bit but my career took off, and I became the Sales Manager of a company, then we moved to Singapore (by this time we had 2 young children) where I was Managing Director of our overseas plant but the musical side still went on, and I played regularly at the British army folk club at their base in Sembawang, and on their radio station, some of the songs and acts performed by the soldiers were fabulous, but I was warned never to sing Irish rebel type songs, as the IRA were not exactly popular, I also played at the Singapore Economic Development Board's annual dinner which was a very big honour, as I was the youngest expatriate company manager in the country. I returned to Australia in late 1976, to run another factory in Melbourne, and I got back into the music scene with a bush band in the outer suburbs of Warrandyte & Panton Hills. In about late 1977 I formed a band called the Panton Hill Umbrella Club (known affectionately as the Phuc band) with many of my old friends from the 60s and we become very well known in the Melbourne scene at pubs, clubs & festivals etc. We put out an album (Sofisticated) in 1981. We were a hard band to classify, but probably best described as a Country Jazz band, including jug music & stompy stuff (also several of our own songs) - we had up to 7 members (depending on who was available) and around 13 instruments, and we all changed around from one song to the next, which made it musically very interesting (I played a lot of dobro in the group). All good things come to an end and when we moved to far north Qld in 1982, the band folded.
I played in Cairns before we moved to Innisfail where we lived for the next 16 years, and I also played in a variety of folk/bush bands but mostly with my great friend and brilliant banjo player Nick Young. We still play together whenever we can. Eventually we moved to Maryborough in the late 90's, and then back to Melbourne in 2003 playing very little for several years during this time. I managed to convince my employers that to satisfy the Queensland market we needed to set up in Brisbane, so here I am - I still have a house in FNQ & hope to go back there some time next year, but since I've been here I have rediscovered my enthusiasm for the music, writing new songs and meeting all the folkies in Brisbane, and I thank all for making me feel welcome. I found out that Ian Clarke started out his interest in folk music at my club in Melbourne & that I had known Shez Wright in Cairns about 25 years ago - it's a small world ). *
I intend to keep writing new songs, and hope to do some recording later this year.
cheers.. Bob Elliston
* ( editor's note: It certainly is a small world! It was about 1964 when I first I met Bob and his black Vangard at the Gold Coast in the scout hall at the river end of Cavill Avenue in Surfers Paradise. There were some concerts held there (and elsewhere) and we were all sleeping there. My old friend Peter Woodward and I painted some yellow motifs on the Vangard's doors. Michael Bourne)