[ HOME ]


Profile
(Note: javascript must be enabled to view and enable email links.)
---
BOB TOWNSHEND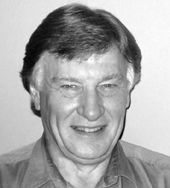 A long time ago, far, far away in Yorkshire, Bob Townshend was born into a non-musical but music-loving family. His mother loved any music from Bach to big bands and his father played a strictly committee member role in the local brass band.
A love of music was beaten into him from a very early age...... not enough to learn to play an instrument though. To his everlasting regret, while his sister studied the violin and went on to become a very proficient musician, he let the chance pass him by.
As a boy he was blessed with a beautiful voice - how times have changed! So good was he that when his school put on a concert he was ordered to sing, on pain of eternal detention, and got his first taste of performing on stage to a live audience. It was a turning point...he loved the limelight.
Then came Youth Club charity concerts as one half of a duo with his sister, Beryl, who played guitar and did all the harmonies while he sang the easier melody and enjoyed the adulation.
Bob lived in Whitby, a seaside resort and like all English seaside towns it had a professional group entertaining the summer holiday-makers at the pier or, in Whitby's case, the equivalent which was grandly named the Spa Pavilion.
When these groups came to town for the "season" they always advertised for local talent to pad out the show, and for several seasons the duo performed whatever was popular at the time, anything from folk to pop. During the winter months together with a couple of friends, they formed a band called The Downbeats and travelled the North-East of England, performing at that academy of hard knocks, the British Working Men's Club.
It was during this period that Bob learned to play the three guitar chords which have served him faithfully to this very day. Following his love of the limelight, he joined the local amateur theatre group and performed in several plays and pantomimes. His serious involvement with the folk scene started at about this time at the Whitby Folk Club, which has gone on to bigger and better things, as has another singer who started out there - Alistair Russell of The Battlefield Band fame.
Bob then joined a rock group as lead singer and three chord rhythm guitarist. The Renegades, wearing leather jackets and jeans, the uniform of the Rockers, were very popular and in great demand for all the local "hops". They went on to win a Tyne-Tees Television talent quest. The prize was a recording contract.
The record company wanted to change the image of the band and rename it The Gonks. The Renegades were not impressed and knocked back the opportunity.
Bob's job then took him away from Whitby to travel round the North-East as a relief manager, spending a week here and a fortnight there, covering for managers on holiday or off sick. It was a glorious gypsy existence.
It was the time of the great boom in folk music and most towns had several clubs and they were always in pubs. It was the ideal situation as Bob was able to combine his two favourite pastimes, singing and drinking.
During this magic time, Bob had regular bookings at folk clubs throughout the North-East and was resident singer at the Filey Folk Club. After three years of this idyllic existence, the company that he worked for decided that it was time for him to settle down and sent him to Stafford, situated between the "Potteries" and the "Black Country" in the Midlands of England.
The area was rich in traditional music and Bob soon became involved in the Falcon Folk Club as a resident singer. The Falcon was one of the more active clubs in the Midlands and attracted some fantastic talent.
Bob was fortunate enough to share the stage and watch in awe as Tim Hart and Maddy Prior, Finbar and Eddy Furey (and Finbar's incredible nose-flute), Mike Harding, Harvey Andrews, Jon Raven, Martin Carthy, Dave Swarbrick, The Yetties, The High Level Ranters and a host of others who went on to become legends of the folk scene performed.
As well Bob joined The Ferriers, a local Staffordshire folk group, and they performed around the area with some success. Following in the wake of that other famous Yorkshireman, Captain James Cook, he headed for the Antipodes and lived in Wollongong for a few years. With John Broomall, Bob helped to get the Wollongong Folk Club up and running.
He again joined the local Little Theatre and performed in various plays from Shakespeare to Theatre Restaurant. Another move saw Bob in Ipswich where the folk scene was barren.
He tried to establish a club and called it "Country Folk", because most of those who became involved preferred country and western music. So much so that the club became The Coal City Country Music Club.
Bob sort of dropped out for a while until a chance conversation with the owner of Murphy's Town Pub in Ipswich gave him the opportunity to put on a "Pommy Music Night". It proved a success and became a regular Wednesday gig.
Bob met up with Jim Irvine and they formed a duo to provide the entertainment. When that finished Bob's search for the limelight saw him appear in a couple of TV ads.
For a while Bob stopped performing and joined that hugely vital part of the folk scene, the audience. He was happy just to listen to bands like Blackthorn, Shebeen, Tulca Mor, Fairly Lively, The Jar and all the other great Brisbane bands.
It was while attending a session at the old Dubliner that a small golden book caught his eye. It was that priceless publication, The Folk Rag. What a revelation!
He found out about the Kookaburra Folk Club just up the road from where he lives at Paddo. He went - and was immediately re-hooked.
He was invited to sing and enjoyed doing so in such pleasant company. So now, most Wednesdays, he can be found at the Kookaburra waiting to see if Stan Arthur's finger will point.
So thanks to three chords, sixty-nine songs, folk clubs and folkies, Bob's had a good time so far.
Turn on the limelight - there's lots more to come.....!
Bob Townshend