[ HOME ]


Profile
(Note: javascript must be enabled to view and enable email links.)
---
BRENDAN WILLIAMS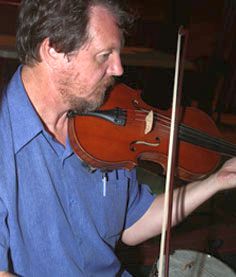 I visited Blarney Castle and Newgrange before being born in Kent, England. I remember the 60's because I went to school in Dublin and the nuns weren't into anything except religion, violence and singing. My memory worked brilliantly before I went to school.
Dad was Irish, sang Italian opera and performed solo at weddings. Mum's relations came to our house and played Joan Baez and Tom Paxton on guitars and banjo. I sang soprano in the school choir and liked Bach. The first piece I remember hearing was a 9/8 when I was 2 or 3 which I learned later. At 8 I went to an accordion lesson without an accordion, there were 20 beginners and one player. Eight years later I took up guitar. My first guitar was untunable so I could only play melody as chords sounded crap.
My aunt Catherine taught me my first chords on her guitar and two weeks after getting a real Spanish guitar, lessons started at school with Brother Williams and Mr. Cyril Brannigan. I then got a completely unpaid gig with the school ceili band (pronounced Kaylee) and every Friday played dance music from 7pm to 3am a junior ceili, senior ceili and a dinner and dance.
I liked the dance melodies and took up the tin whistle. Someone showed me the wrong fingering so I had to stop playing for two years and start again. I accidentally learned the highland bagpipes when a pipe band started and I wasn't sure if they meant Uilleann pipes.

As a kid I was interested in making musical instruments and learning practical skills. One granddad built steam engines and the other was a carpenter and toolmaker. Dad decided that as I was not strong (I was the school's long distance runner and cycled 150 miles a week!) I should become an academic. This was a time when tradesmen had low status and low pay. So I went to a school for solicitors and language freaks, academics instead of technical trades and engineering. A technical school was 5 minutes walk away, but no I had to cycle 5 miles in to learn poetry in five languages. Ah well, such is life.

At 12 I was concerned about the amount of pollution we were putting into the environment. It's not difficult to see things in advance, but life is easier if you're a blind follower of the system.
At 19 with 25% unemployment I immigrated for the second time to Darwin in the Northern Territory. I played at the Top End Folk Club (the gun turret), learned bush dancing, piped with the Humpty Doo Highlanders and sang tenor in a Welsh men's choir and a mixed World choir. Dad got a role in Crocodile Dundee as the stand in for John Mellion. I taught guitar at the Don Dale Juvenile Detention Centre. The students would do really well until I'd go one week and find that they did no practice. The new system had confiscated their guitar as punishment. Eventually I was just going there for the income. I was upset after I moved to Brisbane in 1998 that one of the detainees at the centre I taught at had suicided. Nobody knows whether having something to look forward to may have made a difference. A similar thing happened recently to a Sudanese refugee I knew.
While in Darwin I played in a band called Catalpa. I went to national folk festivals from Alice Springs through to Kuranda, Sydney, Adelaide, Perth and a few in Canberra. To all the usual suspects on the folk scene - it has been great, it's the people that make it.
I am interested in the environment, politics, philosophy and whether there is a difference between a society and an economy. To many people music does not have a place apart from the commercial. Music festivals play an important role in society previously filled by village markets - try busking at the local shopping centre.
In 1985 I played in the trio Cool Change at Casuarina, Darwin, for $100 a gig. In 1999 I did pub gigs with a band around Brisbane for $100 a gig. In 2003 I was again offered $100 for a gig so I sold my house and mortgage and opened a music shop.
Recently I have been running the beginner session at Steptoe Music, the Manly session, some figure and ceili dancing to live music at Chelmer. Also I'm in Mandolins in Brisbane, play second violin in Indooroopilly Chamber Orchestra and run two music shops in Corinda and Laidley. It's about time I grew up, got another mortgage, found a partner, started a family. Hang on a minute, that would mean being was less involved with Steptoe Music and more into Steptoe and Son. Music is my home, musicians are my family. Hi Jean, George, Chris, Don and Rita, Pam, Janine, Bernadette, Ben and family, Kiddu, Lucy, Bill and Shakti also the music students at Corinda and crew and students at Laidley.
Present Projects:
1. Turning Steptoe Music (presently a Folk Music Shop) into a World Music Shop, with teachers for a range of instruments and styles;
2. Bush dancing and ceili dancing to live music;
3. Finding enough people to make the above projects work.
Future Projects I would like to see happen:
· An Irish figure dancing team of 16 people to do display dancing at festivals to live music;
· A Celtic or Ethnic Music School in Brisbane;
· Accommodation for touring musicians so they could do a full week of workshops;
· A Folk Dance Orchestra where we play arrangements of folk music with both orchestral and folk instruments;
· Australian instrument makers (to) use the wood from one tree in order to make a group of musical instruments, and tour a band with these instruments doing songs promoting the merits of value adding. At the moment one tree can be made into $100,000 worth of musical instruments and the tax on it is the same as turning thousands of trees into wood chips;
· Musical instruments sent to detention centers and refugee camps. We could also include some song books by Australian song writers;
· A group of musicians play for the various mediaeval reenactment groups;
· An Australian Show which includes traditional bush dances and contemporary folk songs tour Queensland Towns.
Anyone interested in a trip to Newgrange? How about a session at Blarney Castle ?
There are ideas I can add to this list but I don't think I'll survive that long.
Note: orchestra Greek from orkheisthai, to dance
Brendan Williams