[ HOME ]


Profile
(Note: javascript must be enabled to view and enable email links.)
---
BILL SCOTT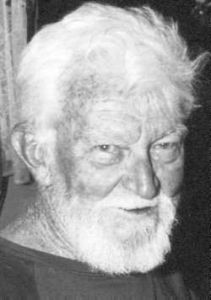 Bill Scott was born in Bundaberg in 1923 and spent his boyhood mostly at Caboolture through the Hungry Thirties. It was not a musical household, except that the family owned a wireless set (powered by a car battery) which did bring music into the home. The family moved to Brisbane when Bill was 13 years old, his father being transferred there as a railway guard.
He joined the Navy in 1942 and served for four years during the Second World War, ending the war at Wewak in New Guinea. It was during this period he first became aware that there were many songs sung on messdecks and in wet canteens that did not belong to any other kind of music and he felt a great affinity to this kind of music. (It was not until around 1948 that his brother Alan told him they were called 'folk songs'). He sang these songs for the amusement of himself and his shipmates, having memorised many of them.
After discharge from the Navy he prospected (unsuccessfully) for gold, worked at Mt. Isa in the smelters, cut sugar cane and worked on the small steam locos of the sugar mills around Innisfail in North Queensland. In 1948 he returned to Brisbane with many more songs in his repertoire. In the early fifties he returned to sea as a seaman on the lighthouse tender Cape Leeuwin for a year, and kept learning new songs.
Around the mid-fifties he met Stan Arthur and joined the Moreton Bay Bushwhackers Band, which performed at many venues around Brisbane, from the Boilermakers Picnic at Sandgate to the re-enactment of the landing of Governor Bowen at the Botanic Gardens at the State centenary celebrations in 1959. In 1958 with Stan Arthur, he recorded a 7" 33 RPM EP record called The Billygoat Overland and in 1959 the Moreton Bay Bushwhackers and John Manifold's Bandicoots Band made the LP recording Folksongs from Queensland. He was also involved with Stan, Garry Tooth, the late Bob Michell, Evan Mathieson and others in collecting and disseminating local folk songs, with the invaluable help of John Callaghan and his tape recorder. This group called themselves the Queensland Folklore Society!
Bill was active in the group that brought the American folksinger Pete Seeger to Brisbane for a concert in the old Brisbane Stadium, and as an offshoot of this was among the group who began the old Folk Centre in Ann Street in Brisbane in the early sixties. Also about this time he was associated with John Manifold who edited and compiled the two songbooks, Folksongs from Queensland and The Penguin Book of Australian Folksongs.
In 1974, (a Big Flood Year) Bill decided to work full time as a writer, and has continued to do so ever since. In 1976, at the suggestion of Susan Wagner, Chief Editor at the Sydney publisher Ure Smith, Bill compiled the Complete Book of Australian Folklore which has been in print almost continuously since. In 1978 he was invited to spend six months as Artist-in-Residence at the Goulburn College of Advanced Education, and while there he recorded many informants and collected songs, music and anecdotes in the area served by the College. These tapes are now in the National Library at Canberra.
Other books compiled or written by Bill from time to time on aspects of folklore are Australian Bushrangers, Bushranger Ballads, Pelicans and Chihuahuas and The Banshee and the Bullocky; and he collaborated with John Meredith to produce the book Ned Kelly. He also edited and compiled the Second Penguin Australian Songbook. Bill was also involved in radio and television presentations of folksong and folklore over the years, and once even wrote the narration for a film Explorer Safari that dealt with the fate of the explorer Kennedy who was killed on Cape York.
In his later years he turned to writing occasional songs, some of which have proved popular over the years. Twenty-two of his songs are available on CD, called Opal Miner, ably arranged and performed by Roger Ilott and Penny Davies. He also made two cassettes of poems and songs with Restless Music of Stanthorpe, Hey Rain and Songbird in your Pocket.
An extensive bibliography of his writing is contained in the annual Australian Folklore publication published by the University of New England, in volume 13 (1998).
Bill and his wife Mavis, (also a writer) now live quietly in Warwick on the Darling Downs; he hardly ever performs or appears anywhere these days, but goes on writing songs and poems, and articles for overseas and local folklore journals. His particular interest these days is in what are called Urban Legends and in spoken rather than musical aspects of folklore.
He says he has never consciously been aware of being a folkie, but the discipline has always been part of him, and loving it all in its many aspects he has always wanted to share his enjoyment with others.