[ HOME ]


Profile
(Note: javascript must be enabled to view and enable email links.)
---
CAROLINE WILLIAMS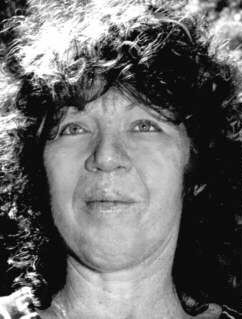 I was born in Townsville, living in Nambour and Townsville during my primary school years and as a teenager in Ipswich. Music was limited to my parent's tastes - mostly Country and Western music - Slim Dusty, Glen Campbell, an occasional taste of Neil Diamond (Sweet Caroline) and John Williamson. I attended weekly 60/40 dances at Marburg on Saturday evenings, and danced with many a gent who could really waltz. These days, dancing with partners like Jacko Kevans at the National, Woodford and even the old Helidon Folk Festivals, brings back memories of the people who could waltz "proper".
After leaving school and starting work at the University of Queensland, I moved to Brisbane. I was just beginning to get involved in bush dancing (the younger more fun alternative to 60/40 dancing). Little did I know that UQ was the venue of the 1981 National Folk Festival and I had work colleagues, like Julie Dendle, that were folkies. In the early '80s, I attended bush dances six or seven nights a week, if the opportunity arose. This often meant travelling afar, to place like to Cedar Creek, Jondaryan Woolshed, Gold Coast, Woombye, following bands like the Verandah Band, Rantan, Bale-Em-Up, Mouldy Warp and Brolga. The best dances seemed to be with the Verandah Band at the Blind Hall. I remember Peter Auty demonstrating his oomphy version of mazurkas at Rantan's bush dance at the Hub Club.
Colonial Balls with The Champion Moreton Bay Band have been regular events in my dancing calendar. Bush dancing exposed me to Morris dancing and I first started attending practices in 1984, but public transport difficulties when practice venues changed soon put a halt to this. Jill Donadio (Brisbane and Sydney folkie, now in Perth) taught me to play penny whistle during our days of horse riding in the Kenilworth hinterland. I still remain a closet whistle player. When my feet are too old to dance, perhaps this will become a further connection to the folk scene.
I co-ordinated my first venture overseas in New Zealand in 1984-85, so I could start at the Auckland Folk Festival catching artists like Phil Garland, Paul Metzers and Martin Carthy (not knowing how famous they were in my innocence). I dabbled in Scottish Country Dancing as bush dancing seemed unavailable in NZ.
My addiction to dancing and folk music led to some amazing feats of hitchhiking from Leamington in the North Island to the Canterbury Folk Festival in the South Island for Easter - again catching Phil Garland. (Luckily I was able to see Phil again at a Goodwill house concert in Brisbane on his recent tour).
I then spent a few years out west being a jillaroo, but this didn't stop my feet from wanting to dance. I still commuted around the countryside on weekends to get to dances. I even snuck down in the middle of the week to see Greg Hall get his "colours" with Moreton Bay Morris atop of Mt Coot-tha on May Day at sunrise.
The first Maleny Folk Festival mid-late '80s was my first experience of an Ozzie folk festival. I attended some concerts, but my heart mostly followed the dancing.
My jillaroo experience took me to the Netherlands where folk dancing was for oldies, and they couldn't believe a young person could be interested in it. I spent about four years working in London, and within a day I found Morris dancing at Greenwich and within a week joined local teams Dacre Morris (ladies Cotswold side) and Black Pig (mixed North West side). Many of Dacre ladies' partners belonged to another local side, the disreputable Blackheath Morris Men. (The reputation of Sydney Morris Men preceded my arrival and their connections to Blackheath).
I quickly acquired a UK folk festival programme, and my time in London was spent arriving at work on a Monday morning with a wet tent in tow!!! During the week I dried my tent and attended Morris practices and many a local pub tour, then on Thursday night packed up ready to head off straight from work on Friday afternoon to another festival or Morris weekend. In fact, I recall ringing a fellow in Glasgow (innocently not knowing where or how far away Glasgow was), he couldn't believe that I would travel from London for a festival that far away, but from my perspective, Glasgow was only a five hour train trip away.
Within a few months of arriving in the UK, I saw an ad for a Colonial Ball to be held at Cecil Sharp House. I contacted the organiser, Chris Brady who asked me if I knew Madonna from Brisbane - Wow! 'twas then I learned what a small world we live in. I assisted with promoting Australia at the Ball and ran into Colin Towns and Jenny Simpson who were travelling in the UK at the time. The then QFF magazines were sent to me to keep me in touch with Oz folk happenings.
I attended a selection of festivals - Edinburgh, Inverness (where I caught Altan and rang home to Greg Hall to say, guess who I just saw!), Rochester Chimney Sweeps' Festival, Chippenham, Harrow (dancing festival), Saddleworth Rushcart Festival, Towersey, etc. attending the renowned Sidmouth Folk Festival in 1988. Each day would start with 8am Morris workshops and then dancing till the 3am Late Night Extra ceilidhs. Being a Queenslander, I was unfamiliar with rocky/pebble beaches until Sidmouth - but by the eighth day, I found myself lapping up the sun on the so-called beach and even falling asleep on the uncomfortable pebbles.
"Are you going to Scarborough Fair?" acquired meaning when I attended a Morris festival at Scarborough! I danced many a ceilidh at Cecil Sharp House. What I missed most at English Ceilidhs were the waltzes from home - they thought that waltzes were slow and boring and if there was more than one waltz in a night, then it wasn't a good night. I found myself also interested in Irish Set Dancing and came across an Australian Morris lad or two e.g. Dave Scarff from Ballarat (who was also dancing with Hammersmith Morris in London).
Arriving back in Australia Easter 1992, I went straight to the National Folk Festival, the last to be held at a University site, and I bumped into Dave Scarff at an Irish Set Dancing workshop. I even bumped into AWOL, (Andrew Lamb, from Tyler's Men and Blackheath Morris teams in London), teaching a safe sticking dance at a Morris workshop, going the whole hog with the bottle of red wine and using a burned cork to blacken their faces for a border dance. I moved back to Brisbane in 1992-93 and to keep my dancing feet happy, I joined Moreton Bay Morris and the Queensland Colonial Dancers, and also danced with Morrice Rampant and Belswagger Morris. I have since become a follower of Bill and Margaret Winnett's workshops and have attended all their Brisbane tours. I regularly perform at and/or attend the Woodford Folk Festival and the Nationals in Canberra.
During the past year or two, I have been the Squire of Moreton Bay Morris Last year we had the pleasure of celebrating our 21st anniversary with an Ale (party). Anyone interested in enjoying some fun dancing, should come along and give Morris dancing a try. There have even been occasional requests recently for Maypole dancing. Contact me for more information I'm listed under dance practices in back of the Folk Rag.
Lately, I have also become involved in folk music as a valuable audience member, in addition to dancing. I regularly attend the Story Bridge (ed: Now Saturday afternoon Singers & Tune) sessions, Folkies Old & New Concerts, and Folk Club nights.
Maidenwell and Imbil Gatherings provide satisfaction for my love of camping combined with folk music - intimate gatherings of folkie friends - some whom I know and those I've yet to meet - that's life in the folkie scene.
Caroline Williams