[ HOME ]


Profile
(Note: javascript must be enabled to view and enable email links.)
---
CHRIS GREEN & SHEREE HILL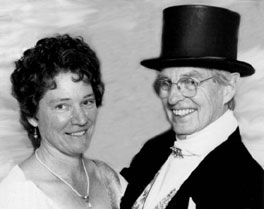 Chris Green: for my sins in a previous life I was born a Mersey-sider, as the younger of two siblings just before the second world-war. My first memories are of violence not music, planes shooting, bombs exploding, Liverpool burning. I was forced from my parents and my home at the age of 3 by a land mine. The next two years were spent in a little village near Ilkley. (I can't remember if I had a hat!)[ He sure has now! Ed]. My grandparents were Methodists and there was fun but no dancing or music other than hymns, for my grandfather, a dialect speaking Yorkshire-man.
At aged 5, back with my parents, I was setting the dinner table to music from a wind up gramophone that sadly was donated to the Royal Navy and sunk in the Atlantic. M'mum sang with us and she and dad danced. He was still at home because he was an expert on glycerine when he was not out with Dad's army defending the laboratories from paratroopers and incendiary bombs with a pick handle and a bucket of water. At school, I became a pacifist and I still can see no excuse for warfare, aggression, or subversion.
Folk was something that I never thought about but it happened every day because my mother believed in a myriad of customs and superstitions. Once we could travel, every holiday was to the north-country. My parents always found a country dance to go to and a village custom to see. I became fascinated by the customs and photographed the Coconut Dancers with a box brownie, followed the sword dancers and got sick on hot punch. We went to pony gymkhanas and watched the Fluffy Morris without knowing that it was part of a living tradition that included the men who danced for miles on cobbled streets behind brass bands which we followed. I sat on a high window sill to watch the Orange Day procession in Liverpool and broke my Easter eggs on Bidston Hill.
I divided my teenage years milking cows in North Wales, learning Latin in Chester, yarning at camp fires and hunting in Cheshire, gardening in Yorkshire and teaching cubs in Mersey docklands. I began dancing regularly only to avoid watching school football on wet Saturday afternoons. At college the waltzes and quicksteps became lancers and schottisches in the London YHA folk dance group. English dancing, music and songs were in the background while I learnt the dances from Europe and studied the behaviour of animals. Later, I lived in the South Midlands and met Douglas Kennedy, Maud Karpeles, and others who had worked with Cecil Sharp to revive the English folk dance and song traditions. I was hooked and became enthused by those, such as Sybil Clark, Fred Hamer, Margery Fennesy, Mollie DuCane, who had collected dances and continued Sharp's work. Pat Shaw and Dick Witt started me calling dances but I did not think of teaching until I went to live in the North Cotswolds. I went to see fiddler Sturch who with his father had been visited by Cecil Sharp. He persuaded me to teach the fellows in the pub some Morris steps so that next time there was a fête they could dance while he played. That was the start of the Ilmington Morris revived after 20 years and it was a thrill to see the group that I taught for 8 years still dancing 25 years after they were revived.
Coming to Sydney in 1985 started me teaching English country dance. Mollie DuCane gave me material and music to supplement what little I had. Looking at the covers of my dance books revives memories of those who I have met and who gave me material without any thought that they owned it. Folk was from the people for the people and you contributed back what you could and helped others to keep the traditions alive. I still believe this and my thrills are to dance and see people dancing their cultural heritage.
Queensland got me dancing again after I had all but stopped. Des Buchhorn persuaded me to take workshops in Brisbane and then Bernie Opertowsky asked me to MC the first Playford Ball in Brisbane. Sheree persuaded me that Brisbane was a better home than Sydney and I got more involved with folk than I had intended.
Sheree Hill: I was born the youngest of three sisters in Murgon in the period of the flower people. My parents were centred on the family and community. This meant that I was influenced as long as I can remember by family and community gatherings, singing together at a pianola, attending church together and going to dances and musicals as a family.
Schooling was at a country school exposed to the popular music, post war confidence and community feminism of the sixties but protected from extremes by the country life. My primary school years were spent as a very grubby urchin, trying to be my father's son; following him about, shovelling dirt, mixing concrete, mowing lawns and shining torches into engines while he made repairs. As a teenager, choral singing, reading and piano playing were my main relaxations.
After spending a year at teacher's college and finding that it was not for me, I worked for a year as a governess on a ranch in the territory. A fantastic experience, being isolated, mixing with the ringers, learning to ride horses, slaughter cattle and brand calves. I returned to Brisbane to begin nurse training as the best option because I did not wish to spend 5 years at university needed to accept the place offered to study in veterinary practice and engineering was not considered a woman's world in the 70's. Popular music and old time and bush dances and my guitar were the musical influences at that time.
After having two babies in the country near Toowoomba, I came to Brisbane to be near to my parents and sisters and was then drawn into my sisters' interest in the dances referred to in the Abbey School books. That introduced me to Playford dance in Sellenger's Round group. Joint pain from Barma Forest virus started me playing a xylophone for morris rather than dance. I learned to play an accordion by visiting the local library and asking the librarian to explain the left hand chords. Then on, I was the musician for Logan Morris until they found another musician this year.
My sister, Cathy, was taken to a Colonial Ball and this opened the world of Queensland folk music to me. Jan Orloff encouraged me to teach dances at the monthly bush dances, and June Nichols gave me confidence to use a microphone on stage. Around that time; I found myself showing and teaching dances with Matthew Seligmann at a medieval wedding. Chris was coming to Brisbane to teach English dancing workshops. Chris introduced me to a wide range of English and Welsh dancing and music and I became fascinated with the scope of Folk dance and music and skill needed to perfect their performance.
As the Greenhills, Chris is primarily a folklore and dance enthusiast; Sheree is a musician, singer and dancer. Together we enjoy reviving and transmitting the folk material. At first, we found ourselves focussed on dancing Playford dances with Sellenger's Round and Sheree with playing music for Logan Morris. There was little time for our broader interests except when we organised specialist days of Welsh and Pat Shaw's dances, and cultural performances of British dancing for the WCA, at Woodford and on St George's Day.
Our aims are to extend our skill by learning more styles of dance and, with Dance Kaleidoscope for participants and Queens Knights for performances, dance a wide range of British folk material. We both get a thrill when participants and spectators experience and enjoy the varied nature of British folk dance and music. Chris also wants to make time to put resource material of British culture from his scrap books on a web page britishfolk.org created for him by Andrew Ivamy while Sheree practices her new accordion to find the chords missing on her old smaller one.
Primarily we wish to enjoy ourselves and help others to enjoy folk dancing which should be fun, natural and evolving. Country people never seemed to be too serious about who danced or how they danced; unless they felt a special tradition belonged at home. Their criteria seemed to be that a dance should flow and feel comfortable, that dancers should look smart and relaxed, and that music should have an interesting melody and phrasing which the dance fits. We try to apply these criteria to determine all the dances and music that we do or show.
Visit
Chris Green & Sheree Hill