[ HOME ]


Profile
(Note: javascript must be enabled to view and enable email links.)
---
CHAD SWABY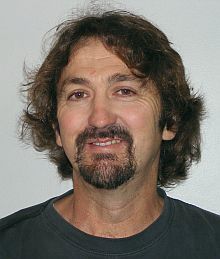 Growing up on a farm south west of Dalby Queensland where I was born in 1967, where the horizon was magnificent, I spent my early years on my parent's cotton farm dodging spray aircraft. At night I listened to lots of old songs on ABC Hoe down on the radio, ballads and good ole thumb picking songs. On holidays we would go on trips to the coast and Dad would be listening to Neil Diamond on the 8 track car cassette player. I mean, Neil wrote some good songs but it was a traumatic experience for a child! I was a dreamer, fairly lonely and used to spend a fair bit of time down on the Condamine River around the huge gum trees that grew there, but soon after finishing time in a boarding school and obtaining my driver's licence, joined a rock and roll band called Back In Business and began touring western Queensland as their bass player. This was the start of my "professional career" either playing or sound engineering for such bands as Ruff Cut, The Crew, Revolver and The Instigators and was involved with supporting The Party Boys and The Jonnies.
I began playing bass guitar at high school, mainly classical. I finished school in 1983 and played at various places around the Darling Downs. I played for the then premier, Sir Joh Bjelke-Petersen, in the Dixieland Jazz Band. In 1985 I played for a while in a Country and Western band called Hell for Leather and had to learn how to play by ear - no more notations or score.
Mmm things I like... I love history studies have completed studies in modern history and I am a reader of many books on Anthropology, became very interested in Aboriginal culture and especially their art and the effects of the 'modern' world upon it. Ha, the modern world! My parents were one of the first cotton farmers in the Nandi district southwest of Dalby and I grew up living amongst many farming families seeing the change from traditional small crop farming to massive cotton production, mergers of farms, massive dams and irrigation schemes and worse still, increased chemical spraying! When we left farming in 1988 we saw our whole area and many properties owned by 2 families. So with the increase of money in the Dalby area I saw the demographics and culture of Dalby change beyond that of a small country town. Like the music of the 80's we were in the middle of a big shift, the third wave.
Born into a time of rock and roll or 'heavy metal' as it was called then, out of a dust storm of strange encounters from the spiritual junk pile of weirdness, James and the Cold Gun, The Man with the Child in His Eyes on the Stairway to Heaven from The Highway to Hell. Onward and upward, songs that would lift my soul through the roof of the night.
Years of playing cover songs pandering to the masses like some kind of mindless organic jukebox. Yet, I was innocent. I played my bass guitar night after night fingers wrapped in sticky tape with fingerprints worn off; I left no trace! Music and motorcycles, love them!
At 27 I was married and after having a serious motorcycle accident and putting my wife through hell because of it, I gave up motorcycles for a while and focused on raising my children Promise and Ethan. As the kids got older I started on a solo career working pubs, which I found very demanding and not as much fun as sharing the whole experience with a band. I was listening to A.B.C. radio one day and heard about a Folk gathering at a place called Maidenwell, so I went along and got to see many down to earth people having a go on stage and got hooked on going to similar events. I eventually formed the group UP IN FOLK with my then wife Michelle playing fiddle. I've been involved in many styles of music but these days I prefer modern "Folk" music and have been seen joined up with another well-known artist Mark Ruff cut Anderson (Dirt Music) under the name Acoustic Union String Band.
It's weird writing about myself but I have had the privilege of playing to or playing with many of the people who read this publication so I guess this is like sitting around a campfire talking. I feel that sometimes it takes a long time to become, and to notice and really think about what is happening around you, and it takes a change in your life to happen. I have written and recorded my first album and I guess it has taken my whole life so far to do it, but that's OK, I mean a young tree is a great thing but rarely noticed in a forest but an old tree is magnificent and awesome and has strength. I live in a bus these days and write and record. I have so many influences in music so I can't be really specific. I guess a lot of people I have met have introduced me to everything I listen to. One man who has since died I can never forget, hearing Ray play The Needle and the Damage Done very early one cold morning in Tenterfield and watching some early black and white doco on Bob Dylan with him. It was inspirational. You see Ray was dying from the needle and the damage done. I have still got that guitar he used.
It's hard to write and portray an experience, on a recording, I guess that the beauty of a live experience, it's that it's real, and only those who are there will experience it then it's gone forever; You aren't going to represent a acid trip on 3 minutes of vinyl (Small Faces). I loved listening to Pink Floyd, Deep Purple, Led Zeppelin, Kate Bush, for example, but their songs were much longer than three minutes!
Ah Kate Bush, a woman that sang stories from angels, poured her blood into every song, a messenger, like Janis Joplin. Pain and suffering are great songwriters, the Simon and Garfunkel of four-minute songs. I think good songs are written in less than four minutes. Your hand can't write quick enough, any longer and you're writing jingles for breakfast cereals (sorry Mozart). Could songs be a gift from the other side?
Sorry I'm rambling but aren't we around some campfire at a gathering?
You want to know about why I play music?
The world is a slimy leach in a pin-striped suit, selling us TV, reality TV, turning us into some judgemental God, a discovery channel expert knowing everything you need to know to shut down some ignorant musician who knows nothing about why we really have to blow up children…. biggest losers.
I love to see people enjoying themselves, stepping out of life, beginning to learn an instrument, friendship, the young the old, then music is fun and making money out of it does not really matter anymore.
I look forward to playing a few more cafés this year as I prefer a small audience to a large one. My next album is in the finishing stages.
You can check some of the new unfinished songs at www.myspace.com/chadswaby also have a look at Acoustic Union and see some of the wonderful film and music work done by Mark Anderson and myself on You Tube www.youtube.com/user/1acousticunion
All the best and see you on the road…
Chad Swaby