[ HOME ]


Profile
(Note: javascript must be enabled to view and enable email links.)
---
CHLOE HALL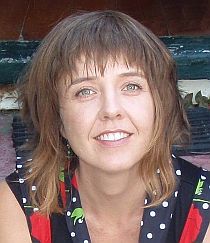 It all began like this. I was conceived in Ireland and born in Australia. My dad and heavily pregnant mum came back from picturesque Kenmare in County Kerry to suburban Ascot Vale in Melbourne, leaving behind a stone cottage and a village full of musician friends who used to session in the barn.
Growing up, I was fortunate to hear Irish sessions in the kitchen, as touring musicians called our place their Melbourne home. I still love those tunes. And the ballads, I'm a sucker for a tragic, 15-verse Irish ballad.
The things that inspire me are acts of kindness, acts of daring, acts of generosity and third acts in general; but honestly? The first woman I saw singing with a guitar was, and this might be a bit unexpected, Patsy Bisco. The hair. The boots. I was 3 years old, and I thought she was incredible. But after I'd sung we're all going to the zoo tomorrow a few too many times, I started tuning into Woody Guthrie, Pete Seeger, Anonymous (how prolific is she?), Dylan, Joni, Leonard, Paul Simon, Neil Finn, Joan Armatrading… To this day, (and I'm a lot more than 3 years old now), I'm moved by lyricists or writers who tell universal stories from a new or unique perspective. I love that feeling, deep in your stomach, when a song hits home.
Where writing and performing is concerned I feel as though I've been around forever. They really should carbon date me. I hit the folk circuit for the first time, as a solo singer-songwriter, in the 90's. Since then, I've put a lot of miles on the clock. In the last 4 years, I've toured Australia, Canada, Europe and the UK. And I've been writing songs as long as I can remember. I've got 6 albums under my belt, the latest of which we'll be touring later in the year. Can't wait. The gypsy life of a touring musician isn't for everyone, but somehow I still love it!
What I enjoy most about performing is the connection with the audience. There are particularly good shows where you can feel the moment when the division between performers and audience dissolves and we all lift… It's like we're facing the same direction, sharing the experience. Putting it into words sounds flaky, but it's exhilarating!
These days I'm the Chloe half of Chloe & Silas. Silas would be here, except he thinks it's far too nice a day to be in front of the computer… (hear from Silas in a future edition. - ed)
We like to call our music alt-comtemp-acousta-rootsy-folk, which for some reason doesn't seem to be catching on… For us, it's all about the songs. Our sound is very stripped back, with lots of space and close harmonies. Throw in a guitar in alternative tunings and fiddle, and we're getting somewhere! We're being compared to Gillian Welch & Dave Rawlings and Simon & Garfunkel, which, just quietly, we're not unhappy about.
My wildest ambition in music is to trek through the most remote jungle on earth and stumble across a pygmy hermit living in a humpy with nothing but a wild expression, a collection of bones, a small fireplace and a high quality sound system playing our new album Spring Hill.
What is the proudest moment in my career so far? Well, I can think of a few:
1. Whenever we meet people who are obviously buzzing after a show - hearing their stories, when the songs have triggered memories.
2. Playing with Silas he's one of those rare intuitive players. An easy, natural musician. I feel lucky to be sharing this journey with such an inspiring musician, and I'm proud of the sound we're creating.
3. Representing the Australian folk scene overseas. It's a privilege to be a part of such a vibrant and living community of musicians. Folk music is alive and well in Australia - and I'm proud to be a part of it.
The Brisbane folk scene is alive and kicking! There are so many acoustic venues, and such a warm, friendly, music-loving community. Even though I'm a refugee from Melbourne, people have really embraced us. From clubs like the BUG and Folk Redlands (as both a performer and audience member) to impromptu dinner-party jams, this city's folk music scene is thriving.
We've just recorded the first Chloe & Silas album - Spring Hill - and it's absolutely gorgeous!
Am I allowed to say that? Or is that like laughing at your own jokes… We launched the record in the UK in August (2011), and then returned to a six-week tour of Australia in September/October.
As part of our Australian tour, we'll be teaming up with local ABC stations to run a regional talent search called Our Backyard. The successful songwriter in each region will receive airplay and/or a live-to-air interview on their local ABC, a mentoring session with us, and the opportunity to play the opening set at our show.
It's a chance for local songwriters to get a leg-up… a chance to play in a venue they wouldn't yet be able to book and receive local radio support, giving them exposure to a new audience and lifting their profile within the local community. We're looking forward to discovering some hidden talent out there!
Chloe Hall