[ HOME ]


Profile
(Note: javascript must be enabled to view and enable email links.)
---
COLIN NIGHTINGALE
FOLK DJ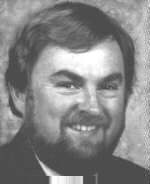 Colin Nightingale was introduced to Folk Music in his early teens just as the Folk revival was gaining momentum in the UK. His parents and older Brother Tony, had a lot to do with his programming as a "Folkie" as they dragged him along to various folk clubs which abounded around his native Halifax, West Yorkshire. Folk in those days was not confined to smoky hotel back rooms but was a part of the mainstream music scene with names such as Lindisfarne, Fairport Convention and Steeleye Span being featured in the Pop festivals of the time.
'Although we didn't start out as a musical family we certainly learned to appreciate Folk and acoustic music in general.' Colin explains. `Ever since those early days back in 1964 I have always been on the receiving end of Folk Music in other words although I very much appreciated it I was never in a position to contribute.' Well not until he came to Australia where three years ago he got his chance when he became involved with his local community radio station Bay FM 100.3 and became the presenter of the folk/acoustic programme "Acoustic Harvest" which airs Friday evenings from 8 - 10pm.
Over the last couple of years he has been joined by Jim Irvine as co-host who in Colin's words, `adds a great deal to the programme, no exaggeration to say that he is at least 50% of the team.' Jim is a long time member of the Brisbane folk scene. Together they have had the honour of presenting interviews from some of the Big names in Folk, Maddy Prior, Eric Bogle, Yothu Yindi, Rik Palieri, Andy Irvine, Ted Egan and Midnight Oil's Peter Garrett to name a few, along with local performers such as Noel Gardner, Ruth Apelt, Spot the Dog, Late Edition, Danny Spooner, Tommy Leonard, Mythica and The Sensitive New Age Cow Persons.
'That, I suppose is the glamourous side of it.' said Colin. Behind the scenes there is a lot of hard work, putting programmes together, arranging interviews and the commitment of being there to present the programme week after week, in fair weather or foul.
'I believe that along with the "Folk Rag" "Acoustic Harvest" is a great medium to promote our local folk activities'. he said. `It's important to keep the public aware of all folk activities and to this end we regularly feature as much of this as we can get our hands on.'
During 1997 Colin took his first steps into the world of actually organising an Australian Tour for Rik Palieri of Vermont USA. After much aggravation with Immigration /Unions/ Venues etc., it happened and Rik had a very successful tour which included performances in Port Fairy, Melbourne, Brisbane, Yandina, Alice Springs and Sydney.
'Although I worked hard on this one, it was definitely a team effort with many people behind the scenes lending their time and skills and a similar number donating performances to support Rik. To you all I give my grateful thanks.'
Colin's comments for the future were, 'well more of the same for sure , plus I have a longish term plan to have a folk/acoustic music agency for Brisbane and the surrounding area (but don't hold your breath for that one).
Remember you can catch Colin on "Acoustic Harvest" on 100.3 Bay FM - check details on the Folk Rag's "What's On" Folk on Radio.