[ HOME ]


Profile
(Note: javascript must be enabled to view and enable email links.)
---
DALE JACOBSEN
DULCIMER MAKER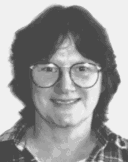 Dale discovered at a very tender age, that 9 times out of 10 you needed 8 milk bottles with water to be able to play a tune. This remained her sole instrument until her mother bought her a grand piano, It measured 8 inches by 8 inches and had the black keys painted onto the white keys.Such frustration. Every time a black note was required, she had to hum it.
There were no further advances in her musical life until, at the age of 34, her three children began to learn 'real' instruments. 'Hey, what about me?' So she began classical guitar lessons, and then sat for AMEB exams up to and including 6th grade, at the same time bringing up three very lively children and completing an Environmental Science Degree.
About this time she made two life changing discoveries. The Folk Scene and the Early Music Scene. Her entry into the folk scene was via the Queensland Colonial Dancers, at that time run by Dave and Carol Ogilvie. That group of people opened their arms and hearts to a beginner, something which Dale has found common throughout the wonderful world of Folk.
After realising she was not going to be another Andres Segovia, Dale began to enjoy just playing with the guitar, and anything else she could lay her hands on. (It is dangerous to let her loose in a toy department.)
Dale has played with a few groups around the place. She was a member of the "Brisbane Woman's Workshop" for many years, and also "Rosehill Fayre" and "Melusine".
As her interest in instruments grew, she realized she would have to start making them. She attended the Sunday morning instrument making workshops at Geoff Will's place at Lota, where she met her partner Doug Eaton, and learnt to make her first instrument, the Appalachian Dulcimer. Soon after she fell in love with the Hammered Dulcimer. Deciding it was merely a trapezoidal box with about 80 strings, she obtained some plans and made one. It is the one she still plays. Interest from other people saw her making three others on commission. Her most recent instrument is a "Dulcetta", a small, much more portable hammered dulcimer which is great for sessions. Of course, one cannot buy cases for such instruments, so she inadvertently became involved in soft case production. Eighteen months ago, Dale and Doug left smoggy Brisbane to settle in the hills around Maleny, where they have become full-time instrument makers in a partnership called Stanley River Music.
Dale has formed a Mediaeval/Renaissance trio in Maleny called "Patchwork & Plaide". She was also invited to attend the 4th Congress of the World Cimbalom (Hammered Dulcimer) Association held in Belarus October 1997.
(The answer to the question that is in your mind ... Russia )