[ HOME ]


Profile
(Note: javascript must be enabled to view and enable email links.)
---
DAVE BURTON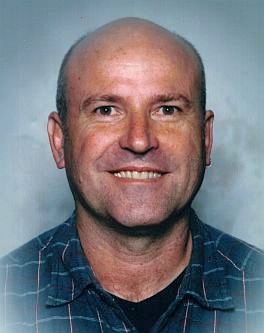 I was born in Gympie in the early fifties, the youngest of five and the only boy. My mother had done some local dancehall singing and my father played the piano on rare occasions. By the time of my birth, my mother had become extremely religious and from my earliest memories, we stood around the piano and sang hymns for morning and evening worship daily. My sisters played the piano. I had lessons for a while but my teacher felt it was a waste of money so the lessons stopped.
At primary school, I joined the local brass band and learned cornet and then trombone. I lost my passion for brass when I saw my first rock band playing in the local park and immediately wanted to play electric guitar. My father was infuriated by anything to do with guitars or rock music and forbade me to buy or learn one. He was particularly challenged by The Beatles and all they represented to the point of refusing to buy a house because there were Beatles posters up inside.
We didn't have a record player, so the radio was almost our only exposure to secular music, and that was controlled by my parents. While visiting a cousin, I got to hear Bob Dylan and fell in love with his music immediately. I was about ten.
My father and mother split in the late sixties. She took us all to Brisbane. One of my sisters had a cheap guitar and a book of chords. When she was out with her boyfriend, I used to sneak into her room and practice playing. My first music book was a book of Dylan songs. I soon bought my own guitar and maybe to spite my father, grew my hair long.
By the end of my senior year, one of my friends decided to start a band. I bought a bass guitar and amp. I was now playing in Pagan Syndrome, covering Led Zeppelin and Black Sabbath. We didn't make much of an impression on the world, but this was music that was fun to play. The experience led me into grass and acid usage and when the band inevitably split up, I found myself living in a commune near Woodford. The importance of this move was my exposure to Leonard Cohen and Van Morrison. I bought a 12-string guitar and started writing songs. They weren't great songs, but the habit was established and I came to believe that song writing was something anyone could do.
After a particularly torrid acid trip, I found myself looking for answers back in religion. I moved to Mt Isa to find some financial stability and there I met my wife. We moved to Townsville where I took up with some Christian friends and we formed a Gospel band called Barbeque Bob & The Pork Chop Abstainers. My song writing took a gospel turn and I was exclusively playing acoustic guitar.
We had three children and moved to Victoria. I began playing an upright bass for a time but opportunities to play seemed to thin out, so my music went almost totally on hold. In 1992, we went to our first folk festival in Port Fairy, and although I managed a seat at the feet of Pete Seeger, I did not really appreciate his music or who he was. When we decided to travel to the UK, I didn't bother to take my guitar and for the next ten years, forgot that I was a musician. Our only festival in the UK was a WOMAD festival but at the time I was generally unimpressed.
It wasn't until my wife and I went to a local, historical pub for a meal, that we stumbled upon a music session, the first we had ever seen. It was a mixture of old pop songs and Irish songs played on guitar, banjo, mandolin, tin whistle and bodhran. I was hooked. My daughter had earlier returned from an Australian visit with my old Gibson, so I became a regular at the session. I sat back in a corner where I could watch other musicians, and relearned the guitar. After six months I surprised everyone and led a song. I was soon steeping myself in the songs of Neil Young, Bob Dylan and Leonard Cohen. My own songs have certainly been shaped by these great song writers.
On returning to Australia, I became involved in the Weekend Warrior program to meet more musicians. The program is centred around rock music but a number of musicians were also into acoustic music. I found myself playing and writing acoustic music again.
I began seeking out acoustic venues and soon found myself at The Kookaburra Café. I was very impressed by the homeliness and acceptance of the folk scene represented there. Around that time I recorded my first album. The support musicians were largely from Weekend Warriors and Kedron High School, where I was teaching. Kedron also figured in my involvement in Wheatley and The Undergarments, born out of a traditional folk session that has been going there for years.
Although I did not start out as a fan of folk, I was now seeking out folk music. When rumours of the Madass closing down surfaced, I found myself aligned with the group of music lovers determined to keep it going. They were almost all strangers to me at that time, but we all had the belief that The Madass had been a significant part of Brisbane music. It has been a joy to see it continue and flourish as Brisbane Unplugged, and I am pleased I was part of that process. I not only enjoy the variety and high standard of musicianship, but I have relished the interaction I have been privileged to have with so many "folk".
I have continued to write and am planning another album or two. I continue to play, particularly with Wheatley and my occasional band, Dreams of Flying, but welcome the opportunity play whenever it arises.
Dave Burton