[ HOME ]


Profile
(Note: javascript must be enabled to view and enable email links.)
---
DAVE MCGUIRE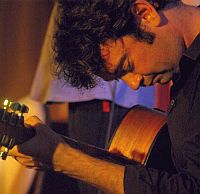 I grew up in Ipswich (QLD). When I was about 11 or 12 my brother suggested that I start learning guitar. He showed me a couple of chords. He was always listening to Bruce Springsteen, The Pogues, Midnight Oil, Bluegrass and Traditional Irish music. He played me Bob Dylan's Don't Think Twice It's Alright and Dire Straits' Sultans of Swing. I listened to Alchemy Dire Straits live and imagined myself up on stage playing an exciting guitar solo to thousands of people. I'd learnt piano for a couple of years previously but didn't enjoy the group classes. My first guitar was my father's nylon string classical. Before long I wanted to play electric and acoustic steel string. My parents bought 2 beautiful guitars which I still own and play.
My parents played an important role in my musical education. Not only did they give me great musical instruments, they also regularly took me to live shows. I saw guitarists Tommy Emmanuel, Paco Pena, John Williams and Leo Kotke. Plus, singer songwriters like Christy Moore. We were also regular festival goers at the Maleny Folk Festival (later Woodford) and Byron Bay Blues Festival. I remember one year at Woodford being blown away by Phil Manning and Jeff Lang. I was busking that year and Lang threw a dollar in my hat. I asked him to play my guitar and he broke a string. I didn't care. (He replaced it later that day). At the Blues Fest in Byron I got to see Steve Earle, Ronnie Earl, Robben Ford, Keb Mo and Eric Bibb. These live performances left a lasting impression on me as much as any recording did.
By about grade 10 I was a regular performer at school (St Edmunds College) music evenings. I'd also been introduced to the music of Stevie Ray Vaughan by my guitar teacher and to this day SRV remains my favourite musician. I love the way he plays the guitar. I love the soul, feeling and passion of his music. Later, I travelled with some friends to America and visited Austin Texas where SRV lived and played through most of his career. It was a kind of pilgrimage for me. I visited venues he played, met the man who sold him his first guitar, went to his favourite BBQ ribs store and left a guitar pick at his memorial.
During High School one of my teachers lent me 6 seminal Bob Dylan albums with notes on every song and why they were important in Dylan's musical development and career. I read a biography on Dylan and fell in love with the songs and the mystery. When Time Out Of Mind came out I used to listen to that album at my friend's house after school. We would eat chips with chicken salt, drink iced coffee (probably smoke cigarettes) and listen to Dylan. My friend was a great guitarist and we'd jam for hours and talk about SRV, Dylan, Jimi Hendrix and the importance of the Blues. I remember watching Eric Clapton Unplugged, Alchemy Dire Straits Live and Stevie Ray Vaughan Live at the El Mocambo. I also loved David Gilmour's guitar playing on Pink Floyd albums.
I love the guitar and I love improvising. I was never much good at sticking to the same parts over and over again. What attracted me to the guitar was the idea that I could play whatever I wanted. Regardless of style or genre, I wanted to sound like me. I studied jazz guitar at the Qld Conservatorium of Music under the great guitarists Jamie Clark and James Sherlock. I started listening to jazz guitarists like John Scofield and James Muller. One year I shared a tour bus from Melbourne to Wangaratta with Scofield and his band purely by chance. That year he sat in with James Muller. It was an incredible gig and great to see two of my favourite guitarists sharing the stage.
In 2015, I'm concentrating on original projects. I have a solo project called Magpie where I use a loop pedal to improvise my own instrumental music. It's very much in the moment and allows me the freedom to play whatever I want. I'm also a member of The Switch with Alison St Ledger on vocals and Sallie Campbell on violin and octave mandolin. 2015 will see the release of our debut album Cliffside Sessions.
We recorded most of the album at Sallie's place in Kangaroo Point and after a successful Pozible campaign we were able to finish it. It's a beautiful representation of the band with 11 tracks. We've added a number of instruments on the recording including double bass, piano and dulcimer.
Before The Switch formed I'd always admired and respected Alison and Sallie when I'd seen them play. I used to watch Alison in Women in Voice and Sallie playing with various bands. In 2010 we came together for an Arts Queensland tour of rural Queensland. We toured for over a month as part of a show celebrating the music of Tom Waits and classic cabaret shows. I was in the middle of a personal breakdown and feeling pretty raw emotionally. After shows we used to jam into the early hours of the morning playing our favourite songs. Alison suggested that we try writing and performing some original material when we returned to Brisbane.
The thing I like about The Switch is that we don't shy away from writing about personal subjects close to our hearts. Songs like The Flood and Story Gentle are drawn from personal experience. Over the last few years we have developed a strong following from performing at the BUG (New Farm Bowls Club). I think this album will please hardened Switch fans and newcomers alike.
After the years I've spent listening to, playing, dreaming and thinking about the guitar, it's an absolute joy to be able to create original music with people
Dave McGuire
[top]