[ HOME ]


Profile
(Note: javascript must be enabled to view and enable email links.)
---
DAVID 'Jay' PENMAN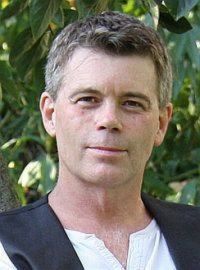 I was born in Scotland, Edinburgh to be precise however without my input moved out to New Zealand as a baby.
The start of a multinational identity crisis it seems. I was very fortunate to grow up in a musical family that ensured absorption of traditional music even if you didn't like it. Lucky then that I love it. It did have its issues though as when as a youngster showing off primitive guitar skills with the kids at school they would play smoke on the water or wipe-out, And I was left with the Butcher and the Taylor .. None of them knew what DADGAD was.
I managed to travel considerably as a younger man and unfortunately, if I can say that about a great life, I had many years where my involvement with music was very limited. At the time when hours upon hours of practice were required I managed to be busy doing other things. The thing with growing up with music I think is that it gets into you and despite interruptions it is never far away.
My families particular take on folk music was traditional unaccompanied, or as we called it unaccomplished singing. My father Jack was, and remains, a well-known encyclopaedia of Scottish and English dirges, ballads and ditties. Following next was my sister Christine who was one of those kids who won talent shows as soon as they could walk; needless to say my sibling resentment has long since become loving admiration. My younger sister Thiea has a beautiful voice and over the years all of us had the greatest pleasure in singing in various combinations. Most recently as The Penmans. An artistically bland moniker perhaps but it went down well at folk festivals, where we were lucky enough to be guest artists on occasion. Our album Home Made Jam was a gift of gratitude to our father for all the years he encouraged such musical undertakings. It is now a fabulous record of the time we all got to play together as a family even though the youngest had experienced their 40th birthday hangover. We have continued to run yearly workshops at Auckland folk festival also titled Homemade Jam where we get any combination of family to perform, Mums and uncles, daughters and Fathers and good grief it makes your jaw drop to see what talent gets its only hearing inside peoples living rooms. Folk music is made for sharing.
My take on all this folk music stuff was more instrumentally orientated, My father played a bit and did a claw hammer type thing so the first tune he taught me was Freight Train. Never did learn to strum. I love Nic Jones, Martin Carthy, Martin Simpson, Bert Jansch , John Renbourn and so many more of the like, I couldn't wait to drop my D and make those noises. That however has taken much longer than I might have thought. I'm still practicing though and I'm sure a growing collection of guitars and other stringed ornaments is helping….
These days after moving to Australia several years ago I have had the pleasure of performing at various folk venues in town and most recently a musical partnership known as Sadie and Jay. For the confused my middle initial is J and it became the nickname "Jay" I remember my first time performing in Australia was at folk Redlands and after a few nervous songs I was making my rouge cheeked escape when I was presented with a Folk Redlands printed mug for services to the appreciative! I'm sure it is a rare and treasured honour, and I consider it so, but also that I got meet some fantastic people who first took me into the folk community here. For that I am very grateful.
Never has music been more fun than now. Writing original music and playing has now taken me from the relative comfort of the living room to many venues and stages around Brisbane and loving every minute of it. With a new Sadie and Jay album planned for this year things are just moving along fine.
'Jay' Penman
[top]