[ HOME ]


Profile
(Note: javascript must be enabled to view and enable email links.)
---
DAVID JACOBS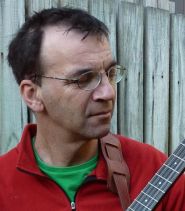 "David what was your first concert ?"
"The Beatles, Hammersmith Odeon, London 1964". I was 5, they were drowned out by screaming teenagers.
My parents subscribed to The World Record Club, LPs arrived monthly, mostly pop classics, my four older siblings playing records and the pirate radio stations, there was also the music at synagogue, early music memories are of an aural cacophony.
1967 my sister Pamela took me to the Rolling Stones Concert in Hyde Park. That same year "The Songs of Leonard Cohen" was released. Pamela had a line from Suzanne written on her schoolbag, I started singing Cohen songs about then.
Mid 70's, I'd often take myself to The Royal Albert Hall Proms. In among the "pop" classics, there were surprises. Someone who struck a chord with me, the late David Munrow, early music pioneer, with his Early Music consort, there were crumhorns, rackets, shawms and recorders, it was dance music, I wanted to play.
Around that same time, there were so many great bands and concerts, The Who, Santana, Jethro Tull, Duran Duran as support for Hazel O'Conner, and of course Leonard Cohen.
1978 The Grove Park Tavern was my first folk club. Everyone got three songs. This area was the stomping ground of Bert Jansch, Ralph McTell among others. I was hooked and became a floor singer and audience at the clubs. I MC'd at a club in Hampton that Enda Kenny ran. Cosmotheka introduced me to the glory of music hall, so much variety, mixing old traditional wih the new.
First music sessions were an eclectic mixture of bluegrass, folk, blues and rock. At the Old Anchor, Twickenham Noel Murphy, (Ralph McTell wrote the song From Clare to Here for him) Chris Eccleshall, player/luthier, who repaired Pete Townsend's smashed guitars! I ended up in all kinds of sessions, I've never looked back; my first guitar teacher was classical, the second a folkie. Although I didn't realise at the time he taught me the basics to the English style I'm still striving for.
I continued my interest in early music, studied woodwind instrument repair, restoring wooden flutes, flageolets and hurdy gurdies for an international museum dealer. Everyone played recorder at primary school, I carried on. Performed with several early music and folk ensembles over the years.
1989 at an early music fair I ordered a set of bagpipes from Jon Swayne (Blowzabella), joined The Bagpipe Society, where I was first introduced to Central French, Breton and Northern Spanish tunes, a nd English Playford, The Bands The York Waites and Blozabella, Jammed, played and sang amongst it all. I try to make my UK trips coincide with sessions and dances. Caught up with old mates after 25 years at the 2012 Sidmouth Festival.
1987 I first met Felicity, on holiday from Australia. The same year I first met Peter and Manny of Hobgoblin Music. I worked the shop at Cecil Sharp House. I ran festival stalls for Hobgoblin all over the country including Glastonbury, Sidmouth, Towersey, Beverley. 1990 became the manager for Hobgoblin wholesale. Two work trips to the huge Frankfurt Music Fair were memorable. It was dream job festivals became work trips and sessions promoted the instruments.
1991 Fel moved to the UK, together we ran festival stalls at weekends, playing local sessions. We married in 1993, coming to Brisbane in 1994. Woodford that year, I noticed there was nowhere to a spare string. So for Woodford 1995, I ran The Festival Shop. A year of planning, using contacts worldwide stock music books, instruments and of course spare strings. "Oddball" CDs were on sale or return from local record companies. It was the first year artist's merchandising were centralised. Although it proved a success, it was a one hit wonder, but fondly remembered by many for years after.
Fel and I played and shared tunes at Brisbane sessions, Terry Jacob passed a few on, we danced monthly at Marawah St. I got a few gigs. 1995, The Shamrock, Fortitude Valley, late in the night, an oddly clad sextet appeared. Someone said, "He's English he'll know Morris tunes." It was Morrice Rampant's first foot up, their muso had gone home, I played La Morrissque they danced. I learnt more tunes, designed and built bagpipes that worked with them, was joined by Seamus Kirkpatrick, clarinet/whistle, Ron from Taxi ,and later, Jevan Cole, on drum. 1996 our first National, Nancy Kerr and Eliza Carthy played along , I exhibited some instruments. Kim Brown, Jerry Amos, Greg Hall, Caroline Williams, John Raynor and Geoff Brown were the founding members. There were others including Sam Page, it's still nice to think just how much we shook things up!
Was into the Brisbane early music scene, some wonderful regular sessions in acoustically wonderful churches, made reeds and played with Greg Rogers. I need to get back into that scene, great tunes.
For various reasons, Fel and I dropped out the folk scene. In July 2011 Fel died, ten months after being diagnosed with cancer. At her memorial Jevan, Seamus and I played the tunes we all used to jam. Seamus played Fel's Swayne whistles, that was special. While sad her death was beyond my control, so began a new life.
Sam Page invited me to a shindig at Carrie's place in Brookfield, Lonnie Martin said I should sing more, so I am, you don't argue with Lonnie!
So here it is I'm back. My first floor spot at Redfolk sounded awful, I've since put pickup in my Pickard Cittern. Spots sounding better, not so nervous, I'm learning new, and resurrecting old songs, even written some that seem to work, still singing Cohen unaccompanied. Anne Infante encourages everyone at Red Hill, she even organised a music hall themed night to exploit some of my material. Best of all I'm back paying dance tunes, that are being danced to.
I collect stories, as I do songs, tunes and instruments.
Thanks folkies for having me back.
David Jacobs