[ HOME ]


Profile
(Note: javascript must be enabled to view and enable email links.)
---
DAVYDD MCDONALD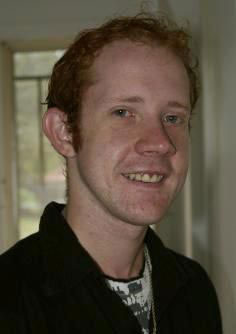 I was brought kicking and screaming into the world at the Mater Hospital, Brisbane on the 5th of December 1980. My dad (Peter) and my mother (Sandra) took on the challenge of raising me along with my older sister & brother (Heather & Ian). I was a delightful child… actually… I lie. Apparently I was quite a handful. I've never been able to sit still for very long… and I always need to be doing something. Not much has changed in that respect.
My introduction to music was through my mum & dad's collections of Johnny Horton, Dr Hook, Cliff Richard, and The Little River Band and my sister's collections of Billy Idol, Metallica and Pantera plus a little instrumental musical influence from my brother & sister (they both played instruments at school). It wasn't until we somehow got Nana's Wurlitzer Organ (I think she ran out of space) that my life changed forever. I would spend hours trying to see what noises I could get out of that thing. Eventually my parents got sick of the noises and sent me of for lessons.
I started lessons with Malcolm Smith who would be my teacher for the next 10 years and was a huge influence on my music. During this time I played many styles of music but I had a passion for Classical and Synthesizer music. I performed at many events and church halls plus I competed in many Brisbane eisteddfods, achieving a high level although I played music for the love of it. My favourite composers at the time were Greig, Bach, Tchaikovsky, Mozart and Gershwin. My favourite synthesizer compositions were just about anything by the synthesizer king Jean Michelle Jarre. Eventually I progressed to electronic keyboard with its greater range of arrangement options.
When I was about 13 or 14, my mother attended line dancing classes with me dragged along to watch. This was very boring for me so eventually (mainly due to the influence of a couple of other young dancers) I began taking an active interest, and so dance became an extra hobby for the next 2 years or so.
Then one day in '96 while watching afternoon television, my life took an unexpected turn. While flicking channels I came upon a dance show called Riverdance on the ABC. Immediately taken by the fast paced, exciting music style (which I had never heard before), with the fast paced, intricate dance movements to go along with it, I said to my mother if you find me lessons in whatever dance form that is, I'll give it a try… and so she did! After ringing round Brisbane trying to find out where they taught Irish line dancing (embarrassing!) mum finally found a school in the local area that would take on a 15 year old boy.
I started dancing with Cathy (A person who's probably had the biggest impact on my life and I hold the greatest respect for… other than mum & dad of course) at the Crocker School of Irish Dance in Holland Park and became addicted straight away. I found myself dancing wherever I went - at school; in the shopping centre; from one end of the house to the other and back just to see if I could do it faster the second time. Everything else in my life seemed to take a back seat to this new passion. I gave up music lessons because the dancing was taking up all my time. I gave up line dancing because it wasn't as challenging; even my schoolwork suffered...
There are a couple of major parts to Irish Dance:
One part is competition. It's a great way to make your dancing better and improve your stage performance. After a year of ground work, I entered my first competition and found myself competing for the next 11 years. During this time I won many titles including the Queensland State Championships (1998, 2000, 2001, 2002, 2004, and 2005) and Australian Championships (2000, 2001, 2002, and 2003). My highest achievement at competitions was placing 7th at the World Championships. (2003).
The other large part of Irish Dance is the performance side. During my time dancing, I have performed with many overseas acts including Sharon Shannon, Lunasa, The Chieftains and Gerry O'Connor plus many local acts including Tulca Mor, The Jar and Cloudstreet.
I have also performed at many festivals and events including the Commonwealth Heads of Government Meeting Opening Ceremony (2002), Brisbane Folk Festival, Queensland Multicultural Festival, Maldon Folk Festival, Majors Creek Folk Festival, Tamworth Country Music Festival and my favourite… Woodford Folk Festival where I have performed for the past 9 years.
At Woodford I witnessed my first session… so in 2003 I set myself a challenge of learning a new instrument so I could play in the session the next year. I had been playing guitar a bit by that stage but I really wanted to play the tunes so I decided on the Mandolin as my instrument of choice.; and most recently… the fiddle. After playing for a while I learned that I didn't have to wait until the next year to play in sessions so eventually built up the courage to attend my first Saturday session.
To all these people (and the Wednesday & Friday session people) I owe a great deal. There are way too many people to list them all… they know who they are… and they know I love them all. The tunes, the encouragement and most of all, the friendship from the Brisbane folk scene has given me some of the happiest times over the years which I'm sure it will continue well into the future.
More recently, I've retired from competitive dancing but still do displays and I'm now playing in a band (A Drop of the Pure) with Monica McNeill and Mandy Grieves. I look forward to taking the Irish Dance Teachers Examination in the near future.
Davydd McDonald