[ HOME ]


Profile
(Note: javascript must be enabled to view and enable email links.)
---
DEBBIE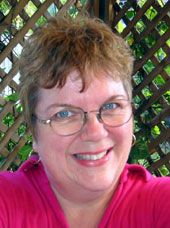 Comparing myself to my folkie friends, I am very much a newbie at this music game.
I hatched a long time ago (in the 50's) on the other side of the world (Dartmouth, Nova Scotia, Canada). I was the 2nd of four children born to Robert and Aileen. Dad is from Swift Current, Saskatchewan and Mom is from Grand River, Cape Breton, Nova Scotia.
My earliest memories of music stem from my Dad playing the accordion and the mouth organ. I can't remember a time when Dad didn't play music. At any house party, dad always provided the music for dancing.
Some of my earliest memories of music came from singers such as Eddy Arnold and Bing Crosby. Also one of Canada's national treasures, a wonderful fiddler named Don Messer was one of Dad's favourites along with Harry Hibbs (accordion) and Lee Cremo (fiddle). To this day, I get goose bumps when I listen to that music.
I spent the first 12 years of my life in NS but I'm a 'Navy brat' and we moved around Canada a lot, finally settling in BC where I spent my teens and early 20's. There was no music in my life to speak of other than discos and nightclubs, where I always felt like a square peg in a round hole.
In my 20's, my years of travelling started. In chunks of many years at a time, I travelled the world for about 12 years all up, backpacking and hostelling. It was during this time that the sun of Australia won me over and I immigrated in the early 80's. Having no family here, I would become very homesick and moved back to Canada four times. But I always returned to Oz. With the years of travelling, I can safely say that I've said 'goodbye' to more people than most people have ever even met.
My start in the folk music, (that has now become an absolute passion for me), began on a trip with my parents. While strolling by the pavilion at Bondi Beach, I heard some amazing drumming. I was drawn to it like an insect to a light. It was a group of people all drumming amazing African rhythms on djembe drums.
I made it my mission to seek out more on drumming. I met Tunde Solanke and joined in a workshop to make my own djembe. It was in the grassy area behind the old Café Bohemia. Little did I know at the time what an incredible influence the Boho and it's 'people' would have on my life.
Later in 1996 I was walking along Elizabeth St. in Brisbane and heard amazing music wafting up the stairs from a place I was to find out was "The Celtic Design Centre". Again I was drawn in like an insect to a light. The music moved me like no other had ever done. There I met Sue Fish and Mick Tunny. I sought out the maker of the bodhrans and bought one from Seamus Mackey. I took a couple of lessons from Mick Tunny and met an Irish woman in the class who told me about this thing called a "session". We arranged to go together the next week.
That first session at the Boho in 1996 changed my life. I remember that first time like it was yesterday. My drum in hand and absolutely gobsmacked that people with such amazing talents just gathered and played music together. How long had this been happening and I didn't know? There I was sitting next to people playing fiddles and guitars and flutes and all manner of instruments. I was totally intimidated and awed and for weeks just sat and listened. I was mesmerised. Other than dad playing his accordion, I'd never been closer to a musician than sitting in an audience at a concert. And here they were, right there around me. There was Terry Jacob, playing his fiddle like a runaway freight train, Ian Drynan on the accordion and many more lovely people who went to the Boho. Through the Boho I learned about all the other 'Folkie' events around the city and surrounds. When I met Don and June Nichols they became one of the main influences to me being involved in what was happening around town. I became a regular at nearly everything. June was a constant boost to my confidence and always so encouraging.
Around this time I was also introduced to festivals. At an Imbil Festival I was given my first "big break" and was asked to play my bodhran on stage with a group of friends and then later at the Woodford Festival, June Nichols invited me to perform with the Champion Moreton Bay Band at the big bush dance. How cool was that!
In 1998 I thought it might be fun to learn a melody instrument so I bought a whistle (cheap and easy – I thought). After a few months of practicing and some tears at having sausages not fingers, I finally learned my first tune "Si Beg Si Mor". Weeks later I learned my first 'fast'(?) tune, "Off to California". Soon after I was learning tunes full tilt. Multiple tunes every week. A tune junkie was born.
June then invited me to perform on the CD "Gathering Thyme". That was great fun but I kept thinking, "What am I doing in a recording studio…how can this be?" A wonderful time in my whistle learning was spent with Mark Davidson (singer/songwriter/guitar player). Mark convinced me to play at the Kookaburra and eventually a Scottish fiddler named Kit joined us and we played at a Folkies Old and New concert and also the Toowoomba Folk Club. Both were great fun.
At one session at the Boho in 1998 I asked Simon Wells if I could try out a little piccolo type instrument he had. I tried it, I got notes out right off the bat and decided then and there that I must now get a flute. I now have two fabulous flutes and they give me such joy.
In 2001, I withdrew from music completely. I saw no one and didn't play a note or pick up an instrument for over three years. In hindsight that was just plain stupid. I returned in 2004 when I got word that June Nichols was sick. The best thing about being away for 3+ years is that upon returning, the music scene and folkie friends were exactly as I'd remembered and I got more welcoming hugs and kisses than I could count.
In 2004 I began doing the layout on The Folk Rag to ease the burden of work from June's shoulders. How she did all the work herself for all those years is a super human miracle.
In the past few years I've played regularly at the Morningside Bush Dances with the Champion Moreton Bay Band and this year I was thrilled to play at the Canberra National Folk Festival with them. It was a fabulous experience and the only thing that would have made it better would be if my dear friend June had been there with us. I miss her every day.
The local flute and whistle musos I hold in high regard are Belinda Ford, David Russell, Simon Wells, Kevin Higgins and Adrian Jefferies. All are inspirations.
I've tried a number of instruments but I've discovered that by merely having an instrument, it doesn't mean I can play it. Funny that! The instruments I'm continuing with are, the flute and whistle, concertina and my newest purchase, a button accordion. I'm also looking forward to the day when I'll have a double bass. My list of instruments to learn gets longer by the day.
I hope my future holds many exciting times. I'm returning to Canada in July to spend some time with my family and I intend on becoming involved in every musical event and festival I can find. I'm looking forward to introducing my nephews and niece to folkie music and also to playing tunes with my dad. The folkie community in Brisbane have been like "my Aussie family" since that first session in the Boho. I'm intending on returning to Australia regularly, so don't think you're getting rid of me quite yet. There are so many of you that I'll miss desperately when I go. A quote I once heard sums it up. "Everything that is the end of one thing, is the beginning of something else; and that makes me happy and sad at the same time".
Thank you to all who have been such wonderful friends over the past decade. You've the best and you've changed my life forever.
Debbie
Please keep in touch