!
[ HOME ]


Profile
(Note: javascript must be enabled to view and enable email links.)
---
DON JARMEY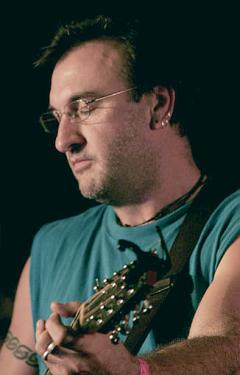 It's 1986. Downstairs at the Metro Arts Centre in Brisbane there is a café. The name escapes me now. I have been booked for my first professional gig. I setup my new, 3rd hand, Takamine guitar with a small amp and play two sets. I'm lucky cos I have 6 or 7 friends who have come down to hear me play. They listen (while drinking large amounts of BYO booze and eating one plate of chips); nobody else listens. Except for one lady sitting near me. After I finish singing Fire and Rain, she leans over to me and says: Thankyou, I love James Taylor. She recognised it! I was hooked on performing.
I didn't know that performing was in my blood. Music was never part of my growing up. However, it turns out that Mum was a singer in a country band with her brothers and Dad played lagerphone for them. This was a total shock to me as Mum lost her hearing when I was a child and Dad never showed any interest in music except to tell me, with alarming frequency, that I should play Johnny Cash songs. Also Grandma was a music hall singer and sang right up to the day she died (she had just done a show, went to the movies and died. A performer to the last).
Meanwhile, back at my story. Of course I liked music. Every kid does. It wasn't until 1980 when my brother Glen showed up at my home in Townsville. Glen had long left home and I had rarely seen him. He had learnt to play guitar and decided I should as well. He gave me an old Peerless brand guitar and then promptly left. Great! A guitar! What the hell do I do with this thing? I did what I always do with things I don't understand, I left it alone. Until one day when I got a book from the library and started to learn. Go on! Call me geek.
I wasn't getting anywhere with my playing guitar (unless you count busking with Nicole Murray where we made enough money for two cups of coffee, thanks mostly to her Mum and Aunt). Then, in 1982, my parents decided to leave home. I went to live in Brisbane. 16 years old, doing my senior schooling, no parents, my own flat. I had to learn to play, the girls at school would love it! My Brother helped me a bit. He had become a fine guitarist, but not a great guitar teacher. Cat Stevens, Dylan and assorted other middle of the road, folk stuff. I started to learn in sessions with him and his very talented friends. These people were hippies. Parties always had guitars, banjos, harmonicas and voices. I remember the first time I played to a crowd. I was 16, playing in a session at the Toowong RSL Club (Underage? Never!). I played Fielding and Dwyer's The Whale and Donovan's Gold Watch Blues (they have the same chords and, knowing my level of talent then, probably the same melody line).
So I started having the same type of parties and so began hanging around with other musos. But this was now the mid 80's. Thrash was the music of the time. All very good indie pop/rock stuff which was great but I could never really play it. Electric just wasn't my style. Don't get me wrong, give me a big PA anytime, but my mates were into a totally different style of music. It was very disheartening; loved the music, but couldn't play it.
Then a few things happened. My then girlfriend, now wife, Angela Kitzelman, bought a tin whistle, then a flute. We started jamming together. Great fun. At the same time acts like Redgum, Goanna, Paul Kelly, Billy Bragg, and the Pogues started to be more prominent. This was more like it. Probably the most influential band to me was a local outfit called Popproperly. Royal Exchange Hotel beer garden every Saturday afternoon playing folk, pop, rock, really anything that would work on a guitar, mandolin and lagerphone. Just the best stuff I had ever heard.
In 1989 we moved to Townsville. I had played at the Townsville Folk Club in 1988 and wanted to go back. Thus started 10 years of being the sound guy for the folk club, organising events, going to and playing at every festival I could get to, playing in bands and running our own festival.
The early 90's was an amazingly fertile time at the Townsville Folk Club. So many incredibly talented musos and entertainers came out of that era, many are well known names in the folk scene still. Massive thanks has to go to Roger Taylor. He supported and helped us all find our way in music.
The most important music endeavours I was involved in Townville were The Rogues, a band that started in 1991, that I loved and just won't stop playing; Dog Culture, my first encounter with original folk/country/rock. Great Stuff! playing with Women in Docs, best fun was when Roz Pappalardo and I would go hyperactive on stage; Little Green Men, John Thompson and myself breaking drinking records while getting paid for it; and working with Angela and a brilliant crew of creative and talented people on the Pangola, then Palm Creek festivals.
After ten years of fun in the north it was time for a change and in 1999 and we moved back to Brisbane for fun back in the south-east. Many Townsvillians have moved here since. Them, combined with the gifted and really great people I have met here, have made the last 9 years brilliant.
Since being back I have gotten involved with the Woodford Folk Festival and, more recently, Neurum Creek Festival. There is something about organising a festival. I think it is the smile on a festival virgin's face when he or she discovers what music is really all about.
I've always been right into sessions (Oh the Session Bar at Maleny!!!). I've run sessions at many festivals, Ryk Rostron and I have run sessions in pubs, I've sat in sessions all over the world and I can't keep away from the Saturday session at the Muddy Farmer (many thanks to my session buddies, Lonnie Martin and Andrea Baldwin). I used to go busking with John on Saturday mornings, and then drink the profits at the session that afternoon. Our best effort was a 13 hour session in the UK. The friends and musos I have met at these sessions have been very inspirational as well as very bad for my liver.
I am now playing original music again. About two years ago, JIGGER was born. Now this is a band I am very proud of. Matt Kealley is a fine muso and way, way cool song writer and Jamie Corfield (who I have been playing with since the start of The Rogues) is just magic. This is the band I wanted to play in when I didn't know I wanted to play music.
I have a feeling that it is never going to stop. Why should it? Music goes hand-in-hand with fun, friendship, love, egos, getting on stage, creating, sharing, falling off stage, making people think, smile and laugh, and, of course, drinking….I mean socialising. I think I can handle that for a while longer.
Remember! The song ain't over until the guitarist jumps!!!!!
Don Jarmey