[ HOME ]


Profile
(Note: javascript must be enabled to view and enable email links.)
---
DONALD MCKAY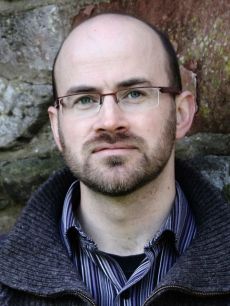 I was born in Paisley, Scotland, on a Sunday morning in 1974, and raised up in the countryside in the west of Renfrewshire. At aged seven I apparently requested a guitar for my Christmas and received a half size 'guitar' made in the People's Republic of China. I'm unsure as to whether I received the songbook "100 Songs in Three Chords" at the same time, but if I did, it put me in good stead for the following ten years, by which time I realised that you needed at least four chords for some songs!
My immediate family did not play instruments but en route to our holiday destination used to sing along with various tapes in the car. We would listen to many musical genres with Elvis, The Everly Brothers and Buddy Holly being my dad's favourites. Danny Kaye (singing the songs of Hans Christian Anderson), Neil Diamond and Burl Ives were also often played; as these were the tapes we kids were each given one Christmas especially for car journeys. And then there were The Corries - a standard.
My extended family included, at least, eight instrument players and every one of the family would sing at the drop of a hat when occasion demanded, which was every family function. I was therefore reared on the classic, traditional songs of Scotland during family get-togethers.
My best friend in my teens was also a musician and we often spent days playing music together, adapting the 100 Songs in Three Chords to include the missing chords and expanding on the repertoire by working out arrangements of The Corries' songs.
Around 1991 I purchased my first bodhran and taught myself to play. My musical experience was then expanded when, on a trip to our family flat on the Isle of Bute in the Firth of Clyde, we noted that there was folk festival happening. We returned with my dad chaperoning me around the various bars (there were at least ten bars within 500m in the small seaside resort of Rothesay) that were hosting music sessions of one form or another. With youthful enthusiasm and quite a wealth of songs already under my belt, I was soon taken under the wing of some stalwarts of the festival scene from Glasgow and for the next 10 years we would meet regularly at various festivals around Scotland, spending all the time in sessions sharing songs and banter.
Shortly after returning from my first festival, I noticed an article in the local paper requesting any musicians and singers in my area who were interested in starting a folk club to make themselves known. I answered the call and became one of the founding members of the Houston Folk Club, in the village of Houston, Renfrewshire. There I performed regularly and was the warm up act for various big acts that came to the club, including Dick Gaughan to name but one.
In 1996 I moved to Edinburgh to undertake some post-graduate research. Edinburgh at this time was a melting pot of traditional music and I spent up to 6 evenings a week going to one session or another with some amazing musicians. One session in particular, held at the world famous "Sandy Bell's", was especially important in influencing and improving my technique on the bodhran. The session was with the Wrigley Sisters from Orkney, and playing with them required me to be ready at all times for surprise changes in tune, style, rhythm and sudden pauses. It was such great fun. There were two sessions a week with the Wrigleys (until they went on their first world tour) a session with members of Shooglenifty and The Battlefield Band, another with members of Jock Tamson's Bairns and one regular Sunday session with one of the keystones of harmonica playing of traditional tunes, Ian Grant. Ian was related to Mrs. Grant of Laggan (of tune fame) and he came from a family of pipers, he himself having been a military piper and pipe major before running out of puff and turning to the mouth organ. He was a fount of knowledge on all the Scottish tunes, especially the old pipe tunes and his sessions were an inspiration and a 'schooling' for many musicians in the Edinburgh folk scene, as he was not averse to showing a player how a particular tune 'should' be played (in the nicest possible way, he was a real gent).
It was around this time that I started properly researching the traditional Scottish songs and collecting copies of the old songbooks, as the National Library of Scotland is a great repository and a few of the old collections were starting to be re-published.
In 2002, I headed 'south of the Border' to take up my first full time engineering position in the town of March, Cambridgeshire. During this time I first met Cloudstreet on the English festival circuit. I spent 3 years as a member of the local folk clubs in Cambridgeshire and often bumped into Cloudstreet at the festivals. They (not unsurprisingly) always had fantastically musical friends with them, which made for a good jam and fun times that I was thrilled to be a part of.
In 2005 I moved back to Scotland and a few years would pass before I saw Cloudstreet again, when they would introduce me to Rebecca Wright, who was on tour with them as guest cello-singer. I invited them to visit me, which they did and the rest is history; or at least can be read about in the preface of the debut album Joys that never weary, that Rebecca and I recorded in Glasgow prior to emigrating to Australia in March 2012. More information of my past musical year can be found at www.wrightandmckay.com
Donald McKay