[ HOME ]


Profile
(Note: javascript must be enabled to view and enable email links.)
---
DUNCAN McGONIGAL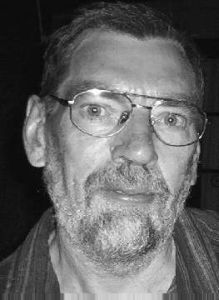 I grew up in post-war Scotland, in West Lothian, just outside Edinburgh. No-one in the family was particularly musical except for my father who possessed a deep baritone voice and sang in the North British Steel Group Choir in Bathgate in the 1920s. My aunt tells me he could have joined the Glasgow Orpheus Male Choir if he had been able to sight read music.
When I was about ten, my brother acquired an old gramophone and some 78s and 45s, driving the household mad playing them. I remember hearing The Good Ship Venus and Barnacle Bill the Sailor from his collection!
After leaving school, I worked on a dairy farm for a while before deciding to join the Royal Navy, serving time on several destroyers and frigates, and travelling to many exotic locations around the world. During nine years in the Navy, I visited many foreign ports including Gibraltar, Aden, Singapore, Valletta, Venice and Bergen to name a few. Through a navy mate, and also through my bagpipe-playing cousin-in-law, I knew of Scottish folk singers like Hamish Imlach and Alex Campbell. Ironically, I never got the chance to see these singers in Scotland but finally saw Hamish perform at a house concert in Brisbane about 18 years ago.
While on fisheries patrol in the Arctic Circle in 1963, I was fortunate to witness the birth of the isle of Surtsey, off Iceland, the result of a volcanic eruption. Also in the early 60s, I happened to be in Stockholm, just in time to see Louis Armstrong perform at the Tivoli Gardens.
Back in Scotland after my discharge, I found a job close to my home in Broxburn, West Lothian. By 1971, I needed to get out of a rut (I guess I found life boring after my Navy time), and flew to Brisbane to visit my cousin with whom I had grown up. She had emigrated to Australia with her husband back in 1964, and when I arrived I kept on asking "Where's the bush? Is that the bush?". I had only intended visiting for six weeks, but decided pretty soon that this Australia was the place for me, and stayed. In no time at all, I got myself a job and a flat, and settled down to the task of (continued on page 14) being an Aussie. Due to a quirk of fate, I found that I am Australian anyway due to my father having been born in Lithgow, NSW. My grandparents returned to Scotland with their baby son only a few years after emigrating. My gran couldn't bear the climate and living conditions of the newly-established shale oil mining town of Newnes, north-east of Lithgow. In those days, Newnes was pretty rough and ready, boiling hot in summer and freezing in winter. The mine eventually closed in the 30s and the plant and town allowed to fall into ruins. I visited Newnes in 1992 and marvelled at what my grandparents must have endured. The place is still remote and accessible only by a narrow winding gravel road down into the valley.
I must have been destined to get involved with the local folk music scene, as a couple of years after coming to Brisbane, I was a friend's party and who should be there but our own Don and June Nichols, who had arrived from the Bahamas only a few months after I came from Scotland! It was some years later though, through my involvement with the Caledonian Club, that my introduction to the Brisbane folk scene began in earnest. I was literally thrown in at the deep end when I unwittingly volunteered to staff the bar at the club on the very night that the Sunday Ceilidhs started up. All these weird and wonderful characters suddenly entered my life - I remember Peter Auty, Avrils Lambert and Brannock, Rantan and ring-ins playing the music, and as time passed, I found I had more in common with the folkies than with the Cale. Club members. I was also doing bar work there on Friday nights when the Barley Mow Folk Club was on, and so in 1980 when the Barley Mow moved to East Brisbane, I went too, continuing to manage the bar until the club finally closed in 1982. The Mow hosted some great acts in its time - Vin Garbutt, Derek Brimstone, Eric Bogle. I often saw a talented young blues guitarist named Greg Richmond, whom I asked how he learnt to play, as I was interested in the guitar. He replied "Out of a book!" Enough said.
By this time I was well and truly hooked on the music and the folkies, and established friendships which have endured to this day. I helped out roadie-ing with Rantan for a while, and eventually my weekend pattern was established - Thursday night at the Tar Pot Folk Club, Friday at the Barley Mow, and Saturday at the Red Brick and, when it closed down, the New Chum Folk Club. There was always a party at someone's place after the Mow, where you could socialise and sing and feel very much at home and part of things.
In 1981, my life took another turn when I met my wife Julie, a fine fiddle player, who had been playing with the Bale-em-Up Bush Band. Together we became quite involved in the folk scene, serving time on the QFF, FOQUE, and 4EB Scottish Group committees, organising concerts for the likes of Cyril Tawney and Dougie Maclean, and attending the weekly folk clubs and sessions which migrated from the Story Bridge Hotel to the Exchange, to the Port Office and the City View. Funny how the folkies always got the heave-ho when the pubs got a make-over or were demolished!
Over the years, we have attended as many festivals and concerts as job, finances and health allow, learning a lot on the way, meeting wonderful people, and hearing wonderful music. Many experiences that have enriched this folkie's journey spring to mind - Kath O'Grady at the Maleny NFF in '89, on her first day leave from hospital after a bus accident, lying on a trolley, cigarette in one hand, drink in the other, and having a ball; the final "Muddy-evil" Fayre at St. Francis', where everyone slopped around ankle-deep in mud; marvelling at the talent of young fiddle players at the NFF in Canberra; listening to the interplay of Dale and Joy's mandolins at a session; the magic and energy of a Battlefield Band concert; and the list goes on.
The concept of folkie family is alive and well for us, both here in Brisbane and in Stanthorpe, where we will retire. Even though I have never learned to play an instrument, I have found that the listener's perspective can be invaluable. After all, someone has to be in the audience, though there have been times that there were more people on stage than in the stalls! But I was chuffed to be part of Joy's Silly Hat Band, and to be included on a chorus song on one of Penny Davies and Roger Ilott's CDs - I knew all those uglies (for the uninitiated - impromptu chorus songs usually sung by audience and performers alike) would prove useful one day!
Duncan McGonigal