[ HOME ]


Profile
(Note: javascript must be enabled to view and enable email links.)
---
EMILY ARLIDGE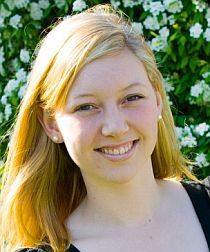 I was born in June '91 in Brisbane. I have a vague memory of dad playing the guitar on the veranda at our home in Bulimba and I fiddled on our German upright, it was still in tune then I reckon. Dad's mum, who died before I was born, was a pianist and my grandfather encouraged me to learn. I began lessons by the time I was four.
By 1997 things became busy – Bulimba was booming and dad had a "damn office job". Soon his midlife crisis took form and we found ourselves in Stanthorpe, three hours south of the big smoke – population: 5000, wineries: 15 and temperature: -12.
Beverley, our new home, was a colonial 1870s homestead that we transformed into a restaurant, cellar door, accommodation and vineyard establishment. I went to the local school 600m down the driveway. The district's music teacher would come and teach our small classes once a week. Everyone played recorder but singing in the choir was my favourite.
I had Suzuki theory and practical piano classes in town with Mrs Chapman every week. Her focus on piano etiquette, however painful at the time, is something I will always be thankful for. Anyone who has had piano lessons knows that if you haven't practiced since your last lesson, you're in trouble. My parents tactfully placed the piano next to the kitchen and, on my way to devour the fridge, I would stop and practice instead.
I went to Mrs Chapman every week until I was 13. She gave me singing lessons as well where I learnt useful breathing techniques. Every year I performed at the Eisteddfod. When I began boarding school in Warwick I started my AMEB examinations. I reached 6th grade after four years. I also pretended to learn flute for a year.
Meanwhile, dad caught a fatal bout of Guitar Acquisition Syndrome (GAS). We booked a Brisbane guitarist for the restaurant one night when his car broke down. After cooking the meal, Dad dragged out his guitar and played classical music for the customers instead.
8 years on and his guitar collection is going on 20. No more guitars! says my mother. There is a hint of desperation in her voice now. Self-taught, he eventually started to improve from where he had left off years ago. I was eventually coaxed into singing with him on a regular basis; we started off doing a bit of blues, folk and dad battled on with the classical.
Stanthorpe's best luther, "Dr" Bruce Jones, who once owned a guitar shop in town, introduced us to the region's wonderful music community. We met Lee Williams and formed a group that we call Jelly (John, Emily and Lee, geddit?). Listening to Penny Davies and Roger Illot got me excited about folk and soon dad started up Thursday Folk Nights and Friday Music Nights, we often got to the Warwick Folk Club on Wednesdays, too. Hammered dulcimers and mandolins became something of a norm in my life.
With time my voice developed and I began to favour a jazz style, with Lee's help I discovered Glenn Miller, Ella Fitzgerald and Billie Holliday. On the weekends I would travel back from school and Jelly would do gigs. Our repertoire grew and suddenly we became regulars at the Kookaburra and the Madass playing alongside the folkies up there. Send out a joint email to all of Whiskey Gully's Brisbane clientele and we can create quite a chair situation at the Kooka.
By January '09, after high school, I was already living in France for my gap year. I had a five-month stint living near Rouen, the capital of Upper Normandy, doing an exchange program at a local high school and living with a host family. My host parents originated from Reunion Island and Cape Vert so as well as teaching me about France they included me in their own cultures. I learnt the dances and songs: they invited their families over on the weekends to dance and have parties. Boy, I wish I could shake my bum like those filles de la Réunion.
My parents arrived in France in June and for three weeks we travelled around a bit. At the end of the holiday we went to Samois-sur-Seine for the Django Reinhardt Festival. My love for manouche flourished instantly, every sentence beginning with Django gave me goose bumps. It was there that I met Aussie friends Kay Sullivan and Ewan McKenzie. Back in Paris, listening to them play in that Parisian atmosphere was magical. God, they're good.
The night my parents left me all alone in Paris I went to see another manouche group with Kay and Ewan at a little parlour restaurant in the 6th arrondissement. That night they "Djammed" with Parisians Julien and Christophe who I went to see every Sunday night at the Tavern de Cluny in the Latin Quarter for the rest of my stay.
Before Kay left, she hooked me up with the LYLO, a small monthly pocket guide for music in the city. Twice or three times a week I would go out and find a new bar, club or parlour and listen to amazing music. Sometimes I would meet people; other times I would be the only one there; but I was content just to listen. I didn't sing much at all the whole time I was in Paris but I sure learnt a lot about music.
When I got home I was confident enough to start singing in French with Jelly. I find that French songs take longer to nail, singing in a different language makes me concentrate in all the wrong places that I wasn't used to before.
I thought I knew a lot about music before I lived in Paris. After five months in the jazzy city I realised there is still so much for me to learn. Music is a journey and one day I hope to know jazz like some of those Parisian musicians do. Until then, I'm working on my Aussie accent for those French songs – after all, it's no good Parlaaaay-vuu fransays-ing in the middle of an Edith Piaf number, is it?
Emily Arlidge