[ HOME ]


Profile
(Note: javascript must be enabled to view and enable email links.)
---
FRANK RAMSDEN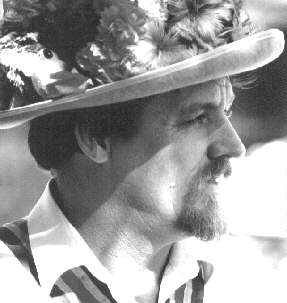 I was born in Kingaroy hospital, one of twins in 1953. My parents and four older siblings were then engaged in tank sinking (earth dam building) in South Western Queensland.
As in the poem, additional children turned up over the years and the family moved to a dairy farm at a place called Brooklands, which is near Maidenwell.
I attended the one teacher Middle Creek Primary School, later St Mary's Convent High School and then Nanango High. At idle reflective moments I wonder whether I was solely responsible for the fall off in young Irish nuns coming to Australia to teach.
Entertainment in those days was via the radio and a few 78s. All my family were great readers of library books delivered by the cream carrier. Frequent old time dances were held at Maidenwell Hall and everyone played cards. For a time, square dancing was also in vogue. Mains power was connected to the farm not long before I left home and TV reception became available. My family rented a TV for school holidays wherein we all tried to avoid our 'chores' to sit goggle-eyed in front of a screen that was mostly snow.
I left home at the end of school as most country kids did and moved to Brisbane to start a traineeship as a technician, a career that I maintained for nearly thirty years.
I seemed to acquire a brick veneer, Holden, a Victa, a Labrador and a wife and two children rather quickly, and rather quickly that cosy life ceased. For many years I remained a bachelor until fairly recently marrying Lisa Birdling and having young Harry.
In the late seventies I was dragged off to the Red Brick Folk Club by a girl I worked with, one Celia O'Hagan. Life has been on a slide ever since.
My week quickly became a routine of the Tar Pot on Thursdays, Barley Mow on Fridays, Red Brick on Saturdays and the Lone Parents Club Bush Dance on Sundays.
About this time I also moved into a shared house with Peter Auty, Russell Mackay and Flash Howard Wills, my descent was almost complete. Peter and I moved to The Common after this and the party continued.
This was in the period just prior to the '81 National in Brisbane and Peter managed to convince me to join Moreton Bay Morris, "just for the National". My descent to the depths was now complete. The Morris at that time was great fun; we travelled a lot and performed at many, many interesting events. I stayed a member up till the mid nineties.
Sometime in 1984 I met a guy from Maryborough, had a few beers and appear to have sold my soul. The gent in question of course was Bill Hauritz and he was going to restart the QFF and would I be interested in being part of it. The result of that meeting has been that I have been on the QFF committee for all but one of the intervening years. The opportunities presented by my involvement have been sometimes challenging, always rewarding and also educational.
I was the person who moved the Mediaeval Fayre to Mowbray Park and changed the date to July. Ian Drynan will never ever forgive me for not having had a Fayre washed out. (neither will Julie Dendle Ed.) With Ann Bermingham, Juda and many others, I helped promote events, ran backyard concerts and for what seems a lot of years collated, stapled, wrapped and labelled QFF Newsletters. As President of the QFF I was fortunate to be involved in the '89 National at Maleny, the '90 National at Kuranda and some of the Canberra Nationals. Some of you may have noticed that I have been a fixture behind bars at every Maleny and Woodford, this has been my main input to festivals over the years.
By the Tony Miles definition, I guess that I am NRF (Not a Real Folkie), I do not play music and the world is fortunate that I rarely sing. June will remember a certain Morris bus trip where the singing was somewhat less than harmonious. My interest in folk is not the music though I certainly enjoy many forms of music and voice. I was drawn to the folk movement by the sense of community, by the humanitarianism and by the sense of history. These traits are always present in folk and are some of the values that underpin Woodford. The less kind of those I know may suggest that I was drawn to the folk movement by the grog, and may unkindly suggest that grog is a Woodford value.
My QFF committee involvement for many years has been as Treasurer. A position that collects the credit for Amanda Jackes and Ingrid Hauritz's hard work. Despite the time constraints of work, family and a house renovation I feel that the QFF is a most worthwhile body to contribute to and through which so much more will be achieved. Woodford sustains many things other than the festival, the plans for the future are just as exciting as those things already done.
Look forward to seeing you all at Woodford this year, and please make an old Treasurer's life a little easier. You can do this by bringing everyone you know, particularly those that don't mind a cleansing ale.
Frank Ramsden (AKA Fizz)