[ HOME ]


Profile
(Note: javascript must be enabled to view and enable email links.)
---
GARY SHEPHERD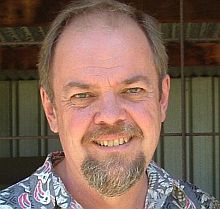 Born and raised in Wynnum, I came from a very musical family. My maternal grandmother was a Vaudevillian in the 1920's playing piano and harmonica as well as singing and dancing with her two sisters. My mother was a classical pianist, and my uncle (Ron Burton) was a singer/guitarist and folkie stalwart in Brisbane throughout the 60's.
As a child I studied classical piano. But, like many children, I couldn't take to classical methodology, and didn't practice as much as I should. I think childhood piano lessons have been responsible for turning more people off playing music than anything else. Those lessons did give me the ability to read music, though, for which I am thankful.
One day as a child, I was travelling home from a trip to the big city with my mother and grandmother, and they were waxing lyrical about my cousin who sang and played guitar a little. I got somewhat jealous and, frankly, a bit sick of hearing it, and said, it's only guitar. It's not that hard. This prompted a well let's see you do it then response. So, I bought a cheap guitar, and the love affair began. It continues to this day.
Guitar has been central to my life ever since. Most of my friends are people I've met through music. I met my beautiful wife at a gig. Both of my wonderful children are musicians, and I can no longer even imagine where my life would be, if I hadn't taken up that dare to learn guitar. I do continue to play piano, very badly.
I guess I have what you would call eclectic (that word hides all manner of sins) tastes in music. Like all people of my age, who weren't raised in a cave by wolves, I was a huge Beatles fan - and, let's face it, anyone who says they're not a Beatles fan, is just looking for an argument, for the sake of argument. However, it was the solo singer/songwriter era that really cemented my direction in music. Don McLean, James Taylor, Gordon Lightfoot, Cat Stevens, Paul Simon and others, set a standard of song writing craftsmanship that has not been equalled since. The idea that one person with an acoustic guitar could be the whole show was just a revelation to me. To this day, those kind of performances and recordings still attract me more than any other.
My uncle, Ron Burton, was a DJ on Brisbane radio in the 1960s, and a regular performer at the Folk Centre and other clubs around Brisbane. He had an enormous collection of record albums from his radio days that were largely unavailable to the general public; and my cousin and I regularly raided that collection to find unheard treasures. One of those treasures was an album by English guitarist Davy Graham, called, Folk Blues and Beyond. We took it down from the cupboard because of the cool cover. There was Davy, in black and white, wearing a black turtle-neck sweater, sporting a Fu Manchu moustache and playing his Gibson acoustic – the very essence of cool, to a couple of impressionable teenagers. Then we heard the playing. It was so far removed from the standard folkie styles we'd been used to hearing that he may as well have been from Mars. But, it made me realise what an acoustic guitar was capable of, and so I set about trying to sound like Davy Graham. Never did succeed though. Now I hope I just sound like me – that is unless someone can wave a magic wand and make me sound like Davy Graham. Other guitarists to greatly influence my playing were Jerry Reed, John Martyn, Stefan Grossman and Big Bill Broonzy, amongst so many others.
Back in the days of the Folk Centre in Brisbane, I would sometimes appear as second guitarist for my cousin, Jeff Burton, or for others, including Mike Wilkins and Sue Wighton. All three of those are sensational singers, and I admit to having felt completely intimidated. Eventually, though, I decided that if Bob Dylan and Neil Young could get up and sing, with a straight face, then so could I.
For the following 20 years or so, I played almost continuously in pubs and clubs – mostly solo, but sometimes in small groups. Sadly, for me during those years, I lost touch with my folkie roots and many of the wonderful people that I'd met in those early days. Still, time has a way of working things out, and I got too old to put up with drunks and publicans (most of whom are also drunks), and, in the last several years I've been re-claiming those lost folkie roots and appearing at festivals, and at folk, blues and country music clubs – sometimes solo, and sometimes with my son, Sam, who is a world-class, award-winning guitarist. I taught him to play - now he shows me things I can't possibly play - isn't that just the way of the world?
One of the great joys of my life is teaching guitar to people who have become frustrated with their progress on the instrument. I find that so many people learn a few chords and a couple of strums or picking patterns and have a lot of difficulty improving beyond that point. I take great pleasure in seeing the reaction that my students have, when they make dramatic improvements to their playing after just a few lessons. So, I'll repeat what I said when I was still in short pants, it's only guitar. It's not that hard - but it does help if someone can steer you in the right direction.
My hopes for my personal future in music are to be able to continue to entertain an audience from time to time; to show players ways to move their own guitar-playing forward, and, most of all, for the overly serious, self-important persons that we all have to deal with from time to time to lighten up. It's music; it's supposed to be fun. If you're not having fun, get out of the way and let the rest of us enjoy ourselves.
Gary Shepherd