[ HOME ]


Profile
(Note: javascript must be enabled to view and enable email links.)
---
GERRY AMOS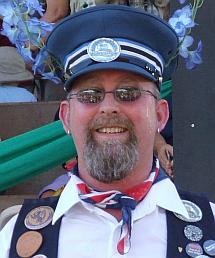 Okay so now some people are scraping the bottom of the barrel…& I can still find drinkable cider there….and the start is sooooo long ago…..to preface – one,...yes I admit to that many,….fault I have is that I cannot remember names when I should, so unfortunately the problems with writing such a '..blurb..' is that some will be mentioned and some not, only due to my extremely poor memory of names – if you are someone I have not mentioned please forgive me - you have not been forgotten but my memory for your name is weak.
Probably my earliest exposure to real folk was in grade 1 where, when other children were learning Alex Hood's songs about Brumby Jack etc I had a teacher who was more intent on teaching us Blowing in the Wind, or Last Night I had the Strangest Dream (& was described by parents as needing a good iron, something about cheesecloth I believe) so between a solid upbringing of the Seekers, the Weavers, Grieg and Beethoven my love for music was never discouraged.
The came the Grapple ..oops Apple & Grape festivals - growing up on a property near Tenterfield meant that the Apple & Grape was significant on the calendar (if for nothing other then providing a supply of mead) and twas there I first espied Morris Dancing.
Many years passed….including visits out west to learn a rural trade (singing with Sandy Whybird (ex Mouldy Warp bush band in Chinchilla) all of which eventually resulted in me landing in Toowoomba in 1986/87 and curious enough to find my way to the Sunday afternoon sessions of the Quartpot Folk Club held at that time in the Royal Hotel. My earliest memories of that time included listening to Gayle Dawson playing fiddle & guitar, Joan Chenery, Merv Webb, Pete Jones, Dave Fee and many others who welcomed and encouraged me (who couldn't play any instrument but could if pushed, sing - courtesy of a good Brisbane private education). There I met Bill Anderson who decided to run whistle workshops, so myself with others far more talented, did learn whistle basics - & I can still remember the first tune Bill taught ..probably because I haven't learnt many others… But things were changing …. The Lockyer Festival run by the Folk Club for many years was losing its venue and by that stage I was involved in the running of the Folk Club so a new venue was sought and between 1989 and 1991 we (Joan Chenery, Gayle Dawson, Merv Webb, Kim Brown, Marilyn Jacobs, Gecko & Ronnie and others) ran the Cabarlah Folk Festival - with acts such as Leaping Lizards, Sirroco, One Straw (their very first gig), Ted Egan, Des Fenoughty, Sharon Doro, the Highnotes, Brolga and so many other great acts, it also involved me with members of the Qld Folk Federation at the time with Frank (Fizz) Ramsden, Peter Aughty, Bill Hauritz (God), Helen Shearer and so many others it was my privilege to work with. In Christmas 1989 I also first visited the Maleny Folk Festival to experience its emergence following the very successful hosting of the national folk festival in Easter that year - starting what we all now know as the Woodford Folk Festival.
My involvement with the Quartpot (& then Toowoomba) Folk Club continued for a couple of years where I would manage (& innocently record from) the mixing desk various individuals and groups including One Step Forward, Tangled Web, Lost Weekend, Spot the Dog, One Straw, Jones' Jug Band & yes the only recording of Gecko singing but then it was time for a change and I moved into musical theatre for a period of time performing first in a community theatre project Lillian then in Les Miserables for a couple of years then in Toowoomba Repertory Theatre into the mid '90's.
Then came that fateful time….. in 1990 - a convergence one might say - when like (but strange) minded people gathered in the rooms of the Metropole Hotel in Toowoomba and asked the unmentionable question 'so who wants to start a Morris side'. Yes, there was myself (not entirely innocent), Kim Brown (recently arrived from the Conondale), Sean & Debbie Arthur (Moreton Bay Morris imports to Toowoomba), Ronnie & Gecko (imports…well yes they had been in South Australia), Ken & Yvonne Walsh, Doug Murray & Mike Power and so it came to pass that Belswagger Morris had its start…bleary eyed after much Guinness and lurching into the Queensland folk tradition. Our first performance (as it took so long to teach us newcomers) was on the 29th of September 1990 at Webster's Hotel in Stanthorpe and also included Moreton Bay dancers - Frank (Fizz) Ramsden, Matt Seligmann.
Once the genie was let out …it can never be put back. And so Belswagger has continued to ring bells, smash sticks and spread futility - including spawning offshoots with Moreton Bay Morris in the creation that became Morrice Rampant. Since then Belswagger has survived many changes becoming a mixed side (forced by reducing membership) and entertaining the natives across South East Queensland at various local harvest festivals eg Chinchilla Melon festival, Gayndah Orange Festival, Goomeri Pumpkin festival, Kingaroy Peanut festival and returning to my roots…yes the Stanthorpe Apple & Grape festival, not to mention both Woodford and the National Folk Festivals. Its continued success the result of hard work by people like Greg Hall, Geoff Brown, Meg & Gary McLean, Caroline Williams, Karl-Eric Paasonen, Samantha Page, Karina Berry, Anne Isdale, Matt Seligmann and now a new (& old) crop of dancers coming in with Sean Arthur (rejoining) and other wonderful young dancers inspiring us with their energy for the future.
So where to now…Belswagger still commands most of my attention however recently I have become more involved in historical re-enactment through groups such as Contact Front and Strayra Ladoga and every now & then I also reminisce about making instruments again (I made a few octave and normal mandolins and a acoustic bass guitar in the early 90's)….and who knows, in the words of a song I love Until there's no more time for singing, until we reach the story's end, I'll always find the strength within me to rise and sing my song again.
Gerry Amos