[ HOME ]


Profile
(Note: javascript must be enabled to view and enable email links.)
---
BOB & LAUREL WILSON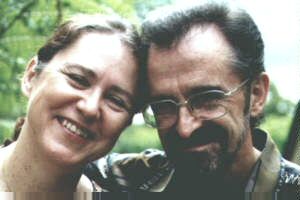 Laurel (Toogood) Wilson was born in Fort McLeod, Alberta, which is also the birthplace of Joan Anderson (later to become famous as Joni Mitchell), and close to the origins of k.d.Lang, if one likes musical coincidences.
Laurel migrated to Australia with her parents in the early 1960s. Her parents went back, but she and her brother stayed.
Her earliest musical memory was getting stage fright at the age of four and refusing to sing "12 Days of Christmas", despite weeks of practice. Other early experiences included singing in the choir at Nanaimo Junior High School (eg 'Somewhere over the Rainbow') and after moving to Australia becoming involved in 'Iolanthe' at Brisbane State High..... 'tripping hither, tripping thither, nobody knows why or whither'.
Most singing in her University years consisted of drowning out Janis Joplin on the stereo after drinking copious quantities of flagon wine. After moving to Stanthorpe to start her teaching career, she became friendly with some of the notable musos inhabiting the area including Os Simcocks who can play virtually any instrument he picks up and who has a particular fondness for bluegrass. Singing in those days was generally conducted around someone's potbelly stove or campfire. Remember Taromeo? ( For those who don't .... Brisbane Folkies held a small country Folk Festival at Taromeo Station, Easter 1978. It made such a great impression that people who attended still haven't stopped talking about it!)
Then came that magic night when she attended a costume party - dressed as a tart- and a cool looking dude with long hair and beard, green corduroy trousers and a jaunty cap came sauntering in carrying his guitar. 'Ah' she said, 'just what I want - a man who can sing and play guitar'. He also proved to be very fond of her Golden Retriever, and so the match made in Heaven and now known as 'The Goodwills' or more prosaically, 'Bob and Laurel' came into being.
Bob Wilson was born in Scotland. His family emigrated to New Zealand in the 1950s. Mrs Wilson was a fine musician who played piano and sang in the "Kirk" choir and played the organ at the Methodist church.
"She and Dad used to get around the country halls in the north of Scotland and play music," Bob said. "Dad didn't play an instrument, but he had a soft, tuneful tenor voice and was a bit of a comedian on stage." Bob says his Mother tried to teach him piano, when he was six. "I was stubborn and wouldn't practice or learn scales. Over the years she urged me to make my career in music, because as I recognise now, I have a natural ear for it, and not every musician does."
He always wanted to be a journalist, but got side-tracked into the family business in the small country town in New Zealand. A shy, studious teenager who lived in the library, he found a social life when a folk club began in the town's first and only late night coffee shop.
"It was truly amazing. Here was a town where to succeed socially you had to be conventionally good looking, play rugby really well and drink a flagon of beer in one hit without throwing up. Suddenly, in this little coffee shop, I found a dozen people who were like me – shy, musical, creative and inclined to muse about the meaning of life 12 hours a day."
Bob did not play guitar in those days - in fact it was 1975 before he first started learning a few chords on a classical guitar, but he was always "scribbling in books".
Then followed years of travelling, including an early 70s sojourn to Australia where the main thing he remembers about Brisbane was the Folk Centre and talented songwriters like Don Gaddes and Mike Clark.
"I came from a small country town in NZ - I had no comprehension of a folk club that was open three nights a week till midnight and all this fantastic music, for a dollar. Even better, you could walk down to the Crest and get drunk for a dollar!"
Bob credits Brisbane musician Gerald Ruddy as the major influence on his guitar playing style. He likes intelligent lyrics and songwriters who are "not afraid to bare a bit of their soul". He's fond of Joni Mitchell, Tom Waits, Loudon Wainwright, a 1970s duo Tir Na Nog and more recently, lyricists like Dar Williams, Luka Bloom and Kristina Olsen.
Bob is a prolific writer who has won several awards for songwriting (The Almost Armageddon Waltz and Hokianga) and a few of his tunes have been picked up and played around the world.
He settled in Australia again in the 1980s, choosing journalism as a late-life career. He has worked as a writer and editor for four different newspapers and is now a senior journalist with The Courier-Mail.
Bob and Laurel performed sparingly as a duo over those years, mainly at festivals, and also a few supports for notable visitors like Ross Ryan and the Flying Emus. They have travelled to play at clubs and festivals as far away as Melbourne and Tasmania and were supporters of the Helidon and Cabarlah festivals.
Laurel also sang with The Women's Workshop, a group developed for those who wanted to gain some experience and confidence in public singing. The group recently had a pleasant reunion on the back verandah at Laurel's place.
Bob admits to busking (badly) in London, Paris and Madrid in the late 1970s. "I used to get given foreign coins, which I understood later was the greatest insult!"
Back in Australia he played in the bush bands Terpsichore and Ordinary Mortals in Toowoomba with local folkies including Jim Durack and Pete Jones. Bob plays six and 12-string guitar and harmonicas and indulged himself this year with a new Maton for his 50th birthday.
Laurel's forte (and invention) is the Kazoobugle - like it sounds, a kazoo wedged into an old bugle. She has also been known to play a few chords on left-hand guitar - "a bit like a dog walking on two legs" is how she describes it.
In the early 1990s, Bob and Laurel teamed up with an old friend, John Elischer (now living in Toowoomba), as the Petrified Trio. The trio developed a reputation for tight, three-part harmonies on often zany material including blues, jazz, country, Aussie folk and a capella pop songs. They featured at clubs and festivals, including Woodford/Maleny.
Now John is living in Toowoomba, Bob and Laurel are back singing as a duo, in Brisbane with an expansive, eclectic repertoire. They don't play often their most recent gig being in September as a support for Jez Lowe.
"We always figured, after a year or two, that we didn't want to play in smokey bars where people weren't listening." Laurel said. "We prefer to sing in places where the focus is on playing and listening to music."
Bob has started writing songs again after a long hiatus. He plans to play some of his new songs, along with the work of other songwriters, at the Folkies Old & New Concert on November 21.
For the future, the duo plan to record a CD "for posterity" and in preparation for a world travel adventure. Laurel plans to pursue her hobbies of gardening, painting and photography "and getting the dog to do what she's told". Bob plans to follow his writing in whatever direction it takes him and emulate the old blues and jazz musicians, "to whom age was never a barrier to playing music and enjoying themselves."