[ HOME ]


Profile
(Note: javascript must be enabled to view and enable email links.)
---
HELEN ROWE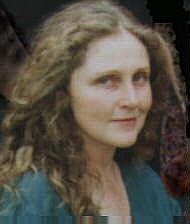 Helen Rowe born in Brisbane 1955, grew up in a musical family. Her father had been a boy soprano who had sung on radio during the war. Her mother played piano and met her father at sing song sessions at his Grandma's boarding house at Southport. They were great fans of classical music. Helen recalls learning to harmonise at family singalongs whilst washing up. She comes from a long line of singers and she began to learn the violin at the early age of six or seven. At All Hallows School she played violin and viola in the orchestra and also was a member of the choir. From an early age she produced backyard concerts as she recalls "I loved to act........... (probably never stopped), but my dramatic career was sidelined due to a lack of family support." At twelve she learn to play the guitar and did a bit of closet performance before allowing it to be leaked at school, but before long she was involved in playing for Folk-Rock Masses, still unaware of the Folk Scene here in Brisbane. As a year 10/11 student Helen recalls passing the little side street which housed the "Folk Centre". Although fascinated she didn't dare enter after being warned about sleazy little coffee lounges and underground clubs .
Her first real experience of a Folk Club was in Stanthorpe around about 1980. She was roped into singing by enthusiastic friends and was so terrified that in turn she roped in another singer whose confidence had impressed her. Before their performance they had a bit of a jam in the Old Pub Kitchen (great acoustics) and before long half the audience was in the kitchen with them. That night they went on as an impromptu duo; two sweet blonde lasses doing material from James Taylor, Neil Young and Bob Dylan. "It was a heady experience!" says Helen. Luckily Helen went home that night with a Folk Federation Newsletter which gave her the contacts for the Brisbane folkies. (Just to sidestep for a moment. Guess who was editor of the QFF newsletter in 1980? ....... Yes, you guessed it.... Yours Truly. Ed.[JuneN])
Helen attended one of the monthly QFF wine and cheese parties, and met Kevin Shearer, Mick Moore, Avril Brannoch, June Nichols and the list goes on. She felt so at home and comfortable with her newly met friends that she ended up being sucked into the Folk scene, performing at the Tarpot Folk Club at the old National Hotel, and at the Red Brick Hotel, she met Jan Davis, Avril Lambert, Lionel O'Keefe and Tommy (the Narc) Keirnan . She attended the Barley Mow and saw Russell McKay sing and play his concertina. She had great times at the party kitchen singing sessions,and on the slow bus to Newcastle Folk Festival which in fact very nearly didn't arrive at all !
Helen has played most styles of traditional Celtic, English, Scottish and Australian Music. She was lucky enough to play music with Charlie Batchelor in the early eighties. She also played in a duo with Russell McKay and sang in an unaccompanied harmony group "Beltane" with Russell, Avril Lambert, and Alan Forshaw. Later they were joined by Jan Davis and Tony Suttor and at a later stage still they were transformed into "This End Up" Bush Band when they were joined by Keith Barrett, Bill Berry, Pete Auty and Bob Babinall, and many other band line ups which included Maggie Griffiths, Phil Wilson and Brian Wright. "This End Up" used to play at the Hub Club (Lone Parents' Club) early evening on Sundays just after the Story Bridge Session. (We mean, The ORIGINAL Story Bridge Session circa mid 1980's).
"By this stage - I realised I must have become (shudder) 'a Folkie' " says Helen,
" Well, that felt alright. I played all sorts of music - folk - trad /contemporary, occasionally I remembered my classical roots and listened to Renaissance music or Medieval church music. "
Later she joined "Melusine" (with Dale Jacobsen, Bill Rodgers and Don Wilson) they did some delightful music, lots of pretty old tunes European, Anglo-Celtic, Medieval and Renaissance instrumentals and vocals. Around about that time she performed with the second cabaret "More Nights of Women in Voice" and this led directly to the idea of "Women in Folk" which Helen, Lonnie Martin, Ann Birmingham, Jan Davis, Toni Wood and Mary Fletcher put on at the Sitting Duck Café. This was the birth of "Tangled Web". They went on from there to perform at Maleny/Woodford, Port Fairy and The National. She also plays with Danny Holmes in the "Jolly Green Druids".
Helen has been writing songs, poetry and prose for many years but has only now taken to giving them an airing in public.She and Mary Fletcher will be doing their own originals this year at Woodford.
She was the support act for the Martyn Wyndham-Read Concert at the Pod Folk Club held recently, and along with June Nichols played backing accompaniment for many of Martyn's songs at that same concert.
Helen hopes to put together a CD next year with a mixture of traditional, contemporary and original songs and tunes.
We'll all be looking forward to getting a copy, Helen.