[ HOME ]


Profile
(Note: javascript must be enabled to view and enable email links.)
---
HELEN SCHWENCKE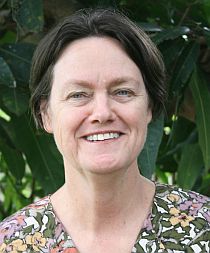 What do butterflies, music and the Woodford Folk Festival have in common?
Butterflies and the Festival? Woodfordia, the beautiful home of the Festival, offers a wonderful opportunity to bring the elements of Land, Air, Water and Species (LAWS) together for Festival patrons. My role is encouraging species diversity onsite through knowledge of the animal-plant relationship. Beautiful butterflies and other curious creatures are one of my passions.
Butterflies and Music? A recent Radio National program suggested that music is touch at a distance. Like seeing the gentle touch of a beautiful butterfly alighting on a flower, both music and nature nourish my sense of well-being.
As newbie to the Folk scene, I have only recently discovered the local, vibrant, live music culture and scene in and around Brisbane. These delights have touched me thanks to The BUg (Brisbane Unplugged Gigs), Folk Redlands, Foco Nuevo, FolkRag Old & New Concerts and the Caxton St Saturday session, amongst others. Through this I've become the fan of many a local musician and band. Stand out favourites are Out of Abingdon, Rough Red and the various line-ups of these band members; Mama Juju, Little Secrets, Pirate Brides, Groundspeed, and oh so many more. Even in choosing those few I've left out many musicians that regularly enliven my life. Thank you all. Then there's also the wonderful opportunity to watch people as they try new material on Blackboards at the various venues and see them learn and develop as performers. So many such talented musicians!
A major thread that draws the disparate stings of my life together is learning.
My involvement with the Woodford Folk Festival started in October 2003 with an invitation to become involved with the butterfly project there. This offered a fascinating opportunity to share what I've learned, learn from others and grow in a community of people that share a love of life, and learning, in its many manifestations.
I have been a regular since 2004, running a monthly working bee for the butterfly project and becoming head of the "Butterfly Department" for the Festival. The working bee is timed to coincide with the TreeHuggers group that works on site on the last Sunday of every month. Working bees are preceded by a jam session on the Saturday night – another enjoyable musical interlude. New members are always welcome to our group. Contact me by
The Festival offers an exceptional learning opportunity to engage with patrons around environmental issues through the Greenhouse program and the various walks and talks. Since 2004, I have been involved with leading an 8am walk from the Welcome Gate back towards the ticket tent.
Did you know that most butterflies have caterpillars that eat only one or a small range of plants? In 1983 I became aware of this. The butterfly species with the most diverse tastes still only eats about 26 species of plants - and none of them are your vegetables! The Butterfly Wander activity during the Festival explores butterflies and their ecological relationships.
Also for much of this time I've also been running Insects @ Night to explore the range of species with which we share the Festival site. These creatures are sight unseen in most cases. The activity brings many different Orders of Insects into view by being attracted to a powerful light.
Well before becoming involved with Woodford, in 1994, I established the Butterfly and Other Invertebrates Club. I was the group's founding President for 12 years and encouraged members to learn from each other, collect and spread information about their observations. Also, I've now published two books on butterflies and their caterpillar food plants, the most recent being Create More Butterflies and one on Australian Native Stingless Bees through my publishing business, Earthling Enterprises
Learning is the major theme of my work role also: as Chief Executive Officer of the Lifelong Learning Council Queensland (LLCQ). The aim is to enable learning opportunities for change, so that people and their communities can thrive not just survive. Given this role and major interest, it's important to practice what I preach. There's nothing like walking the talk and talking the walk.
Becoming involved in the (broadly circumscribed) Folk scene has become a wonderful learning journey - opening worlds I didn't realise existed. My early childhood experiences with singing, dancing and playing an instrument would not be described as the peak of good teaching practice and left me bereft in these fields. All that has changed recently.
For the last year I've been learning Swing Dancing, and just love that Swing music. My teachers, Cameron and Leigh of Empire Swing have a spot in this year's Woodford program, so check them out. Swing Dancing is just an amazing amount of fun, with lots of learning, and it only gets better.
My knowledge and experience of music has been very limited - mostly it's only been a notion that there's music I like and some that I don't. The only music played at home was Classical, and as a teenager, Rock 'n Roll and pop on the radio. I didn't go to concerts, or to listen to live bands - I actually dislike crowds.
Coming to an understanding about musicians and their instrument has been a revelation to me. I finally decided I'd learn to play something. I'd occasionally tried the pan pipes, however, while I love the sound, it wasn't fun doing it on my own. A few friends - especially Michael Bourne, the dedicated editor of this mag - encouraged me to consider the ukulele. I thought - 4 strings, 4 fingers, that has to be possible for me. Soprano ukuleles are not for me; I've always preferred a deeper sound, for example, oboe over flute. My recent involvement with attending live music events introduced me to BUMS (Brisbane Ukulele Musician's Society) and their performing group. Listening to them on a number of occasions, I became aware of a range of types of ukuleles. Through the kind offices of another friend, I was introduced to different types of ukes: soprano - definite NO, concert - naaaaaaaa, tenor - "shrug", ok but not my scene. Finally a Baritone ukulele was brought forward. The best description for the sensation is falling in love. Not all Baritone Ukuleles work for me either. I tried a number at the Guitar Show, and they all left me cold. At the moment the only one, off the shelf, I've found that I like is a Kala Mahogany Baritone Ukulele. I placed my order in May 2011, ukuleles have become so popular mine didn't arrive until November; at last!
BUMS is a fantastic introduction to learning to play the ukulele. Once a month somewhere between 100 and 160 ukulele players, varying immensely in their level of skills and musicianship, gather to play a number of songs that can be downloaded from the group's website, listen to some blackboard performances, and generally have a good time. You can invest as much or as little energy in learning as you like. It's another fantastic community learning experience.
So my love of nature and learning, my desire to make a difference, and my new love of live music happily coincide in the Woodford Folk Festival, and through the Festival as an introduction to the Folk Scene. Now I need to find out if I can sing (melodiously)!
Helen Schwencke