[ HOME ]


Profile
(Note: javascript must be enabled to view and enable email links.)
---
HILARY BARRETT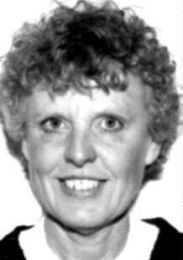 Hilary was born and grew up in Barnoldswick, a small cotton mill town in Lancashire, England. Her first musical influences were listening to BBC radio and from primary school. Hymns were sung every morning and also Folk Songs such as John Peel, Early One Morning, A Hunting We Will Go, etc. English Country Dancing was also a school activity and Hilary remembers dancing Durham Reel and Haste to the Wedding and taking part in a dance display with other schools in the area.
On Mayday, Hilary and her friends used to make a Maypole out of a broom handle with two concentric hoops nailed to the top of it. It was covered with crepe paper and paper flowers were hung down in the middle of the hoops. Streamers were attached and the girls would go from backyard to backyard putting on their show. One girl would be queen and she sat on a stool holding the pole while the others danced around singing a special Maypole Song. They collected money, sometimes for the RSPCA, sometimes for sweets!
Talking to her auntie, now almost eighty, Hilary discovered that the song had been handed down verbatim and also whilst she was in England last year the local primary school children performed the Maypole in the town square with exactly the same song. So although she did not take up dancing again until the late seventies in Brisbane, the early seeds had been sown.
After a decent dose of Beatlemania in the early to mid sixties, she became interested in folk music about 1966 when friends introduced her to Dubliners and Clancy Brothers records. She immediately fell in love with the sound and songs and still thinks the Dubliners have a special magic that takes some beating.
Many folk clubs were springing up in the area in the late sixties and there were many talented local groups. One was the Dalesmen and about twelve years later, on meeting Phil Wilson, Hilary recognised him as one of its former members. The songs at that time were mainly English, with many Scottish and Irish too, and most had good rousing choruses to stir and cheer up your heart.
Hilary moved to Leeds in 1968 to go to college and continued her interest in folk music at the college folk club. As her singing ability, she says, leaves a lot to be desired, she has remained an audience member. "I love the songs. I know a lot of the words but I only have a range of four notes!" she says.
Hilary left college in 1971 and was a primary school teacher in Leeds, then in Newcastle-upon-Tyne where she remembers seeing Martin Wyndham-Read and The High Level Ranters.
She left for Australia in 1974 and came to Brisbane in 1976. She used to go to The Red Brick Hotel on Saturday nights from 1977 onwards, although at the time she didn't know any Brisbane folkies. She also went to the Story Bridge sessions on Sunday but still as an outsider. She started going to the regular bush dances at the Blind Institute and the Hub Club and enjoyed it so much that she began to teach the dances at school using the Rantan books and tapes. With the dancing and a book of Australian folk songs she became the resource person for the teaching of the early European settlement of Australia. "Folk songs are often overlooked but they are a rich source of a country's history. I seemed to know more about Australian history than many of the other teachers due to my involvement in folk music.", says Hilary.
In 1983 she saw Moreton Bay Morris Dancers at Closeburn Market and went along to a practice to see if she would like it. Well, she did and has been dancing ever since. For a time she was Ladies Foreman, (ie the dance teacher) and also The Squire (big chief) from 1985-1987. "Being Foreman was very special to me because back in 1924, when my mum was sixteen, she was the teacher of the young girls' Morris Dance side in Barnoldswick", says Hilary. "I have a photo of mum with the girls all lined up ready to perform. I was pleased I was following in her footsteps". A highlight of Hilary's time in the Morris was dancing at the opening ceremony of Expo 88 and outside the British and Australian pavilions. The Mediaeval Fayre was also a highlight of the year when the Maypole would be brought out, bringing back childhood memories of the broomstick days. However this was a much more stressful affair - trying to teach reluctant Morris men (who shall remain nameless - especially Sean Arthur) who would deliberately stuff it up!
On visits to England over the last sixteen years Hilary has also learnt some traditional Lancashire clog dancing. She learnt most of the dances form the Ossy Cloggers (from Oswaldtwistle in Lancashire). She has passed on the dances to some of the interested Morris people and they usually perform them at the annual Ale (party/booze-up).
Hilary has been lucky to have her own personal musician, in the form of her husband Keith, who plays melodeon. She does play the melodeon herself, enjoying waltzes and Morris tunes best as they are slower, have fewer notes and so are easier to play. Keith was in the Bunyips Bush Band when they met and one night when the band was down to three because of illness, Hilary volunteered to be the caller. This was the start of her dance-calling career. After this, she shared the calling with Phil Wilson with Kitchener's Last Band at Morningside. Kitchener's was a huge scratch band originally formed to raise money for the 1989 National Festival in Maleny. The dances continued for many years with Hilary as caller.
Since then she has called the dances at some of the annual Colonial Balls in Brisbane and will be doing so again this year. In August Keith and Hilary plan to return to England for another year and Hilary hopes to join a Border Morris side called Flag Crackers of Craven who are quite well known around the country. She also hopes to learn some more clog dances.
Hilary hopes to keep on dancing as long as possible, providing the knees and legs don't conk out!