[ HOME ]


Profile
(Note: javascript must be enabled to view and enable email links.)
---
IAN DEARDEN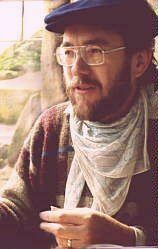 Ian Dearden is probably best known in Queensland as the President of the Queensland Council for Civil Liberties, a position he's held for the past four years. Of course, if you're in trouble, then you may know him as a hard-working criminal lawyer, who's helped out the odd folkie or two over the years. These days he's running his own practice, which doesn't seem to allow even the odd cup of coffee, much less the long liquid lunches and golf afternoons of the (legal) urban myth. Much more than all this, however, is that he defines himself as "a folkie for the last 25 years - and proud of it!!"
Ian was born in Rockhampton and grew up on a cattle and grain farm outside Emerald in Central Queensland. "I grew up without television, but was part of the last generation of Australian kids who spent their afternoons listening to the Argonauts Club on ABC radio. I was 'Arcturus 49', and somewhere I'm sure I have the badge to prove it" he says. However, growing up in country Queensland in the 1950's and 1960's had its downsides if music was your passion in life. As Ian describes it "With only the ABC to listen to you ended up thinking that Mantovani's 'Music of the Mountains' was the height of musical achievement."
However, his mother saved for a piano, and Ian learnt from the local nuns, which required a two hour, 20 gate trip to town for lessons each week. He still sings the first song he remembers his mother singing at the piano - the old Jim Reeves song "He'll Have To Go". This was the music that he grew up with - classical and popular ballads from the 1950's. As he notes "I completely missed out on modern rock and pop music until I went to boarding school in Rockhampton in 1969, where there was actually a local commercial station playing rock music. It was a real revelation."
He continued to learn the piano (reluctantly) until finally his parents decided that if he wasn't going to practice, then there was no point in paying for the lessons. But then, for his 15th birthday, they gave him a guitar, and from then his world opened up. With three other mates at continued on page 14 boarding school, he formed a rock band, practicing every afternoon and no doubt driving the school neighbours crazy with painful versions of songs by the Rolling Stones, Black Sabbath and The Beatles. "Our greatest effort was playing at a musical festival in the Rockhampton Town Hall in 1973. We emptied the hall of anyone over 20 in about 5 minutes. I don't think Rockie was ready for us!!" Ian recalls.
Then came University in Brisbane. Poverty meant just an acoustic guitar, and at the same time, gigs at the Roxy Coffee Shop from Heather Ross (then Student Union Activities Officer) and discovery of the Folk Centre were the revelation of the road to Damascus for this young neophyte in the big city.
So began a long and never-ending journey of musical discovery in folk music. Ian recalls dancing with Sandy Denny on stage at the end of a Fairport Convention concert at the University of Queensland in 1974 as one of the great moments for a 'boy from the bush' soaking up musical experiences as fast as he could get them.
In 1976, he formed a folk group "Tryst" with three other uni students, doing everything from Steeleye Span, Fairport Convention and Paul Simon to Fleetwood Mac. "We sang whatever music we liked - and gave it a folk feel. I've never been concerned by boundaries, but rather by what a song says, regardless of where it comes from" Ian comments. At the same time, Tryst started performing some of the original material that Ian had been writing since discovering songwriting in his last year at school. He doesn't rate himself as one of the most prolific songwriters in the world, but over the years he's slowly turned out a body of work of which he is quietly proud.
In 1981, Ian headed to Europe for the traditional Aussie trek back to the homeland, spending three years living and working all over Europe including 10 months in Norway, where he developed a passion for Hardanger fiddle music. He discovered that carrying a guitar and being prepared to sing at the drop of a hat really was a passport to the world, and he spent much of that three years listening and singing and soaking up influences - in particular traditional Irish, Scottish and English music in the booming folk clubs in the UK.
"It was the chance of a lifetime, and one of the great things about festivals such as Woodford is the chance to catch some of the feeling of being able to see so much great folk music so easily - just like Europe" he says.
Speaking of Woodford, Ian credits the festival with reviving his involvement with folk music in Queensland. As he recalls "When I left Queensland in 1981 there were three folk clubs, and the scene was booming. I spent at least two or three nights a week at clubs. When I came back there were none. The scene had just died. Then along came Maleny/Woodford, and that has been the catalyst for a complete revival of the folk scene in both Brisbane and Queensland."
Together with John Thompson (half of Never the Twain) and Maree Robertson (1/3 of One Step Forward) Ian started performing at Woodford with workshops such as Songs of War and Peace and Songs of Love and Death. Woodford has become the highlight of his year, and he looks forward to his annual dose of listening and performing. In more recent times, Ian has performed frequently with Evan Mathieson as well as John Thompson and Martin Pearson, and has scored some occasional airplay on the ABC with songs such as Plastic Jesus.
These days Ian finds it difficult to squeeze the time from a busy professional schedule to perform as much as he would like, but he keeps a guitar in his office (for the release of stress!) and performs when he can at weddings, christenings, fundraisers, folk clubs and festivals. He refuses to put a label on his music, which switches at the drop of a hat from Monty Python, Rolling Stones or Richard Thompson to traditional Irish and Scottish and the occasional original song or tune. He explains this mixed repertoire only by his view that he likes to sing songs that resonate. As he puts it "I believe in singing songs that make an emotional connection, whether because of what they mean to me, or what they say, or what they mean to others. I don't like emotionless music."
As for the future, Ian wants to work on his guitar playing, issue that long-promised CD, do some more songwriting, sing more songs with Evan Mathieson, and sleep!! And yes, folk music remains his greatest passion.