[ HOME ]


Profile
(Note: javascript must be enabled to view and enable email links.)
---
IAN C. DODD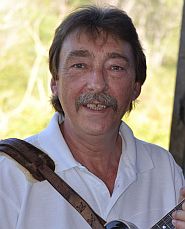 It all began on a freezing January morning, in Staffordshire England, the year rock & roll was born. Music was all around from the beginning. I would sit as a child and listen to the radio and when pirate radio emerged it was a revelation, "I love you Caroline". My first encounter with Bluegrass music was watching Flatt & Scruggs on the Beverly Hillbillys, on a 10inch black and white TV and I loved it. I was given a guitar for my 11th birthday and loved to play along with Beatles records and other music of the day. With Lozo on drums and Arthur on bass, it had to start somewhere.
In 1968 my family emigrated to Australia and my world changed forever, we started off in Sydney but moved to Brisbane 6 months later as my father was promised work. I met Keith Ross at a party in St. Lucia in 1976 and he played the Banjo, at last someone to play Bluegrass with! I remember we entertained the party for hours.
Keith was putting a band together called Hilltop Holdout with a number of Americans who were over here teaching but when they went back to the states an opening occurred. They already had a guitarist so Keith suggested I play mandolin, so with that, off we went to the Classic Music Shop in Elizabeth St and bought one, I remember it cost $600 and it took me months to pay Keith back.
The music scene in Brisbane in the 70's was very buoyant and it seemed there was loads of work around, it was particularly good for us because at the time we were one of a very few bluegrass bands in the country and things went very well for quite a number of years. The one thing I don't miss is the fashion, try driving a Mini in flairs and platform shoes. We managed to get quite a bit of national TV exposure which helped the cause and expose a new generation to our brand of music, I can recall lots of people would come up to me to ask "what is that little guitar you are playing", doesn't happen as much these days thank goodness.
We also played at the Folk Centre a number of times but I particularly remember the last ever night. We were also involved with 4BK a local radio station and we played to a crowd of 50,000 at a promotion for a house give-away; that is something we will never forget. The radio station was also helpful as we had just released our first single 'You're no longer a sweetheart of mine'. It was during the 70's that I got my first job in a music store, Fords Fender Centre at Woolloongabba, from there I moved on and worked for a record company and then for a number of high profile music stores in the city. Hilltop was going well with nominations for best new talent at the Tamworth country music awards and the first act on the grand-daddy of talent shows 'Showcase' with Stewart Wagstaff, (we had to record with the 50 piece orchestra at Alberts in Melbourne) and the Hector Crawford Orchestra as well as many appearances on Reg Lindsay's weekly country music show and a number of ABC television clips. We had to turn up at 9am and record live in the studio. You may check the videos out on Youtube.
Not long after that I had a family and a mortgage and was part of an original trio called 'The Kingwoods' which gave me the opportunity to explore new musical genres with a bluegrass feel, I was juggling the band, the family and a full time job in the music store, when we decided to sell up and move to the UK. I was lucky enough to get a job with Digital Audio Research based south of London, it was cutting edge technology at the time, and involved a machine that was one of the first digital recording machines. It took me all over the world and to some of the best recording studios, it was a wonderful experience and I had the chance to perform at a number of UK bluegrass festivals but after 5 years we missed large blue open skies and temperate winters so we sold up and moved back to Brisbane where I picked up where I had left off with my music career.
I was working for a professional audio equipment importer for around 7 years and was able to continue my close association with the industry. Then we decided to buy a deli which allowed me to follow my other passion food and cooking but that is a whole different story. I was approached by Sue Wighton to form a band to perform at the Schonell Theatre and from that the 'Unsung Heroes' were born, a lot of the material was original and it gave me great scope to be creative and also to perform with some of the best musicians around.
Then came 'Groundspeed' a true Bluegrass band with Matt Herne (banjo), Jacko Jackson (fiddle), Karen Jackson (guitar), and Mark Webber (bass). It was a privilege to play with such talented musicians and we played at a number of festivals and prestige gigs, Mark was also bass player with Hilltop Holdout and a close friend. The latest project is with Mary Brettell in 'Ask Mary'. Mary and I have known each other for many years, and Mary played and sang with Hilltop back in the 70's. I hope you can catch up with us at our next gig.
I am still passionate about Bluegrass music and the mandolin, and always will be. A thank you to Gibson for making such wonderful instruments. I look forward to many new challenges and opportunities as they come along.
Ian Dodd