[ HOME ]


Profile
(Note: javascript must be enabled to view and enable email links.)
---
IAN REDPATH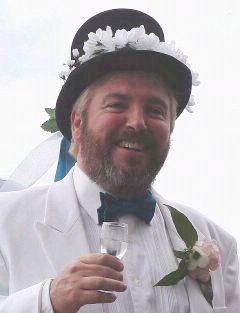 At last! Someone who can't play and can't sing has made the cover of the Folk Rag! My excuse, of course, is that I dance and through morris dancing attend many festivals and folk events.
These profiles are meant to be historic, so I shall start at the beginning. I was born in Egypt (my father Alf was an Australian immigration officer and later diplomat) and spent much of my pre-teen years in overseas postings before we settled in Canberra. The first music I remember was played by my mother (Janice) on a guitar she bought in San Francisco in the mid 60's. She liked Peter, Paul and Mary, which meant she played songs by Bob Dylan, Pete Seeger, Woody Guthrie, and the Kingston Trio. I liked the idea of my mother as a folk singer, and used to tell people that Jean Redpath (famous Scottish folkie) was my mother (she looks a lot like Jean).
My parents raised three children on the Beatles, Woodstock and CSNY (and PP&M). My brother and I discovered the Rolling Stones, The Who, David Bowie, Bruce Springsteen and a host of other rock & roll greats. My sister managed to slip in some popular music (Michael Jackson, Madonna, Marvin Gaye). All of us danced wildly around in the living room from a very young age, so when I was old enough I started dancing at concerts to Aussie bands like Skyhooks, Split Enz, Radio Birdman, Cold Chisel, Hunters & Collectors and Midnight Oil. Not many people dance at Australian rock concerts (then or now), so there was always a great view at the front. When punk came along there were a few more on the dance floor, and I pogoed with the best.
My musical taste was wider than my dance taste, and included many singer songwriters. The first record I bought was Don MacLean's American Pie, and over the years I listened increasingly to Joni Mitchell, Van Morrison, Joan Baez, Joan Armatrading, Neil Young, Leonard Cohen, Al Stewart and Ralph McTell. I drifted into folk with Fairport Convention, Steeleye Span and Jethro Tull (my brother said I must be a folkie because I liked Jethro Tull!). I haven't quite figured out what's folk and what's not. I also like the Ramones, Buzzcocks and Patti Smith.
Somewhere after growing up I got a job as a youth worker, got married to a beautiful woman, had two spectacularly talented children (twins - a boy and girl), quit being a youth worker (doesn't go with raising twins), learned about computers and started working in multimedia (the deep end). When the aforementioned talented children were selected to perform Irish hardshoe at the National Folk Festival (age 6), I went along as a parent accompanying child performers. There I witnessed the madness that is morris, or at least a whole bevy of people whacking sticks and dancing and having a great time. I immediately joined two morris sides - the Canberra Men and Molonglo Mayhem.
orris dancing, for the uninitiated, is a peculiar social pathology foisted on England from the Continent in the mid 1300s (quite like they had done with the Normans some two hundred years before, and no doubt with an enormous sigh of relief). It's associated with fertility, good luck, good harvest, bad behaviour and worse singing. Most days it seems to me an extraordinary affirmation of life and joy in what the world brings. On the other days I'm hung over and regretting morris and everything to do with it.
There are different types of morris dancing (bad, worse and clogging), but the most fun I have had is with Border Morris. It's a wild and unkempt tradition, probably the oldest, and feels tremendously liberated in that you can write your own dances and whoop it up for energy and theatre. Cotswold Morris was all written down a hundred years ago, and sides compete over how traditional they can be, which reduces the impromptu screaming and stick whacking. And they use hankies. Clogging is for girls as ranting (that's a type of stepping) crushes your balls. Maybe I'm not doing it right. Or maybe it's meant to...
Brisbane's Ragged Border side (the dark side) desperately needs a few more dancers, so if you are inclined to give it a try then give us a call. We get great gigs, and morris offers a tremendous international community that meets at the National and at regional Tours and Ales. In the last few years we have performed in the Woodford Fire Event (twice!), built a Rushcart at the National, been on Tour in NZ and Tassie, danced Terry Pratchett's "other morris" for Martin Pearson (see it at www.youtube.com/watch?v=G8C-Tf70bX4) and created a film clip for "Dance Up the Sun" with the delightful duo from Cloudstreet (also on youtube). I feel privileged to be part of the wider morris, and to continue an ancient tradition of dance - without such customs we would be hollow indeed.
Whoops! Back to the story... A few years ago I met Karina Berry amongst the morris at the National Folk Festival (and again at Woodford). Sensational! And she can sing! So I married her and we have a daughter named Leila. This leaves out a lot of back-story about my previous marriage failing, and disappointing my teenage children by moving away, but you don't want to read about that. My twins are now both are at university - Aidan is an extremely capable drummer and is pursuing jazz at the School of Music in Canberra. Vivien is a good saxophone player, studying Medicine at Melbourne Uni and dancing with the local morris. My ex has met a very nice ex-Queenslander called Bob and they sing together, so things work out in the end.
I have a lovely existence with a seriously happy woman and a deliriously cheerful two year old, made all the more splendid by contact with Queensland's folk community and friends like Andrea Baldwin and the Pomeroys. These days I dance with the Dark Side and with the incomparable Belswagger crew at festivals throughout southern Queensland. Like fellow morris enthusiasts Joyce & Eric Simpson, I look forward to dancing for as long as I can (longer if possible), and to raising children in a community that cares. My love goes out to all those who enrich life with music, and particularly to those who can patiently welcome the whirlwind behaviour of the very young, and of the young at heart.
Ian Redpath