[ HOME ]


Profile
(Note: javascript must be enabled to view and enable email links.)
---
JAMIE & JULIE WITNEY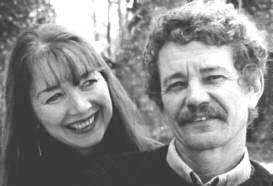 Jamie and Julie Witney, with help from their friends, ran the annual Imbil Acoustic Music Weekend for many years at the Borumba Deer Park just outside Imbil.
Jamie was born in a small village in Hampshire in the heart of the New Forest, in the UK - the youngest of five in a farming family. 'None of my family were particularly musical; My Father had a very good voice I'm told but I can't remember hearing him sing.' One of his earliest jobs as a child was to fetch the cows morning and evening before and after school, '...in the middle of a hundred acre farm you could sing as loud as you liked without disturbing anyone or being inhibited.' Occasionally he would come across someone else, feel a little embarrassed, hum for two hundred yards till out of ear shot and resume singing, LOUDLY. The songs he sang in those days were mainly pop songs of the day, but among them were songs like Sixteen Tons, Big Bad John, Where Have All The Flowers Gone and so on, corny by today's standards, but a start.
At the age of nine or ten Jamie obtained a mouth organ. 'I don't know its origin, I certainly didn't buy it, as we never had any money in those days. Someone must have left it or maybe I swapped it.' Now whilst fetching the cows Jamie now played mouth organ, the first tune he learnt was Where Have All The Flowers Gone. The herd quickly adjusted to the change of pitch! 'Then one day my life changed; my big brother came home with a girlfriend - who on God's earth could fancy him? !' ....... It was a long time before Jamie was allowed to even speak to her. Every time he turned up, he was asked very curtly 'Haven't you got something else to do?' or told 'you smell of cow shit.' With that he would disappear; his brother was an expert with trite remarks. Marion or Maz as she was known was a student from Portsmouth, and she played guitar, she also had lots of friends, or hangers on who came with her, ' "Beatniks" my Mother called them'. They were just as intriguing. They would sit around playing and singing songs, and rolling enormous cigarettes, and sharing them around. 'Very perplexing!..... My father rolled his own but they were much smaller and didn't smell quite the same. On enquiry, I was told it was herbal tobacco, years later I found out.'
This was the time of C.N.D. (Campaign for Nuclear Disarmament), and many of their songs were protest songs such as We Shall not be Moved; Jock, There's a Monster on the Loch and so on, but among these were songs like St James Infirmary, Follow the Drinking Gourd, Railroad Bill, and many others!
Through these people Jamie heard beautiful singers like Caroline Hester, Judy Collins, Shirley Collins 'and of course, my first love Joan Baez, I was besotted. I learned every one of her songs I could get hold of.' Jamie sometimes went to folk clubs with his brothers who had now grown to tolerate him. 'I was also the only one of us who could sing in key!! Personally, I didn't like the English folk clubs; most of the the people there were very much a public servant type, to me they didn't sing and play for the sheer joy of it, it was more of an intellectual exercise, so my brothers and I went to the pubs and lo and behold there were the lrish:'
At the age of 21, Jamie left home to hitch-hike around the world, across Europe down through Africa and hopefully get work in Australia. When he arrived here, he was told the mines were the best place to earn money fast, so he went to Tennant Creek. 'I spent four and an half years there, and met many folkies, in fact we had quite a thriving folk club at times and there was always Alice Springs, only five hours away, a trip taken many times in desperation.'
Deciding not to continue his journey around the world, he moved to Brisbane - 'I met a beautiful woman, had three beautiful kids, who I'm sure are the next generation of FOLKIES.' says Jamie.
Meanwhile, Julie grew up in Brisbane; none of her immediate family were musically inclined. However her parents bought her a guitar for her 15th birthday. 'My earliest musical influences were the local church group and school, where friends and I formed a folk group and performed on New Faces.' She first became involved with the folk scene in Canberra when she was working at Woden Valley Hospital in 75/76. 'The Woolshed dances were fantastic - it was like a second home.' She moved back to Brisbane and went to the Folk Centre, and the Barley Mow at the Caledonian Club. 'At this stage I was trying to learn mandolin as well and was asked to join Rantan. James later joined the group when he came down from the N.T.' The Red Brick Hotel at Woollongabba was the home of a vibrant folk club and the Red Brick Bush Band at that time, and there was a burgeoning interest in learning new instruments and tunes.
Jamie and Julie were married in 1978 and lived on a small farm just off Redland Bay Road near Beenleigh. During this time they joined the group, Captain Logan with Don and June Nichols, Ian Drynan, Bob(Buck)Buckley and others. Two years later, they moved to Gympie to go farming.
In Gympie, they met up with local musicians and found playing music at the local pub helped the cash flow problems. 'James was intrigued with banjo by this time and we found ourselves playing early American music; Carter Family, New Lost City Ramblers etc.' They formed a band with lan and Carolyn Benjamin from Cooran, The Mary Valley Bush Band and played bush dances most weekends. When this disbanded two years later, at a loss for some music, they started the Gympie Folk Club once a month. 'It was a rage and ran successfully for two years. It saw the likes of the Kangaroos Blues Band, The Shooting Stars, Noel Gardner, and Bill Hauritz, who came-down from Maryborough to do the PA.' They were also involved with two other short-lived folk clubs over the next couple of years.
By now they'd left the farm and were living in Gympie township. Good friends like Geoff and Maggie Adeney, Graeme Hughes, Steve Treloar helped keep the music going. 'Our family had grown by three and because a lot of our fellow pickers liked to go camping, we organised a camping and jamming weekend at Cedar Grove - a very pleasant weekend it was. This idea grew into the lmbil Acoustic Music Festival - this year being the sixth one, so if you are not doing anything on the 5th - 7th November join us at the Borumba Deer Park just outside of Imbil for a great musical camping weekend.'
Over the last couple of years they've re-connected with the Brisbane folkies often making the trip down to the Saturday sessions. They've also managed to get to festivals further afield and they've played a few festivals as June Apple with Steve Treloar on dobro, mandolin and guitar. 'We hope the next 20 years will be full of music too.' says Julie.
Jamie and Julie have three very talented young ones, Rachel who plays fiddle and sings like an angel, and has performed at several of our Folkies Old and New Concerts. Matthew who plays a mean guitar and sax, and appeared with David Logan at our 11th FO&N, May this year.The youngest Jesse is learning bass, but what do you expect with such talented parents?