[ HOME ]


Profile
(Note: javascript must be enabled to view and enable email links.)
---
JACQUI LAMONT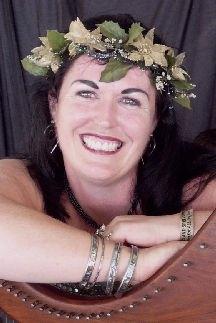 I was born in what has become known as Hobbiton, New Zealand, since the fame of Tolkien's Lord of the Rings with its green lush softly rolling hillside, the towering Macrocarpa trees that were great for climbing and its ambling streams. My mother's family owned a large farm in the area, with 8 children the homestead had a huge kitchen, where yummy home baking was always being prepared. The house has an expansive verandah and large sash windows bringing in the light. You could use these as doors to escape into the well endowed orchard, with geese, hens, dogs and smoky grey cats all going about their day's business. The focal point of the home was known as the ballroom, with my Nana's beautiful piano dominating one corner. This is where my first experiences of music came from. My Nana would assemble all the children and reluctant teens (what's changed) in the house and we would stand around singing Irish tunes mostly. She regularly asked us to put together items for a concert for my grandfather Pa. Nana would take us out of the house to the bottom of the garden for fairy picnics which were enchanting times for us, we would read poetry and sing and play charades. When I was two, I was badly burnt from the waist down and had to have dressings done every day as part of our routine for over a year, I guess this made me a little special to my grandparents.
When I was three we moved to Palmerston North, but always returned for holidays and family get togethers. My parents built their first home in a street that became known as a state house subdivision. A house went up next to us and a family Fresh off the Boat from Samoa moved in. To my delight they were heavily involved in establishing a church and used to have Sunday service meetings in their back yard usually followed by a feast.
Their second daughter Meta and I became best friends, she used to have to play piano for church, and when she was locked in her room to practice I would climb in the window and we would play and giggle mostly together as little girls do… it wasn't long and I was being taught Samoan dances and songs to perform along side her and her sister, and we also joined the school choir together. It was about that time my father purchased a very large shiny black Hohner Accordion. Dad played by ear and was heavily involved in the local Country & Western Club, and so we regularly went to rodeos and square dances. Dad would regularly cudgel me into singing, which was awful, as I would think I was going to die of nerves! It was also about that time that my Nana sent my mum the money to buy me a beautiful piano, and she also paid for my lessons. I set to learning the piano under a let's say, not very nice nun from the local parish. She was always yelling and hitting my hands with the ruler whenever I made a mistake, and I was very shy and lacked confidence, which made me even more nervous to play. After two grueling years of teaching me – she had a heart attack and died and I never played for anyone again… except myself and sometimes with my Nana. As a teenager I would shut myself in my room with my gramophone stacked up and dance, then go to sleep singing and listening to Motown, Queen, David Bowie, and Elton John, the more dramatic the better, and my rebellion against the constant onslaught of Rock'n'Roll, and country music my parents enjoyed.
It wasn't until I was 35 in 1997 I went to a small local Folk Festival, swept away with the music I thought I might get up and sing something a capella. I sang She Moved through the Fair and had such an amazing reaction, firstly from my husband and children who sat there with tears in their eyes, they never knew I could do that stuff! Then from people I had never met before. I felt so encouraged that I set about starting a folk club in the city I lived in. It is still running 12 years later as the Tauranga Unplugged Unlimited Folk Club.
Using a rustic café as a venue, I put up posters all over town, went on radio and the first night over 100 people turned up for a blackboard concert, which went late into the night. From then on I ran blackboard concerts every fortnight and jam sessions in between. After two years of organizing concerts, guest artists, workshops and events, we had our own top of the line PA equipment and jam bag which we amassed through concerts for the City Council and Arts Council grants. We travelled as a family and large group to all the folk festivals, and it was about that time I finally found my harp and started to teach myself to play. We had a 6 day a week family business in kitchen design and installation and 4 children, so when the children would go to bed I would sit at the harp for an hour to unwind at the end of a busy day and play. It soon became evident to me that playing pieces of music didn't appeal to me – that I really wanted to sing, and the riddle of how to play and sing vexed me most. How could I sing with this instrument? I knew instinctively that I should re-string my harp to be more in keeping with my voice range. After this it really came together when a friend and jazz and blues singer, Marion Arts stepped in to help me, she would play something on the guitar and I would try and find it on the harp and play it back to her… After about a year of experimenting (wanting to throw my lovely harp out of the nearest window) and doing the odd bit of busking (to try and overcome the nerves) I finally got up the courage to play at the folk club – remember I was amongst some fantastic musicians that had been playing for centuries, here I had founded a folk club and still I hadn't got up and played myself so many were waiting to see what I was going to do. My first ever performed song was The Water is Wide, I nearly vomited before I played I was so nervous and anxious about what they would think and they were so awesome – cheering, whistling and clapping, kisses and hugs all round from what had become my folk family.
Since then I have never looked back, learning new material, performing regularly at weddings and being paid to busk by the city council I learnt my craft on the street. I have played at many festivals, and events, my largest audience was 9,000 Candles in the Park (my knees were knocking for that one), I have played for the Prime Minister and Governor General of New Zealand at official openings, I once even played support to Dame Melvina Major, opera diva. I have written and directed an Irish Show called Shamrocks to Ferns - a friend's family childhood story of migrating from Ireland to New Zealand in 2002, before arriving in Brisbane. Two weeks after arriving here I played at the Brisbane Medieval Fayre then 1 month later at the Abbey Tournament at Bribie Island, Celtic Gods & Magic Festivals, Strawberry/Spring Festivals and weddings in the area from Noosa to the Gold Coast. About 4 years ago I performed along side flautist Helen Lowe and a firm friendship was formed; I guess it went some way toward filling the void that was left from missing my folk family in New Zealand. Playing together as Celtic Raven for the Mayoral Spectacular Concert, Cleveland Highland Gathering, Harp Society Concerts, Women's Expos & Special Dinners, and many other charity events, our motto is, if it's not fun…then let's not do it!
We recorded a CD at the end of the year Cherish the Seasons a musical journey through the seasons, but unfortunately it has had to be shelved because of bad health on behalf on the studio producer. Sadly we haven't been able to finish it – so if there is anyone out there prepared to pick up the project, it is so close to being completed. Helen and I have pressed ahead choosing to focus on our next CD Scathach - named after the great Scot Warrior Queen - which will be more medieval in its origins. So most weekends you will find me out scaling the rocks at Stradbroke Island or climbing Mount Cotton to play at the Rainforest Gardens with my beautiful lady over my shoulder. Its kinda funny but I have to stay extremely fit to get out and perform. Early this year I was diagnosed with Forrester's Disease which is a debilitating form of arthritis, I have had arthritis since I was a child, so I am very aware of getting out and doing the performances while I still can, and I guess a great wish would be to do some kind of tour of Ireland, Scotland and Wales while I am still fit enough to get around and see the castles, jam at the pub sessions, and grow musically, go back to the music's origins. I am very grateful for all the awesome adventures I have had with my harp, the amazing places I have played at, the interesting, friendly and gracious people I have met and shared my music with. So when asked about my future musical aspirations my answer would be … More…
Jacqui Lamont