[ HOME ]


Profile
(Note: javascript must be enabled to view and enable email links.)
---
JAN SULLIVAN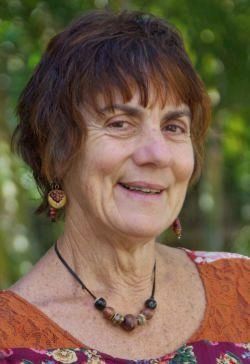 Twice a year I sit in a large tent at the Volunteers and Organisers party at the culmination of a week spent immersed in the most amazing festival of music, art, dance, humour, ceremony and fellowship on the planet. Around me is a 'family' of friends who like me are exhausted, elated, exhilarated but feeling the wrench of having to come out of our lovely global village atmosphere and return to 'the real world' again.
For the past 14 years I have been fortunate to be part of a group of people who are dedicated to helping bring the amazing phenomenon that is the Woodford Folk Festival to life. I have also been privileged to be there from the very first dreaming festival in the same capacity. How did I get to be so lucky? My brother Jon, that's how. He discovered the festival back in Maleny days and assured me I would love it. I did - do!
My pathway to the QFF family has been a diverse one. My father was in the Bank of NSW so my childhood was in various towns in country NSW and as a teen of the late 1950's I was right there when rock n' roll arrived - and I dived straight into addiction.
A war baby, born in Manilla, NSW at the same time as my soldier father was landing in Lae, PNG I grew up with a fascination for Papua New Guinea through dad's stories and a strong determination to go there. I achieved this in 1963, and absolutely loved the fascinating new world I had entered.
Port Moresby in the 1960s was wonderful. I was catapulted into a vibrant social lifestyle where live music was everywhere and musicians from different walks of life and countries would come together to form bands that played a wonderful mix of styles. It was a mix of cultures – Australian, New Zealand, US Servicemen(!!) and the diverse and exotic blend of the peoples of Papua and the very different look and culture of the New Guinea peoples.
At a party in the early 1960s an acoustic guitarist introduced me to folk and I immediately went in search for Pete Seegar, Joan Baez and Peter, Paul and Mary records. I find the sentiments expressed in their songs still relevant today. An acoustic guitarist with a message and minor chords will reach me every time! And I have found so many new favourites at various folk festivals since that time.
In 1964, at The Waghi Valley Ball in Minj, my musical tastes were expanded. I teamed up with the band's clarinetist, Geoff Speed, who was to become the father of my 3 children and part of my life for the next 20 years.
With a jazz musician in the family, not surprisingly, we spent a lot of time at festivals and live venues. I love the energy and interaction at live venues and so am an appreciative audience and support for those talented folk who have the passion, dedication and self-discipline to perform.
Over the years our household reverberated with not only jazz band rehearsals, mum's folk and the latest music of the 70s, 80s & 90s but also Punk (thank you Evan!!).
In 1989 I moved to Brisbane and with daughter Kylie and son Conrad joined those passionate enthusiasts who headed up the mountains to Maleny and then Woodford each year. They still travel from Perth & Darwin most years, bringing their families and friends with them, and in more recent years son Evan discovered the festival and has also become a convert. What a great way to catch up with mum for Xmas!
As very young children Kylie and Evan spent happy years in Madang and Port Moresby listening to and singing along with two records, Alex Hood's 'Songs of Australia' and Mike and Michelle Jackson's, 'There's a Bunyip in My Water Tank'. What a buzz it was to find them in person at the festival!!
Over the years I discovered the music of such great local talents such as Mythica, Charlie Moreland Trio, Sister Moon, Stringmansassy, Tulca Mor and Doch; rediscovered old favourites such as John Schumann of Redgum, Shane Howard of Goanna and Jimmy Little and discovered talented overseas acts like Harry Manx, Eric Bibb and Kristina Olsen. It was satisfying to see and appreciate inspiring Australian performers such as The Waifs, John Butler, Xavier Rudd, The Cat Empire and Gurrumul before they blazed across the general consciousness of the rest of the population.
After several festivals I made the leap from dedicated patron to volunteer and was immediately captivated (or do I mean 'captured'?!) by the experience. There was such a great spirit of comeradie, enthusiasm and inclusiveness evident amongst the volunteers. Inspired by the dedication and enthusiasm of the Organisers I met I was delighted when Bill Hauritz and Amanda Jackes agreed to let me join the their ranks. I had found 'my place' and joined a wonderful folk family that continues to be an integral part of my life.
As one of the Admin (Infology) Supervisors for 4 years I worked alongside the unbelievably talented duo of Nell Geddes and Di Clark, good friends with incredible skills in overseeing the development and smooth running of a large Department.
In 2002 I changed hats and joined the Reception team at the Green Room with the ever-dynamic Chloe Goodyear taking me on as her Key Offsider. For the past 6 years I have co-ordinated the Green Room Reception area at the Woodford Folk Festival, the dreaming festival and the last 2 Tree Plantings with the support of my fabulous Key Offsider, Sue Heading and core team members who, thank heavens, return each festival. This is a role I absolutely love and enjoy and I revel in the challenge of the ever-changing dynamics of the Green Room & Artists Services.
The vision of the unique and amazing Rhoda Roberts, the Artistic Director of The dreaming festival, has opened up a whole new vista of performance and diversity of music, dance, ceremony and art. I am honoured to have been included in helping with this event and grateful for the wonderful generosity of spirit that allows us all to share not only their fabulous art and musicians but also the cultural wealth and knowledge of our own Australian and international First Nations.
It has been an enriching experience to be part of this special group of people who are the Organising Group for both the dreaming and Woodford Folk Festival. I continue to be awed by the vision and ability of Bill, Amanda and the hard working and innovative staff at the QFF. Their ability to bring to fruition events which showcase, present, promote, encourage and foster the talents of new and seasoned performers and artists across the many genres of modern and traditional folk music and promote the expansion of the folk movement locally and worldwide is inspiring. I thank them for their encouragement and friendship and for allowing me to run tame in their space.
Jan Sullivan