[ HOME ]


Profile
(Note: javascript must be enabled to view and enable email links.)
---
JANE CAMERON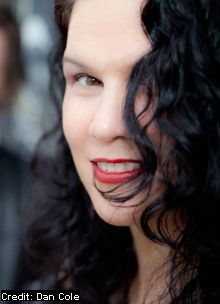 I was never a singer as a child. I loved to sing along to my mum's records but my singing voice was so soft you couldn't have heard me if you were more than a foot away from me. I had the obligatory few years of piano as a child and a brief high school flirtation with cello, but never in my wildest dreams did I imagine myself a musician and songwriter.
A performer? Certainly. I developed a passion for the stage in high school, and have had an on again, off again love affair with theatre ever since.
There is, undeniably, music in my family - my great aunt took up the cello at the age of 40 and became a cellist with the Melbourne Symphony Orchestra and my brother is annoyingly capable of picking up any stringed instrument and playing it with minimal effort – but I didn't think I could create it.
Don't get me wrong, I have always loved music - I love dancing to its rhythms, I love the stories and the imagery, the vibration of a bass line humming at the base of your spine, the drums getting your toes and fingers tapping, the way a cello seems to resonate with your own breath and heartbeat, the upward spiral of a flute carrying you away. To me, music has always been a truly physical experience - I struggle to sit still listening to it. It moves me.
Growing up in Brisbane in the 70s and 80s, I was introduced to punk by my elder sister, Midnight Oil and The Police by my guitarist brother and all against the backdrop of my mother's passion for Bach, Tchaikovsky and musicals - West Side Story, Hair, Tommy, etc. The first concert I went to was the Dead Kennedys at Festival Hall and the soundtrack of my teenage years was filled with the Cure, the Clash, Sunny Boys, The Church, the Smiths, Siouxsie Sioux and the Banshees, the Models, Hunters & Collectors and more. Folk music? If you had asked me about folk music then I would have looked at you blankly… the ignorance of youth.
At some stage in the late 90's, I decided to do a singing workshop. About half way through the workshop series we did an exercise aimed at releasing our instinctive chest voice. All of a sudden, I had singing volume and lots of it! I launched back into theatre not really giving singing much more thought, apart from joining the Songlines choir for a couple of years to spend a bit more time with my parents.
Late in 2009, I was persuaded by my ex, who was teaching himself guitar, to go along to a jam session at a place called Inspire in West End. They didn't have many singers turning up, he explained. By mid-2010, I was a regular at Inspire and a little frustrated at my ex's unfortunate tendency of changing chords early in a song. I needed to learn an instrument - quickly! Guitar? No, too many strings, too much steel for my wimpy fingertips. Piano? I still had nightmares about Sister Honoura's piano teaching technique - no, thank you! Ukulele? Hmm, four nylon strings, lightweight, portable - sold!
I bought my first ukulele in July 2010 and by November 2010 I was itching to write something of my own. I went to a friend's gig and during a break between sets we sat and talked about his song-writing process. That night I went home and wrote my first song lyric. The next night, I wrote the music to go with that lyric. For a while there, every time I went to one of his gigs I would end up going home and writing a song. It became a bit of a joke between us – he would set me a lyrics challenge and I would go off and write a song.
When the floods came in January 2011 they were no joke. I got out of my house with my ukuleles, my cat, my laptop, some clothes and whatever else I could fit in my car. And then the floodgates of songwriting truly opened for me - it's amazing what a little life-changing event can do. It seems I had 40-odd years of narrative stored up waiting for release - the core of my song-writing.
I tested my new found song-writing and ukulele skills in a couple of low key bands formed with my ex and friends. These groups dissolved in the first half of 2011 and I found myself temporarily at a loss - still filled with the burning need to perform my music but with no obvious avenue to pursue it in a serious way. After meeting Mark Bentley through a chance crossing of paths at a gig, a comment on Facebook led to an offer to collaborate, to start a musical project and thewhiskeyarchive was born.
We played our first gig together in September 2011 and it was intoxicating! Working with Mark on thewhiskeyarchive over the last two years has been one of the most rewarding experiences of my life. I am so proud of the music that we have created together.
While thewhiskeyarchive is having some down time for the moment, the muse does not stop. I have started to focus on my solo work, working with a broader group of musicians, and putting energy into both solo performances and doing some recording with the help of some very talented musicians I have met along my way. Stand by for the launch of my debut solo EP in 2014!
Since venturing into the Brisbane music scene, I have been astounded by the quality, generosity and skill of the musicians of this city. I have met so many amazing people – musicians, songwriters, venue managers and owners, booking agents and audience members (and the Folk Rag editor) – all with a passion for music, live music! I have so much more to learn and it is so heartening to be welcomed, encouraged, supported and taught by these people.
Jane Cameron