[ HOME ]


Profile
(Note: javascript must be enabled to view and enable email links.)
---
JIMMY WATTS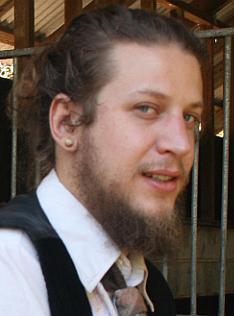 Hi, my name is Jimmy and I like music. I also enjoy movies, satire, cigarettes and coffee, but I'm supposed to be writing a history of my relationship with music, tumultuous as it is.
I picked up the guitar in grade 8 to learn Greensleeves for an assignment, and after learning it could make noises other than Greensleeves. I formed a somewhat unhealthy bond with the guitar that is akin to co-dependence with an inanimate object. I soon found myself skipping classes at school to 'jam' and 'self medicate' with instruments, and substances that weren't musical at all. As is the stereotypical scenario; music saved my life. I was in high school, headed down one of those roads that encompass teenage years of striving to achieve sporting excellence, and an adult life full of reminiscing about teenage sporting excellence.
Then, when I was 14 my younger brother died of a suspected genetic heart condition; alas no sporting team or school had enough insurance to cover a family member who was also diagnosed with said disease. And so my divulgence into the seedy world of music began. I started with a cheap electric guitar package and Dad's acoustic, then I bought a friend's nylon string, by then I was hooked. I spent an entire summer playing Rage Against The Machine songs through a practice amp that I tried to modify (and ultimately electrocuted myself on), then I found Dad's Clapton records, and his The Band records, and a sordid love affair with ballads and troubadours began.
By the time I was 16 I was onto my 3rd set of dodgy dreadlocks, thought the Woodford Folk Festival was my only real home, and was in all honesty, a very drug dependant mess.
In time it emerged that my brother had not died of a heart condition, rather, a drug overdose. This revelation rocked the already shaky suburban pillars of our Christian family. Unfortunately the side effects of several years of 'self medicating' (I really like that term) had taken enough toll on my 16 year old body for me to no longer be competitive in any sporting arena. And so, with a guitar and suitcase full of books, I moved from the Bible Belt (Toowoomba) to an uncles house in Finley (NSW) and worked 12 hour days on a farm, drinking all the while and merrily finger-picking Boots of Spanish Leather on the weekends.
Stereotype would have it that I moved to Melbourne, to be a musician, and obviously ended up on the dole, then studying, then crawling back to my home town feeling spat out and rejected by Australia's artistic hub.
Over that time I recorded many little EPs on tape decks and other equally crackly equipment. The most notable of which was titled Pensive Pencilings, the name kind of said it all, I don't have any copies now, but I remember it being 8 or so finger picking tracks that I recorded through the 3.5mm input of a PC using the generic one track windows voice recorder.
I played around open mics in Melbourne and Toowoomba, and met a great friend Leigh Robertson (aka Moses Jones) in a bank, we then jammed at a park, then he bought me a harmonica, and my lungs have never been the same.
In a shed that was converted into a home recording studio, Dave (Southern Booze Camp) introduced me to the harmonica playing of John Popper (Blues Traveller). He had to play one song about 3 times for me before I believed it was a harmonica, because it was being played through so many effects that it sounded exactly like an electric guitar. Another love affair began.
In time I fell in love with something other than music, none other than the wonderful Mellissa (the better looking half of the Jimmy Watts Band) and I subsequently got myself clean and sober in a hurry. We traversed Australia living in six different cities over 3 years. In that time I didn't play many shows, rather, I went to a lot of shows, and forced my demo CDs upon my idols (Bob Brozman was most gracious and even traded me for one of his albums – I got the better deal by far).
I spent the whole time on a very intense soul searching mission, studying indigenous cultures, religions, and people watching. I basically came to the conclusion that life's not worth living if you don't do what you love, and it's not worth doing what you love if you don't give it everything you've got.
I got into the 'one man band' thing when I started doing paid solo shows, and realised my feet weren't earning their keep. I decided to be a 'standing up one man band' after being intimidated one too many times by drunk bogans bearing over me requesting The Gambler. Now days Mellissa and I live in a van and traverse the East Coast playing anywhere that will have us.
I take a fairly deluded pride in our independence as a band, and the fact that we play more shows a year than some of our 'record label' colleagues who have the booking agents on their side. We once played a gig with an ex-Australian Idolist (and his band) who were aghast at the concept of sleeping in the band van. I kind of felt sorry them, because it's the most empowering feeling.
I'm excited about the demise of the music industry's power moguls, and like all independents I draw inspiration in the dark times (about once a fortnight I give up, and vow to never pick up a guitar again) from the success stories of the likes of John Butler and The Waifs who blazed their own trail in a time much less conducive to doing so.
I love being able to sell our CDs cheaply, and make them accessible, instead of having music propped up as something that is a treat, akin to an indulgence. Music is an essential, and as society as a whole slowly evolves, I believe 'real music' will once again be a driving force in the everyday lives of the masses.
I've been cruising the pub circuit for about 3 years now, with the occasional odd foray into more genteel arenas such as folk clubs and festivals. I started playing with friends of mine that formed Timbah who helped me out incredibly not only by paying me to tinker (more like butcher) away over their own music, they also helped me start booking my own shows, something they do regularly for countless others.
My main Western musical tastes range from the extraordinary guitar work and songwriting of artists like Kelly Joe Phelps and Jeff Lang, to the clean cut Dave Matthews and the self taught Ani DiFranco. I listen to a lot of world music too, the majority mainly from Africa and the South America. To highlight what I love about world music, ask yourself this: Name off the top of your head, ten happy songs from the Western world? I've been trying to write happy songs ever since I was first posed that question. But it seems to be a matter of personal growth, and thankfully, that seems to be manifesting for me as an endless road that I'm becoming accustomed to driving.
Jimmy Watts
www.jimmywattsband.com and www.myspace.com/jimmywattsoz