[ HOME ]


Profile
(Note: javascript must be enabled to view and enable email links.)
---
JO BARGEWELL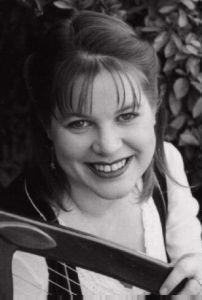 It was a dark and stormy night the night I was born in the old Corinda maternity hospital. I was born the 3rd child and was the 5th member of the family so I was destined for harmony from the start! These things usually go in chronological order, but, I think for interest's sake I shall start my story at the end, not the beginning, so scratch that first bit 'til later.
My future aspirations revolve around playing the cláirseach (Celtic lap harp), learning how to play the big harp my mum and dad built for me, and singing. I am becoming increasingly more interested in tune playing, but accompanying myself and others is a great joy and I want to continue building on that. I have always loved to sing and despite my two brothers encouraging me 'not to give up my day job' I have made it my day job, and night job too for that matter.
You know how they say those who can't teach. Well I teach, and try! I am a primary classroom music teacher and I feel that if I can't do it myself how can I expect my students to? So I do. Music is at the core of everyday. All day I sing children's folk music and games, and simple tunes and songs from other cultures. then come home to the harp and Irish music.
The idea behind using folk music as a medium for music education is that because it has lasted so long, being passed down from generation to generation, it must be good. As musicians we don't go out of our way to learn something that doesn't 'touch' us in some way or isn't important to us, so music that has lasted must have a fundamental connection with people. It's with this connection that I try to encourage children.
Outside school my musical outlet is through Irish band, Cúl Taca with Adrian Jefferies and Caroline Hammond.
Although I have been lucky enough to play and sing with Adrian now for over three years, playing with both these talented musicians during the past few months has been a blessing and a joy. What I enjoy the most are the hair-raising harmonies we get. Caroline's voice is beautiful and her positive energy adds such a wonderful vibe to the music. She is a brilliant songwriter and we will be playing more of her songs in the future. This band is great fun and it stretches me as a musician so what more could you want? We are in the process of putting together our first CD.
I am also involved in a recording of pipe tunes and songs Adrian is completing jointly with an old friend of his, Billy McCormick from Ireland. Basically I'm playing a touch of harp, bodhrán and singing to fill out the accompaniment. It's very exciting music and I can't wait to hear the rest of the CD.
Before Cúl Taca there were a few other bands. The Craic Junkies with Steve Burgess and Sean O'Brien was my first step outside the realm of concert band and classical ensembles which was a big eye opener. There was a lot of fun to be had in this band and we mostly just got together to play the music we enjoyed for ourselves. Elbowroom with Steve Burgess, Rose Broe and Adrian happened after Sean deserted us for Riverdance (imagine that!) and I met up with Adrian down in Canberra. We decided we wanted to make music together and we have been ever since. Poor But Happy with Belinda Ford, John Logan, Rose Broe and Adrian was a lot of fun and I learnt a great deal from playing with these talented people. I have been very fortunate to have been able to perform with all of these people and their influence on me has been strong.
Playing in a band is one thing, but I feel that it is the session in particular that helps keep the music alive. To sit and be a part of the fantastic culture of accomplished and not so accomplished players and enthusiastic beginners helping and teaching each other to play is, for me, what it's all about. People coming together to share and learn the music and be a part of the tradition.
One of my other musical teaching outlets has been bodhrán classes at the Queensland Irish Club. I can hear now the groan of certain members of the folk scene who are probably cursing me for these classes but the bodhrán is a much maligned instrument. It requires more subtlety than people give it credit for. It has the sounds of a whole drum kit plus more and you don't have to break your back lugging it around! Besides that, it's good fun to play when the tune players get pumping and everything just clicks. They run from one tune to the next and the hairs on the back of your neck start to lift from the energy they are pumping out. Having to listen to the tunes to accompany them helps you learn them helping you step to a melody instrument. That is how it happened for me.
A few years ago, after much deliberation and encouragement from Adrian to find something else to play, as he has no love for the bodhrán himself, I decided I would concentrate on the cláirseach. Adrian's strong encouragement has helped me tremendously and it's been through this instrument my love of the Irish music has deepened. My harp made by Peter Roberts of Melbourne, is a great wee harp with a clear bright sound and I love it. I really admire players like Laoise Kelly on the big harp from the Bumble Bees. Her solo album Just Harp is glorious. She has such a great style. Máire from Clannad with her beautiful accompaniments to songs, Derek Bell from The Chieftains on neo-Celtic and brass harps, who needs no introduction and the trio Moving Harps with their Paraguayan style.
The 36 string harp built by my father was finished off by my mother with inlaid marquetry on both sides of the arm depicting a white rose surrounded by a Celtic knot of thorned stems. Róisín Bán is her name (Little White Rose) and I have a lot of learning to do on her.
My first folk festival was the last Brisbane Solstice Festival. I went with colleague and fellow music teacher Cathy Roulston who told me I would love it and I did. It was musically exciting. I was already teaching folk music at this time but my interest in it came from high school.
I was not brought up in a folkie family. My dad has a store of untapped musical talent and we have others in our extended family who play or have a deep desire to play so my musical influences as a child came mostly from records and the radio. A diet of ABC 4QR from my mother, and the classics, big band and jazz from my father.
Anyway getting back to high school. In 1987 Margaret Falk, a very influential person in my life and my music teacher, started an Indonesian Gamelan (Orchestra). I played an instrument called a kempli. My exciting first step into the foray of folk was to keep the beat! Eventually I learnt how to play other instruments in the Gamelan. We used to perform at BEMAC events, at the QPAC, China Town and during Expo 88 we played in front of the Australian pavilion with a didgeridoo player. It was quite an eye opener as it was not just Indonesian music I was being exposed to. The events we performed at included other folk music groups which fascinated me. One group in particular was Nancahuazu who played music from the Andes. It's fantastic music and I still love to listen to it.
Before I got involved in the Gamelan I was already playing music. I started on the trumpet at Oxley Primary School and I did the usual primary school thing of learning the recorder and had a singing diet of ABC song books. By the time I got to high school I decided to try the French horn as well. An instrument I still love today although I no longer play it or the trumpet for that matter. All up I played these instruments for about 18 years.
All those Scottish New Year's parties at my Aunty Cis', the dancing and the playing and singing must have really got to me as a child. Perhaps it was the Highland pipe and Jimmy Shand record-ings they played or the happiness I felt at this time. I have had many influences in my life to lead me to were I am now.
So anyway, back to my beginning, I grew up in Doolandella on the outskirts of Brisbane with my mum, Margaret, dad, Joe and two older brothers, Geoffrey (the elder) and Keith, in the house my father built.
Jo Bargewell