[ HOME ]


Profile
(Note: javascript must be enabled to view and enable email links.)
---
JOHN FEGAN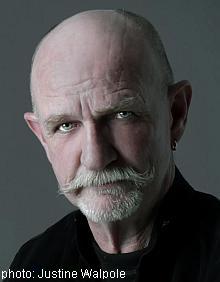 Musical performance came to me late; I was 33 before I lifted an instrument in anger and even then I was lucky. I was a senior creative writer in a big ad agency and a few of the guys were trying to write a jingle and brought in a guitar and were sitting around putting the music together. The legendary Mick Hadley had taught me a few licks on a blues harp and never being one to let a total lack of ability stand in my way of doing anything I jumped in. The next thing we had a full blown blues session going and as punishment the boss made us play at the Christmas Party. The resulting band was called Blue and the Debonairs, a ten piece blues and soul outfit that created the monster and changed my life.
My earliest glimmerings of music were from my parents record collection, a total of three albums, we were on a tiny little Island way off the New Guinea Mainland, I thought they were the only musical acts in the world at the time. My parents were a totally music free zone and cared for it not at all. The albums were: GI Blues, Marty Robbins' Gunfighter Ballads and the Horrie Dargie Quintet, I still know every word to every one of Marty Robbins' songs.
Poetry claimed me early and I think that this is the reason that folk music appeals to me now. I love the stories; songs are an irrelevance if they don't evoke something inside you. The words of Bruce Springsteen, Kieran Halpin, Steve Earle, Kris Kristofferson and many others can bring me to tears just by their sheer beauty, I pity those poor people who are indifferent to lyrics, they are missing something vital for the soul.
Blue and the Debs was great, I was hooked but I had to have more, something was missing. Several of the guys in the band decided we should do something for ourselves while we were still young enough to be relevant. We got together and brought with us a wealth of riffs and songs, my poetry was suddenly in vogue and brought to life by the brilliance of Steve Tyson and the other members of the group.
Next came the first album and a daring plan to take our music to the world. None of us was too keen on sitting around Brisbane slowly rotting away so Steve convinced us we must go overseas and we did. We were album of the week on Ireland's number 1 music station, we got airplay in France and Denmark and did our first European gig with The Dubliners, Tom Paxton and Fairport Convention at the Skagen Festival in Denmark.
More albums and more tours followed; we were invited to play at the legendary Montreux Jazz Festival Off, what a buzz that was. We played in Nuremberg Square in front of 20,000 people at the Bardentreffen, played the Brossella Guitar Festival in Belgium, the Galway Festival of Arts, a festival in Estonia with the cream of Russian folk bands, had a street named after us at the Skagen Festival, write ups in Billboard and many of the European street mags and even had a song get to number 5 on the Australian country charts! (If there is a publisher reading this, I have the full story written!) Then we got bored. Time for a break. Steve and two of the others formed a little rock trio and toured Great Britain and Australia with Status Quo and I did the long dreamed about solo album with songs the band wouldn't have played. There are some lovely moments on it, great playing by genius players, my daughter sings on it and my friends grace it; I'm very proud of it.
But now Rough Red is back! We are now older and wiser, better players, more focused, happier with our place in the scheme of things and we've never sounded better. This June we travel to Norway to headline a festival in Farsund. The following weekend we return to Skagen to be reunited with the Dubliners, Arlo Guthrie and our old friends the Oyster Band. We are planning a brand new album and will release a best of to take with us to Europe.
This band has been one of the great aspects of my life, my poetry lives through them, people listen to my stories, people enjoy their brilliant musicianship, it is a labour of love and a joy to be in. All you performers know what it's like; to the rest of you I'm sorry it couldn't be you but thank you for listening. The future; I would just love to play more in the folk scene here, it's a 45 minute sound bite of your life and defines you like nothing else.
John Fegan