[ HOME ]


Profile
(Note: javascript must be enabled to view and enable email links.)
---
JOHN HOLMBERG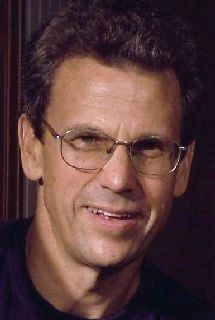 I washed ashore up the Brisbane River in 2002 after a 3-year sail across the Pacific from Seattle. I hit many of the remote South Pacific islands on the way across (no, I only actually hit one, and that was in thirsty Moreton Bay). I crawled up on land to dry out in some of Brisbane's live music establishments (logical mistake: they serve herbal tea at US folk clubs). I met various nefarious members of the local music scene, was dazzled by a red spangled accordion, and have been unable to get clearance to sail on since. I became active in the Mad Ass Acoustic Music Club and joined the Pirate Brides in 2003 (they had too many brides and nary a sailor). I sing and play clawhammer banjo, mandolin and guitar in the band.
I cut my teeth on banjo and mandolin in the early 70s playing with a fiddler at fiddle contests and at local bluegrass festivals in Missouri and Kansas. Imagine the fiddle-contest scene: the two of us playing Down Yonder' around a huge old chrome microphone in the local high school gym in a small country town with the cicadas humming rhythm in the hot, humid woods outside. Old gommers from local farms in overalls "tuning up'' ("What's concert pitch?") and trading licks in the boy's locker room behind. About this time I joined a local band for some gigs when I was supposed to be studying for my masters in Journalism. Years of newspaper work and general business followed, including rebuilding a couple of old leaky sailboats for voyages further and further afield, during which my playing took an aft locker. But when finally becalmed at sea I had time to renew my passion for playing music and have been active in the Brisbane music scene since arrival, especially with the Pirate Brides during the past three years.
I was born in Cleveland Ohio at the start of the fresh-scrubbed fifties. My first musical experiences included hearing hot new sounds coming from my older brothers' victrola in the heady, pre-pubescent funk of their bedroom: early Chuck Berry, Ray Charles, Fats Domino and Johnnie Cash.
Cleveland had a large culturally vibrant black population and I was soon focused on the all-black radio stations on the right hand side of the dial, loving R&B, Soul and Motown. Detroit was only 60 miles away as a Lake Erie crow flies and great Motown acts frequently came to the black nightclubs in Cleveland. One of my first lies to my parents was hiding my plans to go down to one of these potentially-rough, small clubs to see Ray Charles perform in '67. At the club, they let us in with our obviously-fake IDs and it was truly a night to remember: Ray being led up on stage, seemingly helpless, to the piano then coming alive in such a musically explosive way as soon as he could touch the keys. There were many more great nights to follow, seeing the Temptations, the Four Tops, Lou Rawls and others.
My mom signed me up for the church kid's choir when I was a shaver, after catching me listening to that right-hand side of the dial. She then signed me up for classical piano lessons. Man, that wool suit was itchy at recitals! My mother's musical influence on me was not entirely repressive. She was a fine singer, with not only great intonation for harmony singing (god what happened to me...) but she had an uncanny ear for melody. I was working out a fiddle tune on the mandolin one late night when I was staying with my parents. I thought they were asleep but Mom must have been reading in bed. I came down to breakfast the next morning and she was humming the intricate melody of this tune note for note. She had absorbed it subconsciously. Her love of music was infectious.
I got ahold of a guitar sometime in Junior High School attracted to Ian and Sylvia and other folkies of the early 60s. Later I started playing in earnest, again when I should have been studying, during College (University) in Colorado around 1970. By then I had been led astray into country by country rock and progressive bluegrass bands such as Dillard and Clark, the Flying Burrito Brothers, the Byrds and the Osborne Brothers. Roots country also rang my bell, but I couldn't yodel like Jimmie Rogers... A Geology professor lent me an old open-backed banjo and the Pete Seeger banjo book and it has been all downhill since then. I picked up mandolin shortly thereafter and got lost in the deep musical woods of Missouri after moving there in the early 70s.
After moving back to Colorado for newspaper work, I got involved in the very active Bluegrass scene in this state. Unfortunately I was playing less and less as I got busy with work and other passions (backpacking and fly-fishing in the mountains and then later sailing), but I saw many inspiring concerts, having an opportunity to interview Earl Scruggs, Bill Monroe, Vassar Clements and Ralph Stanley backstage with my shiny new press pass. The small, rural festivals they played at during the mid 70s were a pure joy, including Ralph Stanley's band singing a largely a cappella gospel show in four-part harmony one Sunday morning. I had goose bumps for the duration. More recent influences include contemporary artists who combine deep, roots-sensibilities with fresh ideas and great musicianship: Tim O'Brien, the Nashville Bluegrass Band, Darrell Scott, Sam Bush, Gillian Welch, Dirk Powell, David Grier, Iris Dement, Bruce Molsky, Dave Carter and Tracy Grammer to name a few (too many).
I have thoroughly enjoyed the Brisbane acoustic music scene since being blown into town on the Trade Winds from New Caledonia. My Pirate Brides band mates: partner Rose Broe, Ryk Rostron and Michael Tully have been an inspiration to me as I delve deeper into playing, singing, performing and recording with them. The many musician friends I have made here, mostly through the Mad Ass, are too many to mention (you who led me astray know who you are). The many festivals and sessions into the subtropical night have been "great as"...(I no longer have to ask, "as what"?) Instead of sailing ever westward on the Trades, I can use them to sail north up the Reef, and then back south again to my new home. Thank y'all for welcoming me...
John Holmberg