[ HOME ]


Profile
(Note: javascript must be enabled to view and enable email links.)
---
JOHN THOMPSON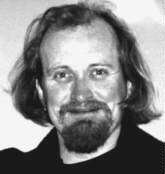 John Thompson was born in Brisbane in 1964 (He's 34 - no need to work it out), and has spent most of his life here apart from some stays in Townsville and Toowoomba. His earliest musical memories are of sing-alongs around the piano at home in the suburb of Moorooka with his family. He bears the scars of these experiences in the form of still remembering all the words to "If you're Irish, come into the parlour".
While attending Saint Laurence's College in 1975, he auditioned and was accepted into the Saint Stephen's Cathedral Boys Choir, where he sang for over six years, eventually as second soprano soloist and alto soloist. It was during these years that he developed a great love of harmony singing and unaccompanied vocal work. He also performed in a number of school-based musicals, including a notable performance as Maria in the "Sound of Music" in Grade 7 (Saint Laurence's is an all-boy school).
John had a couple of years away from music after leaving school, until he walked into the New Exchange Hotel one Saturday afternoon in 1983 to find a folk session in full swing. He says that he had never seen anything like it. "It was just fantastic. All of these people were sitting and singing - playing guitars and fiddles and just having the most wonderful time together - all based on music that they were making." Joining in became a habit.
Soon after that first session, John started busking with "Contraband" , alongside Alan Salmon and Greg Pipe. A second group was soon added, and eventually became "No Right Turn", with Chris Foot, Di Holland and Rose Broe. "No Right Turn" became a mainstay of the vocal side of the Brisbane Folk Scene with regular performances at the 291 Club on Barry Parade. When Chris and Di returned to the UK, John began performing with Maree Robertson. The duo were soon joined by Ann Bermingham and "One Step Forward" was born. "One Step Forward" has continued to perform ever since (although the gigs are a little far between in recent years), with tight harmonies and political impact being their trademarks.
John's work as a barrister took him to Townsville in 1992 and he entered a new stage in his musical development. Away from his usual singing partners, John started to sing solo, as well as joining local artists such as Jamie Corfield for performances at the legendary Townsville Folk Club . It was in Townsville that John met Martin Pearson . Martin was just starting to make an impact on the Australian festival circuit and the two found themselves attending festivals together and occasionally sharing stages. In 1994 at the National Folk Festival, John was awarded the first Lis Johnson Award for vocal excellence. Shortly after Martin moved with Marina Hurley to Brisbane, John took a job in Toowoomba and in late 1996, John and Martin recorded, "Never the Twain" , their first CD. Launching this recording at the 1997 National Festival saw them perform together on a number of stages and the duo, "Never the Twain" was established.
Since the National, John and Martin have performed together at the Port Fairy Folk Festival , the 1998 National and the Lismore Folk Festival . In 1998, they released their second recording, "Never the Twain:Live at the Pod" . 1998 also saw John in the role of Prasutagus in the Queensland Folk Federation's production of "Boadicea: A Celtic Folk Opera".
John continues his solo performances and has been booked for the 98/99 Woodford Festival as well as having performed recently at the Hervey Bay Music Club and in support of Jeremy Taylor's Brisbane performance.
John says he is looking forward to further festival performances in 1999, both solo and with "Never the Twain" , as well as a cabaret production, "Cappuccino Cowgirl" which is scheduled for late February next year. In the second half of the year, he is hoping to take a long awaited holiday to Ireland and Scotland. "I'm thinking of some more recording possibilities", he says, "and I hope that a bit of a break will help to firm these ideas up a bit. Apart from that, I just want to keep singing."