[ HOME ]


Profile
(Note: javascript must be enabled to view and enable email links.)
---
JOYCE SIMPSON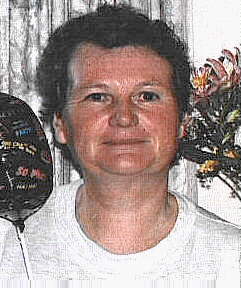 Joyce grew up on a dairy farm near Pittsworth on the Darling Downs. One of her earliest memories is of her uncle and aunt telling her stories of their youth and practical things like forecasting the weather from reading the stars. As they were one generation removed from a farming background in Devon, they still firmly believed in their roots. Also she remembers her maternal grandmother telling her folk stories and snatches of song. She came from Sheffield in Yorkshire, and always kept a white rose for York in her house. Joyce is sure these early influences gave her a love of history, especially social history and its continuity.
After leaving school she came to Brisbane to pursue a nursing career. In between studying and working she went to the Folk Centre and enjoyed such groups as Peter, Paul and Mary and the Kingston Trio.
Joyce then spent several years in Melbourne, and kept herself busy in marrying her first husband John Elischer, having her daughter Anneliese, briefly joining the Melbourne Colonial Dancers and going to Traynors and Dan O'Connells.
With her family, she returned to Brisbane in 1976, and became involved in the QFF (mainly John, as he "did" the books for several years). She and John also went to the Red Brick Folk Club and to the various subsequent ones. Joyce has many fond memories of the Red Brick where folkies always took their kids, settling them to sleep under the tables out of harm's way.
Joyce joined Moreton Bay Morris in 1979, and has so enjoyed the dancing, music and social activities that she is still dancing morris. She has joined several different groups with different styles of dancing, and has participated in various street theatres including mummer's plays.
During the early eighties Joyce met Di Holland and Chris Foote, who were returning to Brisbane from the U.K. Di and Joyce started the Brisbane Women's Workshop, meeting initially in Kate Bestevaar's house.
They both felt that there were no venues at that time in brisbane for women singers or singers in general who wished to be low-key performers. The Workshop was formed to provide a monthly "get together" to encourage new performers in an informal atmosphere. Over the years the group blossomed to produce workshops at Helidon Folk Festival, march /perform at Women's Day marches and other venues, and run a folk club for several years. Sadly the Workshop is no more, as the members all went their different ways to bigger and better things. They are planning to have a reunion in August to catch up on six years of their lives.
Joyce went to the U.K. in 1993 on a year's working holiday, but apart from a brief return to Brisbane in '94 for her daughter's 21st birthday; she ended up staying for three and a half years- she must have been enjoying herself! She met her second husband Eric Simpson through morris dancing and a mutual love of folk music – he was her chauffeur to practice. She joined a group called The Wild Hunt who wears tatters and masks, and comes from Croyden in southwest greater London. She and Eric returned to Brisbane for family reasons and these days she is teaching Moreton Bay Morris new dances, catching up with friends at the Pod Folk Club and singing a song or two at Roger's singing sessions.
She has never regretted bringing up Anna in the folk scene as she believes we have all been influenced only to the good by meeting many people from different backgrounds/countries who have freely expressed their ideas and ideals. Over the years she has greatly valued her friends and their friendship and hopes to continue for many years to come. Sadly Joyce and Eric will leave us shortly to once again spend some time in the UK. Hopefully we will see them both back here again in the not too distant future.