[ HOME ]


Profile
(Note: javascript must be enabled to view and enable email links.)
---
JULIANE LAZARUS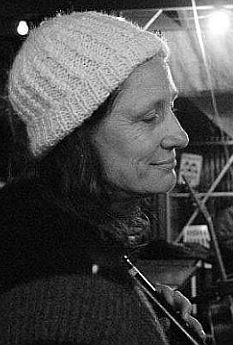 As a small girl I bounced on a plank with an air guitar singing She loves you Yeah, Yeah, Yeah, with my band. On the first day of school I arrived expecting to play percussion instruments every day like they had on Open day. Eventually I was taught recorder.
My home life was not musical but Mother had a gift for being the best dancer in the room. My Grandmother Bertha Heiser in Brisbane was an accomplished pianist who sang soprano. My father learned piano and his father Harry Smith from Noojee had played the button accordion at the dances. Grandpa was a bush poet who told stories of his bullock wagon and the Penny family who lived in a tree. In my teens I helped to organize beach dances. I liked the Rolling Stones, The Gibb brothers, The Beach Boys and Slade Alive. A good song was one you could turn up full blast to dance to.
As a student at Bendigo I attended the Castlemaine Folk Club. I loved that informal unrehearsed atmosphere and began to appreciate blues music derived from Sonny Terry and Brownie McGhee. (A few years ago in Echuca it was nostalgic to hear The George Mac Floyd Band and dance energetically with them.)
I saw Joe Camilleri courtesy of the student union and loved dancing to his rock music. He still has energy on stage and powers out on that saxophone. I like Shape I'm In, and Dancing Mood. He laughed recently when I told him he had improved.
Later I went to Adelaide where the folk scene became home - to quote Bogle, at home in my heart again. After my first Celtic Festival at Kapunda I was drawn to the bodhran and began learning tin whistle. (At 29 when I met my Queensland Grandfather, Eric Neville, I learned that he had two Irish Grandparents.) I played at sessions and around the campfire with Randall Mathews. My life became fun and enjoyable going to as many festivals as I could. As a youthworker I didn't earn much and enjoyed busking with Bill Anderson and other musicians on our way through the city. In those days you didn't need a ticket to play music spontaneously in the malls or on the train! I played at the Irish Dances. I sang at Trevor Dand's folk night - which is now at Richard Tonkin's Governor Hindmarsh and happens every fifth week in the month when TC flies back from Queensland for the session. I played African Drums at the SA Folk Festival. Some of you may have heard of musicians I saw at Folk Clubs; Idi Amin's Ensemble, Kate Bourke, Tim Whelan, Kate Battersby, Tony Doyle, Wendy Joseph, John Munro, Eric Bogle, Sirocco, Raglan Road, Mike Jackson, Judith Crossley, Gondwanaland and the Chieftains.
I was sad when the National Folk Festival was taken by Canberra. However I love the Festival at Woodford. I have enjoyed playing at the Guinness Tent sessions and at the Murri camp. I like the Goanna band, Paul Kelly, Yothu Yindi and the Warumpi band. One of my friends was great on the gum leaf and his brother played Reggae music that I liked to dance to.
I have always loved to dance to fast Celtic Music. At the early festivals it was fun to dance to Danny Holmes and friends.
Mic Travers, Erin Roberts, Jenny, Joan and Scott can play fast too. They give me some tunes to dance to at Finnigan's Chin at Kallangur, where I play on Wednesday nights. (I played at Glen Innes Festival 2009.) I prefer to dance freeform rather than purely traditional. It is more fun when others join the dancing too. Sometimes I feel torn between flute playing and dance. Two Celtic bands I like to dance to are The Borderers and Claymore.
As well as live sessions I have enjoyed recordings from The Dubliners, Marianne Faithfull, Leonard Cohen, Bessie Smith, Dolly Parton, Billy Ray Cyrus, Garth Brooks, Ray Charles, Barbara Streisand, Ron Angel, Tracy Chapman, Redgum, Joni Mitchell, Beccy Cole and Eluveitie.
My friends Jenny Awbery (tin whistle) and John Abbenante (fiddle), who returned to Adelaide to live, took me to the Fleurieu festival last year. I like social justice songs but prefer the warm weather in my state of origin.
I write songs but was told that to sing I need a guitar. I prefer to play flute. I would like to play as beautifully as Simon Wells or Jenny Fahey. Other musicians I admire are Sinead O'Connor, Andre Rieu, Dido, and Helen Rowe.
I participated in a brilliant Frankie Armstrong voice workshop. In Woodford I thought of hosting a voice workshop then inviting people to join a choir. Kez (known from Manilla Street days) invited Ann Birmingham to run the workshop. The Woodford choir sang at events and sometimes danced rock and roll with Elvis Parsley from Grapeland. I had previously sung in choirs at Batesford and Cooktown.
I played in sessions at Maleny, Kallangur, Landsborough, and Beachmere. Last year I ran a workshop on how to play tin whistle and read music. It was rewarding hearing adults play tunes for the first time.
Recently while teaching, I enjoyed seeing happy Year 2's dancing jigs and reels around the classroom. In the future I want to write a good song that is lighthearted.
I prefer live music to plastic CD's. Lately I have been playing at the Brewhouse session and at Don's session at Kitty O'Sheas on Saturdays. (ed: Now the Stadium Bar)
I started a session at my house. There have been glorious Monday nights with tunes and songs. This has inspired my son David to practice. Dale, Joy and Mike have been regulars and have taught us songs in the kitchen at Dayboro. I would like to learn the silver flute and pass the old rosewood flute on to David.
If you read this far let me know and I will reward you with a folkie hug to show She loves you, Yeah, Yeah, Yeah.
Juliane Lazarus