[ HOME ]


Profile
(Note: javascript must be enabled to view and enable email links.)
---
JULIE DENDLE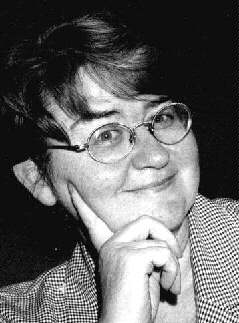 I was born in Brisbane and grew up down on the bay at Cleveland. During the 1950s and 60s, Cleveland was a fairly small seaside town in the middle of a small crop farming area. My brother, three sisters and I had the bush, the beach and a nearby tidal creek in which to have adventures and a friend lived on a farm up the hill at the end of our street. There was a great place to catch tadpoles about halfway between our homes and the cane toad problem in Queensland would have been significantly worse if not for the tireless ministrations of local kids.
Although no-one in the family was very musically-inclined, there was always music in the house - either on the radio or on my sister's little record player. I particularly remember as a child attending outdoor concerts featuring the Queensland Symphony Orchestra in the old Botanic Gardens. They were magical times - lying on a blanket and looking at the stars. In those days, the Gardens had a small zoological section (which probably shows my age!!!) and the music was often interspersed with the odd animal noises.
One of my most vivid early memories of music was singing along to the weekly ABC Sing Out program that was broadcast through the grey speakers that sat in the corner of every classroom at the Cleveland State School. In retrospect, many of those songs were my first taste of folk music – Gypsy Rover, The Ash Grove, Click Go the Shears, Waltzing Matilda and lots more. I also remember some poor man to whom fate dealt the unkind hand of attempting to teach schoolkids to play harmonica. After teaching us to wheeze and suck our way through On Top of Old Smoky and God Save the Queen, he seemed to fade away - probably broken-hearted! Alas, that was my one and only chance of musical stardom!
At school we also learnt some folk dances - Thady You Gander, Strip the Willow and Circassian Circle - as well as ballroom favourites - Pride of Erin, Progressive Barn Dance among others. Dancing was one of my favourite activities and we were enthusiastic if not terribly competent.
About the time I started primary school, rock and roll music hit the airwaves and my high school years coincided with the height of Beatlemania. I still love all the old songs from that era. Then, around the time I started working, I began to hear this man with a strange voice and challenging lyrics - Bob Dylan - and songs like Positively 4th Street and Like a Rolling Stone. He is still one of my all time musical favourites and I have been to every one of his Brisbane concerts - including four nights in a row in March 1978.
While many folkies were walking out of Dylan's 1966 concert at Festival Hall because of his shift to electrified music, I was being drawn to his acoustic music - and folk music in general - through that same electrified music, when I listened to some of his early albums. (ed mfb: Dylan never claimed to be a 'folk musician', in truth denied it.) Around that time, I went to the Folk Centre in Ann Street for the first time, and began to hear and enjoy the many different styles of folk music and rapidly became hooked. I was amazed to find that I had known many of the songs all my life. The Folk Centre had such a great atmosphere and I went on a fairly regular basis for a few years, though I didn't get to know any other folkies at that time. It is still my favourite folk venue. The last bus to Cleveland on Saturday nights left at 11.15pm, so I had to run down to North Quay to catch it after having waited to hear the Jug Band which was often featured at the Folk Centre. Fortunately I was more athletic in my youth!
Marriage came (and went) and with it motherhood - and for many years there were few opportunities for me to participate, even peripherally, in the folk scene. It was during that period that I was given a tape of some Watersons albums and I saw Steeleye Span in concert a couple of times. From those experiences, I formed an enduring passion for English traditional music. Norma Waterson and Maddy Prior are long-time heroes of mine.
Re-establishing my life post-marriage, I started going to folk nights at the Adventurers Club and to the Barley Mow at the Caledonian Club. I soon joined the QFF and was dragooned by Robyn Craig into assisting at a Mediaeval Fayre. Following that, I was involved in the organisation of the Fayre for several years and I still shudder whenever it rains on May weekends!
When Moreton Bay Morris was formed in 1979, I was one of the founding members and danced for a number of years. A highlight of my dancing days was during the Brisbane Commonwealth Games in 1982, after we performed for Prince Phillip at Parliament House, when Joh Bjelke-Petersen asked us if we all came from Moreton Island!! (What Julie has omitted to tell you is that she was the first female Squire of Moreton Bay Morris in 1982.)
In the mid-1980s, life's circumstances led me away from the folk scene for a number of years. Over the next few years, I completed a Bachelor of Arts degree at the University of Queensland majoring in Anthropology and specialising in Pre-historic Archaeology - possibly not the most useful field of study in the world. I assisted at a number of digs around south-east Queensland during my Uni. days - hard physical work after years of clerical tasks but gee we had some fun!!
Then, in September 1996, I attended a conference of University Administrators in Perth and saw that Steeleye Span was in town. I quickly decided to ditch the conference dinner in favour of the concert. I enjoyed the concert so much that when I returned, I went to the Brisbane concert as well. About that time, June Nichols told me about the folk club at Kookaburra Cafe and I started attending regularly on Wednesday nights.
I first got to know June through assisting her with the QFF Newsletter back in the early 1980s. With somewhat of a sense of deja vu, these days I have become a Folk Rag slave - proof-reading; assisting with the mailouts; writing the odd concert review as well as doing the door at Folkies Old and New Concerts.
I used to get a bit depressed about not being able to play any musical instruments and being less-than-blessed in the voice department. Then some (probably equally talent-challenged) acquaintance pointed out that an audience is just as important to a performer as a performer is to an audience. We are fortunate to have a number of great folk performers in Brisbane - augmented by interstate and international artists from time to time. So now I am happy being your audience and enjoying all you wonderful performers and delighting in your talents. Thank you all!
After having suffered continuous loud rap music throughout my son Josh's teenage years, my great joy is that my grand-daughter, Jessame, really enjoys folk music and loves to sing. Of course, I'm doing everything I can to foster that interest.
Julie Dendle
---
(Julie says she has no talents, but she's so very wrong there. You don't have to be a performer to be talented. She is one of those invaluable people essential to organisers and performers alike. Without people like her our folk scene in Brisbane would be sadly lacking. Thanks so very much for being there, Julie. Ed.)