[ HOME ]


Profile
(Note: javascript must be enabled to view and enable email links.)
---
KANDY McCOUAT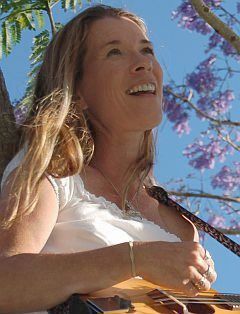 Born in Townsville, I spent a certain amount of my childhood in the tropics, surrounded by the rising humidity and warm rains; green, wet forests and shell studded beaches. A child of the ocean and sky, I was often found in corners of the garden, in the trees or on the rocks, communing with my own soul, the earth and the spirit of the bigger connective energy which unites us all. Creative from a really young age, as most of us are if given the space to explore our imagination fully, I danced and sang, wrote and painted my loving heart into the world around me in all the many and varied ways my spirit could dream up.
I grew up with creative parents, grandparents and extended family, both artistically and theatrically, and lots of encouragement to be creative, although not a lot of support in the community and culture around me as a child to make a living out of my creativity. So I veered off into the helping professions, studying and then working as an art therapist for many years whilst expressing myself creatively as a visual artist, dancer and then as a singer-songwriter in my spare time. Often using creativity as an outlet and a way to transform any of my own concerns into positive and inspirational outward energy, I'm a firm believer in the power of creative expression to heal, empower and create unity.
Music and singing was my first love and the place in myself I always felt most at home. I often struggled though as a child, and even now, with any falseness or over focus on 'the show' aspect and the expectation to 'perform'. I Have always found it difficult coping with attention from others, both negative and positive, as what I really wanted was not so much to entertain, but just to relax and be with music with others and simultaneously with my own soul and spirit, and to share genuinely and authentically from that place.
As I began returning to singing and music I found a lot of amazing support in the Gold Coast folk music and artistic community at some beautiful sharing community performance nights including Art Gecho, where I first performed an original song with a friend, Kyle, playing his mandolin. I began learning to play and so support myself in singing some of the many original songs I had been quietly writing for years, then playing these publicly at a variety of venues on the Gold and Sunshine Coasts, in Brisbane and in Northern New South Wales over about 18 months.
As a sensitive person I am easily affected by others, and although I have many awesome family members and a beautiful bunch of nurturing creative friends, after some bullying from a few people around me, I needed to turn away from performing and go inward over the last year to replenish my sensitive soul for a while, gradually find my feet creatively in painting and writing, before very slowly thinking about singing and playing again. Being sensitive and receptive to others is a blessing I am grateful for, however I have had to learn when enough is enough giving from me towards those who aren't in tune with their own hearts sufficiently to offer equal support and encouragement back and that is a great challenge.
Slowly moving in the direction of my dreams, with the right support and encouragement, and minimum pressure is what works the best for me and I find that the universe continues to bring onto my path the people, supports and inspiration which enable that journey to unfold as it's meant to.
One of my songs is included below and I've recently re-started a blog with some of my lyrics. I have plans, with the right support, to publish a book of lyrical poetry, and return to singing and playing in the future.
Kandy McCouat
---
SING THE WORLD
I want to write songs that sing the world
That open paths to what makes it all work
I want to write songs that reach it up
That branch it out, below above
I want to write songs that break up the lie
That makes our lives one and dreams never die
I want to write songs that twinkle the stars
That help us remember wherever we are.


And when I sighed it to the wind she said, Come on K now lets just begin it
And I wrote it all down and I looked it all up
And I laughed that I'd thought that I wasn't enough
And I turned it all on and I made it shine
And I sang the world in this heart of mine.


And I'm gonna take it..
Where the sun meets the moon, Where the land meets the sea
And sky becomes earth, And ground becomes free
Where oceans apart become lovers on land
Where I'm held by you in the palm of her hand
And I saw a new sight on the burning sea, A heart sailing home and one flying free.


I want to write songs that burn in the dark
That unpack the clutter and sweep out the junk
I want to write songs that heal all our hearts
That bring in the light and take off the masks
I want to write songs that breathe in the life
That sing out our souls, and join black and white
I want to write songs that open the blinds
That take us to places where we all can shine.


And when I sighed it to the wind she said, Come on K now lets just begin it
And I wrote it all down and I looked it all up
And I laughed that I'd thought that I wasn't enough
And I turned it all on and I made it shine
And I sang the world in this heart of mine.


And I'm gonna take it..
Where the sun meets the moon, Where the land meets the sea
And sky becomes earth, And ground becomes free
Where oceans apart become lovers on land
Where I'm held by you in the palm of her hand
And I saw a new sight on the burning sea, A heart sailing home and one flying free


And there in the dream in the heart of the sun
Lies the journey of love where all become one
Where all become one, all become one, all become one

Copyright Kandy McCouat 2010

[top]